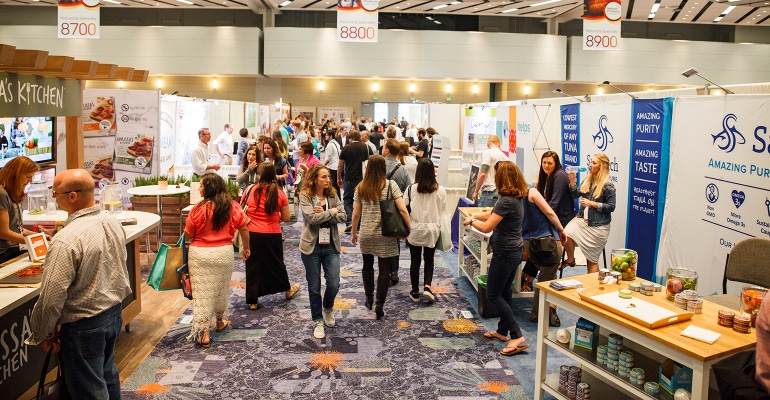 Like every other year, Expo West will be overflowing with swag. Much of it is going to be the same old, forgettable stuff, which is problematic because everyone wants their brand's swag to stand out among the rest. Below, Nicole Titus of the IpseNault Company shares five ways to turn your swag into a valuable marketing opportunity—and put your brand's message on blast. 
1. Invite interaction; go big, if it makes sense

.

If you can invest in something that you'll use again and again, it'll be worth it. Think about those big spinning wheels, a miniature golf setup, or even a jelly bean count—you can run giveaways using those and give out different levels of prizes for particular spins or holes. Some—but not all—of the prizes could even be brand-specific, like a coupon or sample pack. With something like a jelly bean count, it could be a series of prizes, or just one big one—maybe a Yeti cooler. "Those types of games that are interactive draw people to a booth and are really effective," said Titus. 
2. Pay attention to detail—and to space

.

"There's going to be a lot of notepads. But there's a lot we can do with a sticky note," said Titus. For instance, using full-color graphics, or maybe have one that's designed for making to-do lists. Adding an extra innovative touch to these initially ordinary things, she emphasizes, can make all the difference. Titus also favors promotions that provide a lot of advertising space for brands. She points to microfiber cloths—"a great example of an item that people use all the time but offer such a huge advertising and marketing space that you could be telling somebody so much about your company with."
3. Capitalize on your own offerings to get people hooked on your brand.   
Try including a sample or supply of your product in giveaways that will give people a taste of what your brand is all about. Hold a contest for a one-month supply or a sample pack valued at $300, or whatever your brand is comfortable offering. "I would say, whatever the prize is, try to cater it around their product—try to attract the business of the person that is going to win."
But it's also key to not limit all the prizes to your own brand. People like to win fun, surprising things, and they need to have something to be excited about.
4. Stand out

.

"If you're going to give out a pen, get a pen that people are going to want to keep and use all the time," said Titus. However, she cautions against having tons of giveaways just laid out on the table, as this invites people to just grab one and go. If you do choose to have something for everyone, then keep it minimal and spend a little more on a stash of something you can keep behind the table; save these products for the people who spend quality time at your booth and seem genuinely interested.

"I'm an anti-tchotchke person. I don't like giveaways just for giveaways' sake. I want it to represent me," she said. She also likes to remind her clients that whatever a company spends on giveaways at a show like Expo is coming straight out of its marketing budget, so they need to make it count. "You want it to have enough information, enough staying power that that person is going to want to get more information from the company."

Some current trends she's seeing in swag include: Reusable straws, kitchen utensils, and webcam covers. Household items make sense, she argues, because people actually use them and will keep them around, which is the key to keep your brand fresh in their minds.
5. Don't skip the basics.
Titus emphasizes the importance of appearance when it comes to your booth, whether or not you're giving anything away. Even if you're offering a huge prize, to get people to participate in a contest or giveaway you need to be able to draw them in first.
"I always tell people to start with the very basics—have a nice table cover, backdrop, banner, something that says immediately who you are and what you do … It is an initial investment in the beginning, but it's going to last forever if you take care of it."
Subscribe and receive the latest updates on trends, data, events and more.
Join 57,000+ members of the natural products community.
You May Also Like
---