How Simple Mills demystified social media and influencers for Naturally Chicago
How Simple Mills demystified social media and influencers for Naturally Chicago
This piece is part of the Good Food Insights series—a collaboration with FamilyFarmed, its Good Food Accelerator, Esca Bona and SPINS—that unpacks the dynamics driving the good food movement.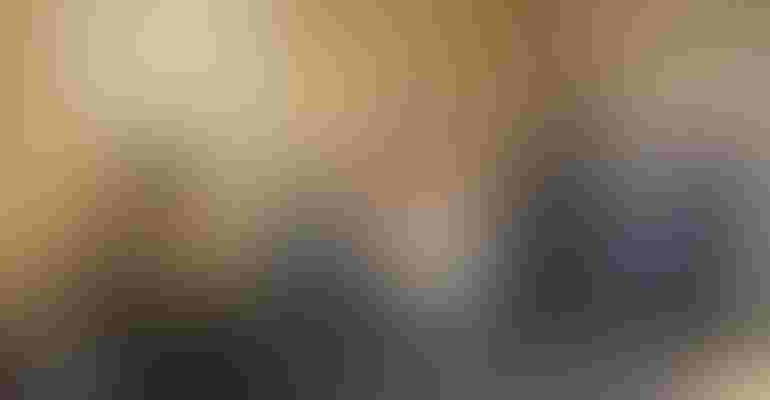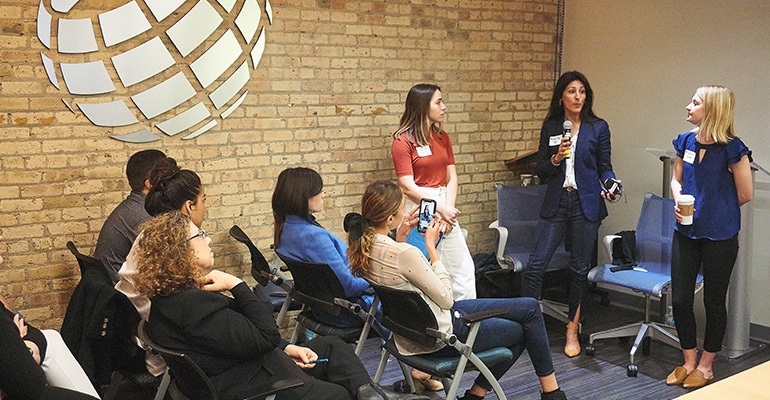 The inaugural Naturally Chicago Insights event held June 6 at SPINS was a Simple Mills master class in digital marketing featuring (from left): Margaret Mannion, Senior Marketing Manager; Michelle Lorge, Vice President of Marketing; and Mackenzie Stevens, Assistant Social Media Manager.
Almost every entrepreneur knows that effective use of social media and influencers can be crucial to growing their business. Far fewer know how to use social media and influencers effectively—or even how to get started.
When the organizers of the new Naturally Chicago program planned its first Insights education event on June 6 to focus on this key growth-generating area, they did not have to reach far to find their experts.
Over just six years, Chicago-based Simple Mills has grown exponentially, riding the almost-instant popularity of its deliciously simple, whole food-based ingredient line of almond flour baking mixes–and soon after, almond flour crackers, sprouted seed crackers, almond flour crunchy and soft baked cookies and coconut oil frosting.
As FamilyFarmed—the Chicago nonprofit that runs Naturally Chicago—reported last year in a profile of company founder/CEO Katlin Smith, Simple Mills went from zero store placements to 13,000 in just five years; its staff grew quickly from five employees to 35. Today the brand is in 16,000 stores and the company has 45 employees.
And according to Michelle Lorge, the company's Vice President of Marketing, "Social media and influencers have been key to growing our business … We have significant followings, and these followings are highly engaged, much more than industry average." She added, "We've worked with hundreds of talented influencers, and as a result have really incredible compelling content out there in the market."
Lorge kicked off the event, held at the headquarters of SPINS, the leading provider of data and consumer insights for the natural, organic and specialty products industry. SPINS is a co-founder of Naturally Chicago along with FamilyFarmed, KeHE Distributors and Presence Marketing, and is a partner in this Good Food Insights editorial series with New Hope Network and FamilyFarmed.
Lorge was joined by two Simple Mills colleagues, Senior Marketing Manager Margaret Mannion and Assistant Social Media Manager Mackenzie Stevens, who together delivered a how-to guide for maximizing social media impact that held the rapt attention of a packed room that included many aspiring Good Food entrepreneurs.
● Why Use Social Media?: "The primary reason we turned to social media was that we thought we had a really important mission and we wanted to share it with consumers in the most authentic way," Lorge said. "It's also an incredibly efficient way to reach the right consumer target." She added that Simple Mills collaborates with influencers for the same reasons: "You get that credibility and authenticity. Also, they are great content creators for us and they share that content on their social platforms as well."
● Great Content is King: "If your content is not good, if it's not compelling, if it's not focused on your consumer, it is not going to work," Lorge said. "You can throw all the money in the world at it and it is not going to work out for you because it won't resonate with your audience. So you really have to be strategic and mindful about your approach to content."
● Bang for Your Marketing Buck: "If done right, investing in quality content can be a huge cost savings for you, because every piece that you put out there connects with the consumer, which is going to translate into brand awareness and trial that will increase your sales. You can create a true relationship with them, so they become an ongoing part of your businesses, building your business long term."
● Healthy Understanding of Your Customers: "We've known our consumers want to eat healthy and they make that connection between what they put in their bodies and how they feel," Lorge explained. "We are bringing those more purposeful, more nutrient dense, more delicious products, and we really focus heavily on the food and recipes … We give information about nutrition. We highlight some of our employees and their backgrounds because our consumers like to understand the people behind the brand."
● Get the Right Help: Lorge noted that when she started at Simple Mills four years ago, the company was not getting much social media engagement, and she said part of the reason was that it was using an external consultant who did not have as deep an understanding of the core consumer and what mattered to them. While Simple Mills built an in-house social media operation, it received valuable advice from SRW—itself a very young, full-spectrum Chicago social media agency—who "pointed us in the right direction and were instrumental in our growth."
Mannion and Stevens then offered many actionable suggestions for how to implement a great social media strategy.
● First, That's Entertainment: Mannion described the need to tailor your content approach according to your communication objectives, which should vary depending on how well consumers already know you and where they are in the purchase funnel. In the beginning, your primary goal is to grab their attention. Entertainment value can help get them interested in you, especially as people are quickly scrolling through their feeds. As you get to know them a little bit better and they've already decided they like you, that's when you can start to get more specific about your product information to close the sale..
● Two-Way Communication: "We have a video segment every Wednesday called Wonder Wednesday when our community asks questions, and I answer them on Instagram Stories," Stevens said. "It's great because we get to learn what our consumers want to know about. For instance, what is coconut sugar and why do we use it? If we know consumers are interested in that, we can address it in our stories and we can write a blog post about smart sweeteners like honey and coconut sugar to provide them more information." 
● All Influencers, Great and Small: "We collaborate with a mix of influencers. We work with micro-influencers, who have smaller followings and might be looking to grow their brand," Mannion said. "And then we also work with macro-influencers, who have larger followings and who can help expand our reach more quickly. The good thing about those partnerships is that you can be specific about the type of content that you hope to create with them, and often have more options for how to disseminate it and analyze it."
She continued, "What's great about working with the smaller influencers, though, is that we see highly engaged communities behind those influencers. Because they're so close to those influencers, they get really excited about what the influencer is talking about, and your products have a good chance of resonating with those audiences.
So, quite a lot of takeaways from a short presentation. Hungry for more knowledge about how this fast-growing company mastered social media? It's Simple. Just follow them online. @SimpleMills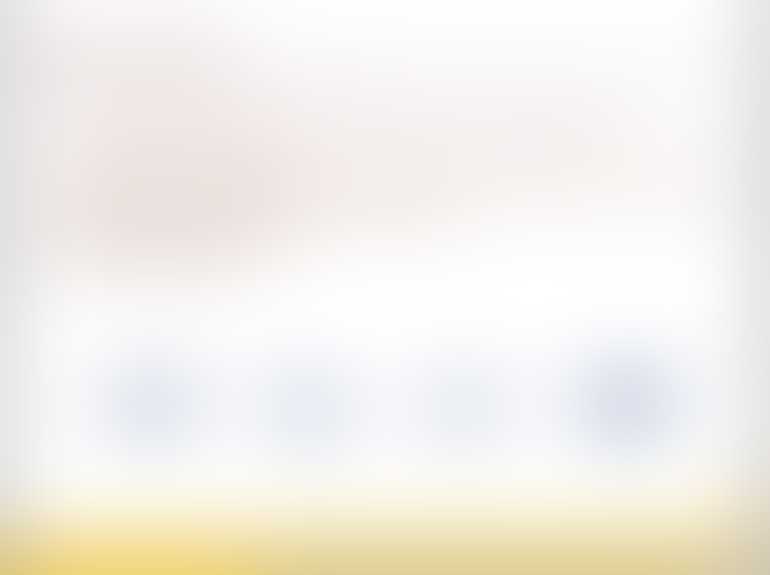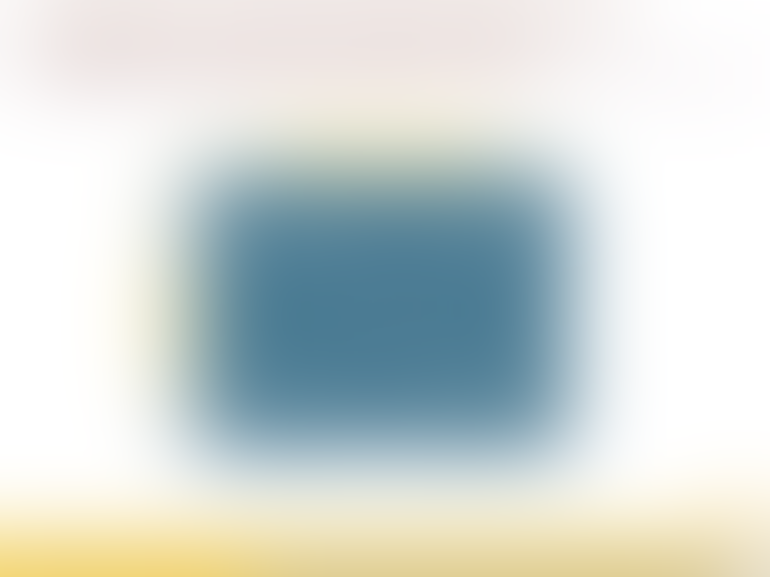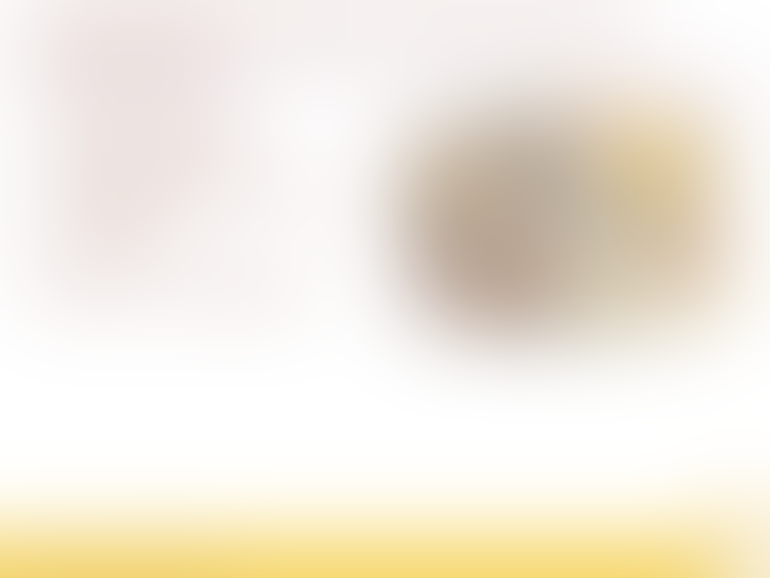 Good Food Insights is an editorial partnership of New Hope Network's Esca Bona thought-leadership platform; FamilyFarmed's Good Food Accelerator; and SPINS, the leading wellness-focused data technology company for the natural, organic and specialty products industry. Good Food Insights articles provide timely analysis of major trends and innovation in the national good food landscape.
Subscribe and receive the latest updates on trends, data, events and more.
Join 57,000+ members of the natural products community.
You May Also Like
---
Sep 20 - Sep 23, 2023
Natural Products Expo East is the East Coast's leading natural, organic and healthy products event.
Learn More