Peckish's 'perfectly boiled' egg pioneers new eating behavior
Peckish's 'perfectly boiled' egg pioneers new eating behavior
Sonoma Brands' new product, "Peckish," is a snazzy new portable protein solution. VP of Brand Lauren Egan tells us the story of how it came to be.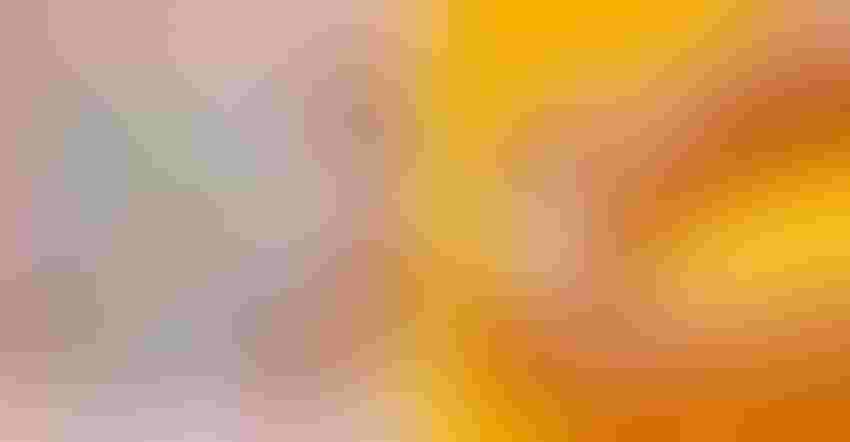 If you pay attention to natural retail trends at all, you likely already know that the fresh, refrigerated section of grocery stores are expanding to better serve consumers seeking quick, healthy eats. As a result, smart brands such as Peckish, a new company launched by Sonoma Brands (the same folks behind cheeky products such as Smashmallow and Zupa Noma), are creating products with these convenience-oriented consumers in mind.
Peckish is a refrigerated, beautifully packaged bento-style box that contains two individually wrapped hard-boiled (or "perfectly boiled," as the company likes to say) organic eggs. Additionally, a crispy dry dip comprised of clean-ingredient seeds, spices and puffed quinoa is included in the pack. The idea is to dip the egg into the topping for a high-protein snack. Each adorably named "Peck Pack" is $3.99, and the brand is on the precipice of launching into more stores.
We caught up with Lauren Egan, VP of brand for Peckish, to learn how the brand plans to educate consumers on adopting new eating behaviors and how strategic packaging is key to introducing new concepts to market.
Can you explain the connection between Peckish and Sonoma Brands?
Lauren Egan: Peckish is the third incubator product from Sonoma Brands. We conceptualized everything from the actual product to the brand to the packaging. Sonoma was looking for categories in the grocery store that are dormant and ripe for disruption. Consumer research told us that current hard-boiled eggs on the market are convenient and healthy, but they lacked deliciousness and eating appeal.
Packaged hard boiled eggs have been in the refrigerated section of grocery stores for a long time. What is Peckish's competitive advantage?
LE: The biggest differentiator for Peckish is that we're the first company to commercialize the "perfect boil," developed through a highly refined cooking method that creates a beautiful, orange yolk. A perfect boil is how most people like to eat eggs in their own kitchen—not too soft and not too hard.
Additionally, each "Peck Pack" comes with a crispy, crunchy dry dip, which adds flavor and fun.
How did the Sonoma team come up with the idea of this crunchy topping—it seems like a significant differentiator for the product, too.
LE: There is a ton of research and trial and error when conceptualizing a new brand. We had this perfectly boiled, delicious egg, but we wanted to elevate the eating experience even further—and we wanted to go beyond including a salt and pepper sachet that you normally find with hard-boiled packaged eggs. We wanted to surprise and delight our consumers.
This pushed us to explore a dry crispy dip that was super healthy and clean. We use roasted pumpkin seeds, puffed quinoa and savory spices in our blends. It sticks to the egg, which adds a crunchy texture. When we first dipped the egg into the seasoned crispies, we thought it was a game changer. We intentionally created spice flavors that evoke classic egg-containing dishes such as fried rice, an everything bagel, maple and waffles and rancheros. These flavors complement the rich creaminess of the egg's yolk—you can still taste the egg; it's not overpowering. 
The packaging of the product is quite striking. How does the package design help support the brand?
LE: Both creating the physical packaging and the brand were definitely a considered and lengthy process. We wanted to nail a brand foundation where we're championing the egg but also bringing in a fun vibrancy. It's a new product, so we needed the packaging to be very eye catching. The bright orange of the yolk is intentional. We placed these vector files of the egg and the food onto the package instead of photography because we're evoking these flavors of dishes you love but doing it with healthier ingredients.
We were motivated to create a mini-meal experience with a snack pack. Each egg is individually wrapped to add flexibility and convenience. You might buy a Peck Pack, but you don't need to eat both eggs at the same time—you can eat one in the morning and one in the afternoon.
How are you planning to educate consumers to adopt a new eating behavior?
LE: It's going to be as much trial and demoing as possible to show consumers what's inside the box and how to dip the egg. We plan to partner with influencers who follow specific diet tribes such as paleo, keto and Whole30. Eggs are a constant among these three diets. Visuals such as videos and photographs via digital marketing and social media are going to be a big part of our educational content plan, too.
And I understand that Peckish is launching into distribution soon?
LE: Yes! Currently we're in four Erewhon Market locations in Southern California, and we're just about to launch into Whole Food's 365 stores. We're excited to be launching with the e-commerce partner, Good Eggs, in San Francisco. On the East Coast, we are going to be in Juice Press locations that partner with Equinox Gyms. We're all about grab-and-go convenience. Peckish is a great fit for coffee shops, airports and anywhere that fresh, portable protein is needed.
Subscribe and receive the latest updates on trends, data, events and more.
Join 57,000+ members of the natural products community.
You May Also Like
---