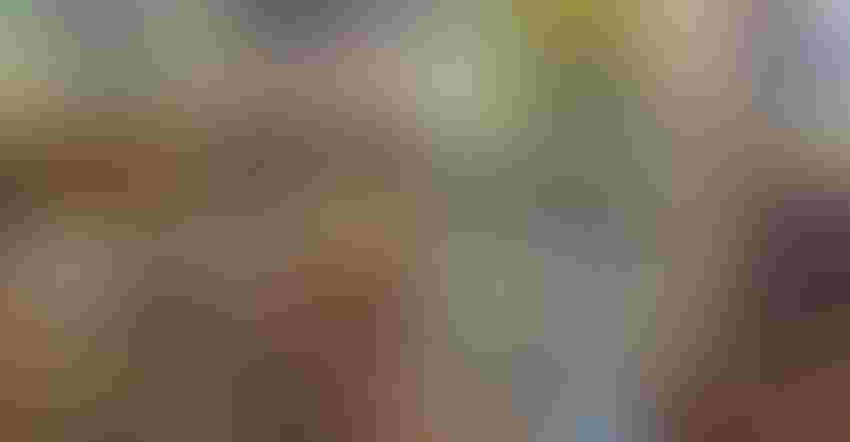 Aside from trying to mix CBD products, retailers are finding the lines are blurring between supplements and the food aisles.
"It's harder for us to distinguish between functional foods and wellness products," says Summer Auerbach, CEO of Kentucky-based Rainbow Blossom. "There are increasingly blurry lines between wellness and food."
Noting that the mushroom supplement company Host Defense now has teas and there is CBD-infused honey, caramels and seltzer waters, or drinks like Fire Cider for digestive health, there can be debate if a product line is for the grocery or wellness buyer.
"Products that were normally grocery are now wellness and vice versa," says Auerbach.
At Martindale's Natural Market in Pennsylvania, Supplements Manager Mark Stayton says they are trying to integrate products more. For instance Martindale's has a smoothie set, which includes protein and other powders, across from kombucha.
"We thought about for someone who is buying kombucha, what else would they be buying? We try to look at when someone makes a beeline for a certain product what can we put near that type of product that a customer would also be interested in."
Similarly, Jason Bander, general manager of Lifethyme Natural Market in New York City, says he put a 4-foot set of Jarrow SKUs of bone broth in the middle of the store's soup section. "We could expand to include Ancient Nutrition. We are doing it as a market test to see if it encourages questions or additional takeaway," he says.
In Stayton's store, he says based on the increasing interest in overall wellness, including sleep and stress, they are working to curate a larger section called, "emotional well-being," which will include sleep, stress, depression and energy together.
In addition to curating the right products, Harvest Health Foods' Mitchell Nol adds that it is important to pay attention to packaging, especially for millennials—and he is one of them.
"A newer generation is shopping, we are the Apple generation and we expect our products to have nice packaging." For this reason, he says, "We are currently changing the label on our private label. I think we could see an increase in sales with a newer, fancier label. Vega and Garden of Life came out with new packaging. Millennials come into the health food industry, they expect good-looking products."
Where merchandising is concerned, curating good products can also go beyond the store to involve and support the community. Auerbach says each year she and her staff focus on a strategic theme, which in part reflects places where they can focus on product selection. "Our 2018 theme was the year of healthy babies and families. We worked with professionals in our area to curate a mom and baby set," she says.
The emphasis on family extended beyond products to working with doulas and lactation specialists, as well as placing step stools for kids in all of the bathrooms, and having coloring tables and kids shopping carts. This all plays into what she says has kept her store on a successful path.
"Our key to success has been really knowledgeable staff and excellent customer service. We have done surveys and found the majority of customers shop with us because of the unique product selection that you can't find anywhere else. We try to maintain that and a focus on local," Auerbach says.
No matter how you merchandise products, says Michael Kanter of Cambridge Naturals, it's important that retail staff are not only educated, but there are products they can be excited about. He notes that, like his staff, consumers also are enthusiastic about companies that are not only making quality products but that are also doing good things for others and the planet.
"A number of these companies are researching and making products that really work for people. They are also working on projects to create a better world and environment. Those are the ones we treasure—MegaFood is working on regenerative agriculture, Host Defense is doing everything they can to save the bees. Problems are solvable if we approach them in a more dramatic way. Companies working to create a better, safer, fairer planet are the ones we cherish." He adds, "Those are the brands our staff gets excited about and they feel they can trust these companies and promote them highly. If the staff isn't behind our product selection, they will not communicate those products. If they are not viable, they won't sell it."
Subscribe and receive the latest updates on trends, data, events and more.
Join 57,000+ members of the natural products community.
You May Also Like
---
Sep 20 - Sep 23, 2023
Natural Products Expo East is the East Coast's leading natural, organic and healthy products event.
Learn More