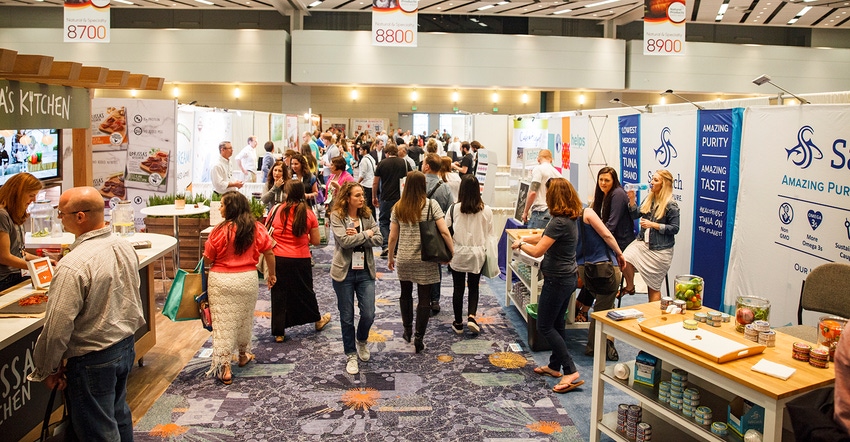 Another record-breaking year of attendance at Natural Products Expo West has come and gone. As the show floor continues to expand, attendees have to be strategic about their time, meaning what areas they visit and when. There's an Expo West event app to help you navigate the show floor and this year the show introduced Sparky, the Expo West EventBot. Luckily, the explosion of social media in recent years can work to your benefit as an exhibitor. Planning ahead and reaching out to attendees directly through email or on social media before the show is a great way to capture their attention and get on their radar before you even have your booth set up.
In addition to reaching out ahead of time, there are many ways you can interact with show attendees during the show by providing fun and engaging activities at your booth that draw attention both offline and online. An energetic personality and enthusiasm goes a long way when getting someone to stop at your booth, sample your product and engage in conversation. Bonus points if your booth looks great and you have built an experience that has been deemed "Insta-Worthy." Below are highlights and some examples of great engagement between influencers and attendees from this year's show.
Fun and games
Creating experiences where you can entertain attendees is always a really fun way to engage and connect. Who doesn't love a good carnival game? The Coconut Cult had a beautiful booth complete with Coconut Yogurt Pong, Free Probiotic Tarot Card Readings and a Funhouse. They even had piñata-presents for friends of the brand (Malk Organics, Honey Mamas, and Siete, to name a few). They were firing on all cylinders and that made a big impression. Caulipower Foods had an Electronic Arcade "Pizza" Claw Machine stuffed with miniature pizza boxes filled with free pizza coupons, cauliflower toys and koozies. Unreal Snacks had a custom cornhole set at their booth. Tailgate tournament, anyone?
Scavenger hunt
Collaborating with brands on Instagram through giveaways is a great way to grow your following and tap into a like-minded audience. We noticed several brands collaborating offline on the show floor this year. Aloha Brands organized a scavenger hunt of plant-based brands. They created a punch card with the participating brands and booth numbers and gave each brand a hole punch and cards. Attendees visited all booths and returned them to Aloha Brands when complete to be entered to win a prize pack. Participating brands included Oatly, Fruit Bliss, Barnana, Banza, Seasnax and more. Malk Organics also created an "Unofficial Passport to Expo West" with participating brands such as Health-Ade Kombucha, Wild Friends, Zupa Noma and Four Sigmatic. This is a great way to meet and connect with influencers and to help drive foot traffic to each other's booths.
Photo booths
Capturing moments at your booth with influencers and attendees can create positive, lasting memories on social media and in blog post write-ups such as show recaps (like this one!). Photo booths are not a new concept; however, the way booths are crafted has changed. Booths are now being designed with a visual component in mind that is compelling enough to post on Instagram, both in Stories and on your Feed. Some great examples of photo booth moments were the floral wall at This Saves Lives, the "Live Your Best" neon sign at the Zevia booth and the Simple Mills "Simple is Powerful" photo mural that was outside the Expo hall complete with giant boxes of their new brownie mix and sea salt crackers. Just like their products, the Simple Mills mural was made using real ingredients. If you look closely you can see the chia, flax, coconut and almonds used to create the text and sun backdrop. Flow Water had a superhero photo booth, where Gwyneth Paltrow took a Superhero photo with Flow Water CEO Nicholas Reichenbach.
Custom products and giveaways
Reaching out to influencers before the show to schedule a time to speak is important. Offering them a unique experience unlike any other when they arrive at your booth is another way to set your brand apart and boost engagement on the show floor. Wholly Veggie sent notes to influencers before the show inviting them to try their new vegan cauliflower crust pizza and receive an influencer package worth $100 in free product. RW Garcia offered confirmed members of the media custom monogrammed wooden cheese boards. Both packages were only offered if you RSVP'd in advance. This is an example of a nice touch that guarantees quality engagment.
Key takeaways
A booth experience is important, but a strong product and good communication is also key. Take the time to do your pre-show research and reach out to influencers and bloggers who will be attending the show. Create an experience that people want to talk about. Entertain and engage them. Educate them on issues that are important to you and your brand. When someone does mention your brand on social media, take the time to respond.
And a special shout out to Vive Organics for doing a tremendous job of responding to direct messages with specific and helpful information during show hours. Your efforts did not go unnoticed.
Until next year!
Lindsay Mauch is the founder and chief marketing officer of LTM Digital, a social media and digital marketing agency focused on health, fitness, sports and technology clients. She has more than 15 years of online experience handling digital marketing strategy, product development and social media, and has worked for top brands such as MySpace, JustFab and Transworld Media. You can find her on Instagram at @LindsayMauch.
Subscribe and receive the latest updates on trends, data, events and more.
Join 57,000+ members of the natural products community.
You May Also Like
---