Ayo Foods brings West African flavors to the US market
Ayo Foods brings West African flavors to the US market
Perteet and Fred Spencer used knowledge gleaned from years in the business and natural products worlds to bring their own food-focused dream to life.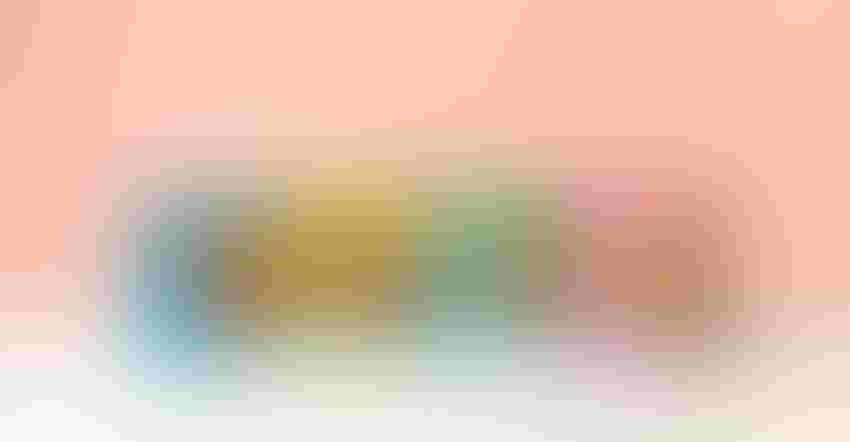 Once the domain of puny portions and questionable proteins, the frozen food aisle has come a long way. Now, it's a place where consumers can find a variety of healthy and filling ethnic dishes. 
Ayo Foods co-founders (and life partners) Perteet and Fred Spencer entered the space in July 2020 with a line of frozen West African cuisine. Based on family recipes, the dishes—including Cassava Leaf Stew, Jollof Rice and Egusi Soup—highlight ingredients that may not be familiar to many American consumers but have a built-in regional consumer base in areas with large West African populations. Perteet grew up in the Twin Cities of Minneapolis-St. Paul, Minnesota, home to the largest Liberian immigrant community in the U.S. and sees the market for these products firsthand. 
Ayo (West African for "joy") quickly snagged a 2020 NEXTY Award for Best New Frozen Food and is moving full steam ahead with expansion plans. We caught up with Perteet to learn how the first year of business is going and what's next for this entrepreneurial family. 
What's your business origin story?   
Perteet Spencer: I grew up in a Liberian family. Ayo recipes are a direct output of the food we grew up eating. Food is central to who we are as a people and an essential aspect of our happiest times together. If you look at pictures of our family, we are always in the kitchen cooking! We looked at the frozen landscape, particularly the last three to four years, and saw it was driven by specialty and unique items. We started thinking: "What if we created a space where the foods we know and love could be featured in a way they haven't before?" 
These are dishes you probably wouldn't make on a Tuesday night as they require a lot of prep time and have several layers of flavor.  We knew that if we could deliver those authentic, slow-crafted flavors, there would be a demand for that. 
Did you have prior experience in the natural foods industry? 
PS: Yes. I've worked in the food business most of my career. After business school, I was at General Mills for 10 years. I managed the Cascadian Farm account, where I gained a deep appreciation for natural products and consumers. I carried that experience with me, which led me to SPINS and being able to influence the changing health and wellness landscape at scale. 
Frederick brings comparable skill sets—he has a finance background and is a serial entrepreneur. He took what was a dinner conversation idea to fruition. We also partnered with my dad along the way to start a West African import/distributor business, so we had a solid understanding of sourcing components. It's a marriage of our entire family's skill sets and personal passions. Having a good understanding of the nuts and bolts of building a brand—but also the market opportunity behind Ayo—gave us confidence that now was the time to launch. A big part of being an entrepreneur is just doing it and taking the first step.
Tell us about landing your first retail account.
PS: Whole Foods Market was the first and we got 50 stores out of the gate. We are incredibly grateful and do not take that for granted. In 2019, they called out West African as a trend space to watch, so we captured that unique dynamic as far as trends on their radar. Then we delivered that trend in a way that is very aligned with the Whole Foods consumer. 
Where do you focus your retail education efforts?
PS: As a platform, we are creating a space that simply doesn't exist in the market today. We know a portion of our consumers are "ethnic adventurers" who shop at Whole Foods Market and other specialty retailers to break up their routine. Ayo does that—it's a safe way to explore something different, especially now, when we can't travel like we want to. 
There is also a secondary core of the market—people like me and my brother— first generation West Africans who might not shop at those stores on a regular basis. We also want to meet those folks where they are. We are very thoughtful about our assortment and having the right items in the right places. We tend to partner with retailers that really lean into a more progressive proposition. 
How do you source ingredients? 
PS: It was very important that we stayed true to the ingredients as these dishes are made, while also being mindful of sustainability. For example, cassava leaf typically contains palm oil. Palm oil does not have the best reputation, but it's true to how these dishes are made, so we found a high-quality, sustainably sourced palm oil. Another example is bony fish. It's a dried fish you can find wrapped in plastic at specialty markets. We couldn't find a full-scale commercial solution, so we use an alternate sustainable fish (tuna) with a similar flavor profile. 
We are mindful of protecting the integrity of the flavors, while acknowledging the limitations of today. Our hope is that creating a scalable, sustainable business will help change things. We are just getting started on our journey to shine a light on these nutrient-dense ingredients.
How do trends such as convenience, healthy options and ethnic cuisines play into your growth forecast? 
PS: While the pandemic presented a host of challenges for many people, one thing it did is refocus people on cooking at home. Our meals have fresh-cooked flavors but are ready in a minute and a half. It's "convenience plus"— fast, but also tasty.
Food also has teleporting powers that transcend Ayo. We met in college and were on college budgets. Before we could travel and explore, we would go to different cultural neighborhoods in Chicago and try new foods. Our aspiration for Ayo is that it can do something similar—transport you to different countries through food. 
What else should retailers know about you and your company?
PS: West Africa is a large region that includes 16 countries.  When you look at the total landscape of food, Africa as a continent—and in particular West Africa—has been overlooked as part of that discussion. We feel honored and excited to bring that conversation to light through the work we are doing at Ayo. When people walk down the aisles of the grocery store, they should be able to see themselves in it. 
Subscribe and receive the latest updates on trends, data, events and more.
Join 57,000+ members of the natural products community.
You May Also Like
---