Culinary computation: Chef Craig Tarrant brings misfits and microgreens together at Microsoft
Culinary computation: Chef Craig Tarrant brings misfits and microgreens together at Microsoft
Craig Tarrant, culinary director of Dining at Microsoft in Redmond, Washington, works with 60-plus local farmers to source the cafés and kitchenettes that feed more than 40,000 Microsoft employees daily.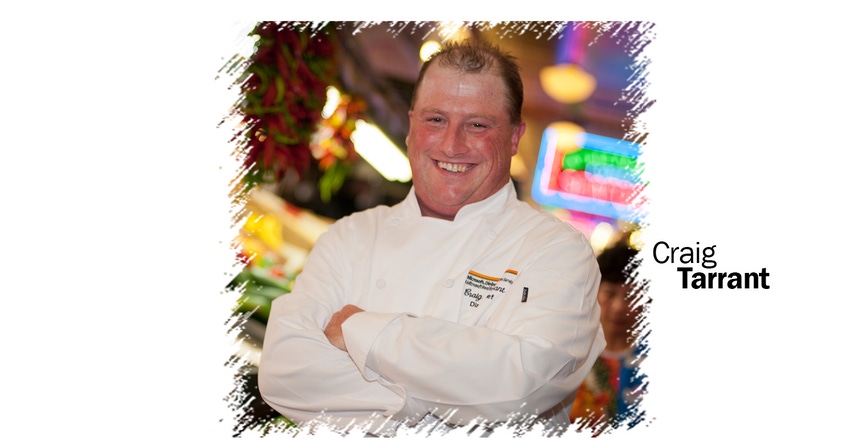 How do you feed a corporation as big as Microsoft and still offer local, sustainable fare?
Ask Craig Tarrant, culinary director of Dining at Microsoft (operated by Compass Group) in Redmond, Washington. He works with 60-plus local farmers to source the cafes and kitchenettes that feed more than 40,000 Microsoft employees daily. He's helped organize on-site urban farming initiatives (hydroponics and cultivation of microgreens), and multiple programs that help bring his customers closer to the source of the food they eat. Here, Tarrant speaks about working with local farmers, building authenticity and what to do with "misfit produce" that would otherwise be thrown away.
In your time at Microsoft, have you seen changes in the preferences of your customers?
Craig Tarrant: I've been working on the Microsoft campus for more than 20 years, and in that time our customer expectations have definitely changed. Customers want to understand more about the food chain. They want to know about healthier eating, about the impact of food on the environment. It's become all about understanding what's in their food. We serve more millennials now and that's been a shift, not only in what they eat but when they eat. Also the Dirty Dozen and hidden additives such as dyes in ingredients like canola oil have been on our radar lately.
The biggest change for us has been bringing food to the customer in a transparent way. The days of having one buffet line with the kitchen in the back of the house are gone. Now we're all about giving our customers a cooked-to-order restaurant experience. Many cafés have anchor brands that can only be found in that location, such as Pacific Rim Kitchen (Dim Sum and Housemade Noodles) in Café 9; Himalaya Indian Comfort Food in Café 37; and Dekotora Ramen & Teriyaki in Café 37. These brands are very popular and showcase the diversity of our customer base.
How large is your operation?
CT: Overall there are 90-plus total retail and dining outlets on campus, including 33 full-service cafes, 32 Espresso locations, more than 25 Market@ retail stores and more. We also manage more than 500 kitchenettes, 377 vending machines and 922 beverage coolers across campus. We feed more than 40,000 people daily. Part of the focus for Microsoft is to make employees as productive as possible by giving them plenty of dining options on campus.
What does your local sourcing program look like?
CT: For local sourcing we have a number of exclusive agreements with nearby farmers. One is a chickpea farmer in Quincy who grows green chickpeas, which we offer on the menu year-round. We also source Bow Hill blueberries from the Skagit Valley and use them while they are in season. We have an urban farming team as well that works on growing us our own microgreens. Microgreens are otherwise very expensive; our chefs use them as a garnish and for flavor enhancement in dishes. We're also doing hydroponic farming and grow a portion of our own lettuce to supplement other produce.
We've also set up a cool program with some of our farmers where chefs can request a crop and the farmer will grow it the next year and the chef gets the harvest for the restaurant. It's a whole new level of connectivity between the farmers and our chefs.
Is being part of a larger corporation essential to building out local sourcing and authenticity?
CT: Some is the support of Microsoft—some is just common sense. Everyone's a foodie today. Anything we can do to connect them to how something is grown is going to give us an advantage down the line. We are also very fortunate to live in the Puget Sound area, which offers an abundant number of local growers, farmers and fisheries to partner with.
It's all about knowing your customer base and delivering authenticity, at all menu price points. A percentage of customers are willing to spend $11 for an all-natural New York Angus steak. But you still have price-sensitive customers who want a $6 steak. The challenge is to appeal to both and make a dining experience that both can enjoy.
Many of our cafés run a Chef's Table station. Every day the chef serves one or two items made to order, in an open kitchen format. It takes a little longer, but customers are willing to wait for it because of the perceived quality of the dish.
It's not just the food that we're upgrading; we're upgrading food presentation to create a fully sensory experience. We're using interesting flatware, bamboo steamers, etc. to create an enhanced aesthetic to the way we serve our food. We've been upping the game on a lot of sensorial bases.
What is your approach to food waste?
CT: We have a program called the "Misfit Produce Rescue"—produce we purchase from local farmers that would otherwise be thrown away because it's not pretty enough to sell in the supermarket. Approximately 40 percent of farm product is towed under into the soil because it can't be sold. We began the Misfit Produce Rescue to support the farmer by purchasing these items, which also has a positive sustainability impact. Our talented chefs work their magic on items such as oddly shaped carrots or overgrown leeks, serving them in entrée dishes, soups, stocks and sauces.
Subscribe and receive the latest updates on trends, data, events and more.
Join 57,000+ members of the natural products community.
You May Also Like
---