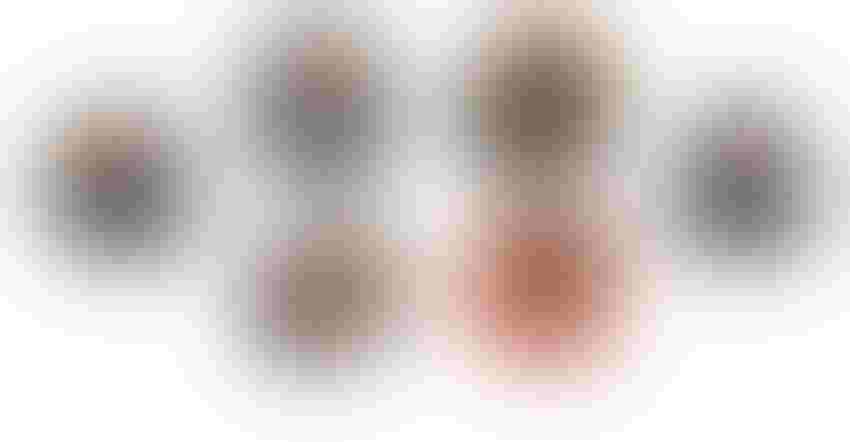 A new generation of entrepreneurs is quickly becoming a driving force in natural foods. Here's a closer look at a few of the millennials who are innovators in the industry.
Nik Ingersoll, cofounder and CMO of Barnana
Ingersoll was born and raised in the farmlands of western Nebraska. Always a hard worker, he held down a job of some sort since age 13. Immediately after graduating high school, he packed up his stuff and drove out to California to go to college. As an undergraduate, he became a cofounder of Barnana, officially launching the brand in 2012. Barnana's mission is to end food waste on organic banana farms by upcycling bananas that would otherwise get tossed, instead using them to create tasty snacks. When you aim for success doing a little bit of good in the world, says Ingersoll, "as long as you have fun, build something awesome and create delicious things, that's all you really need."
Rip Pruisken, cofounder and co-CEO of Rip Van Wafels
Pruisken, an Amsterdam native, began making stroopwafels in his dorm room at Brown University simply because he couldn't find his favorite Dutch waffle snack in America. He began to sell them on campus, and his fellow students couldn't get enough of the tasty treats. He teamed up with classmate Marco De Leon, and the business partners moved out to San Francisco to set up Rip Van Wafels Inc. in 2013. Pruisken explains an emphasis on three principles when creating products—taste (which he defines as texture and flavor), health (using simple, real ingredients) and design (focusing on convenience while maintaining an elevated eating experience). He promises to remain true to those principles as the company ventures into new flavors and new eating occasions.
Lizzi Ackerman, cofounder and CMO of Birch Benders
Matt La Casse, cofounder and CEO of Birch Benders
"I woke up one morning wanting pancakes and didn't want to go through the hassle of making pancakes," and out of that need, Birch Benders was born, La Casse says. Ackerman goes on to explain that there weren't any just-add-water natural ingredient pancake mixes on the market at that time. So she and then-boyfriend La Casse set out to create a convenient pancake mix out of simple, natural ingredients that was delicious and affordable. They incorporated Birch Benders in 2011. It is a natural and organic brand featuring vegan, paleo, gluten-free, high-protein and more traditional (like buttermilk) pancake mix versions. A lot of time and care goes into the creation of their pancake mixes, as Ackerman recounts their multiple double-blind taste tests to find the best flours to use. Then she explains they replicated those double-blind taste tests for every single other ingredient in their mixes. La Casse and Ackerman, married in 2015, go on to express that they look to make Birch Benders "the number one pancake brand in the country" as it expands into new product categories. "Super exciting ideas that are not what you expect, but still very much a part of our brand," beams Ackerman.
Natasha Case, cofounder and CEO of Coolhaus
The concept of Coolhaus, Case explains, started out as a "passionate hobby." Case was a UCLA grad student when she developed the desire to make architecture more fun and accessible by applying it to the food industry. Then while working in architecture at Walt Disney, she developed the "wacky idea" of making cookie and ice cream treats named after architects. Her partner Freya Estreller really saw the business potential in the idea, so they launched Coolhaus in 2009 out of a food truck at the world-famous Coachella Valley Music Festival. From one truck peddling a snickerdoodle and strawberry ice cream concoction called the Frank Behry, Coolhaus has grown to feature two scoop shops in Los Angeles, a national food truck fleet and a wholesale distribution division placing their ice cream bars, pints and sandwiches in over 4,500 stores. "We really see Coolhaus as a culture and as a lifestyle brand," says Case, who hints at expanding into other categories and "surprising people."
Brian Rudolph, cofounder of Banza
Rudolph relates loving pasta as a kid: "It was one of the only things I ate." Growing into adulthood, he wanted to eat healthier, and he realized the pastas available weren't fitting the bill. So he spent many nights in his home kitchen, perfecting his recipe for a better, healthier pasta. He developed a pasta made out of chickpeas that has double the protein, four times the fiber and nearly half the net carbohydrates of traditional options. It's also vegan, non-GMO and gluten-free. He teamed up with his older brother Scott and cofounded Banza. The company came into the national spotlight on the CNBC reality show "Restaurant Startup" in the summer of 2014. Just a couple years after the show aired, Banza is now on grocery shelves in more than 3,300 stores across the United States. Rudolph sees Banza becoming the new standard for pasta given the nutritional advantages it has over its predecessors.
Subscribe and receive the latest updates on trends, data, events and more.
Join 57,000+ members of the natural products community.
You May Also Like
---