No Evil Foods: A plant-based meat brand with a punk rock soul
No Evil Foods: A plant-based meat brand with a punk rock soul
Nonconformity, community and compassion help this vegan alt-meat company embrace people and planet.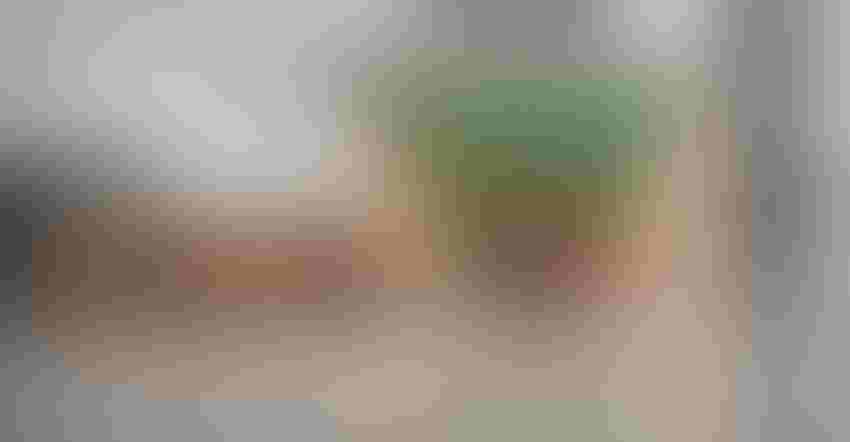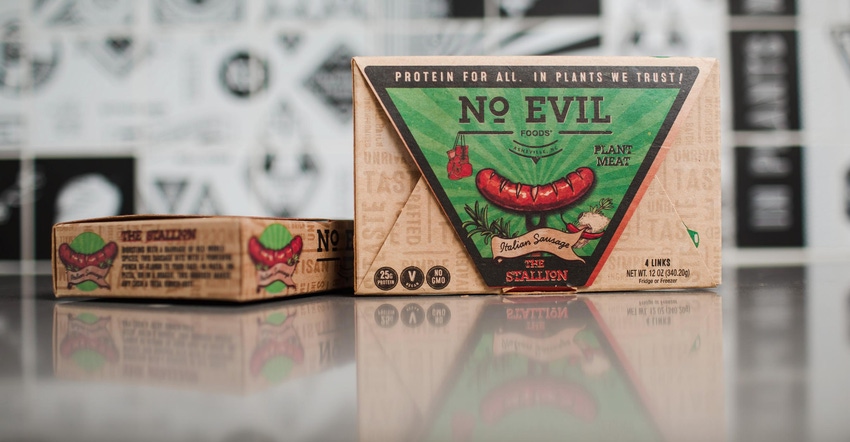 Some might know it for the whimsical names of its plant meat products, including Comrade Cluck 'No Chicken,' El Zapatista 'Chorizo' and The Stallion 'Italian Sausage,' or maybe for the fabulous packaging designs they come in—adorned with brightly hued, vintage illustrations. Others might be familiar with this Ashville, North Carolina-based company for the way it keeps its mission squarely at the core of its business, a mission that not only embraces the ethics of veganism and good environmental practices, but that also puts people and community first. For co-founders Sadrah Schadel and Mike Woliansky, it is of the utmost importance that their business is fueled by compassion on every level.
Punk rock meets plant meat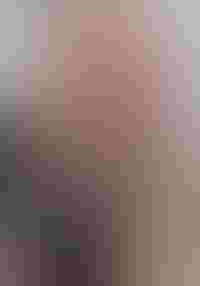 During a recent talk for the Mile High Vegan Network "Expert Webinar Series," Schadel (right) drew comparisons between the growth of No Evil Foods and punk rock, a passion the partners share. "I came to realize that there is a very strong connection between punk rock entrepreneurship and how we've approached building and growing our brand," she said. "For us, [punk rock] wasn't just about loud fast music, it really was about the values that that community of people with that mindset shared." These values include social causes, as well as a scrappy, DIY mentality that led the pair to start the plant-based meat brand in 2014, "manufacturing our products by hand, literally one sausage link at a time."
Starting at farmer's markets and then moving into grocery stores and restaurants in their home of Ashville, North Carolina, Schadel and Woliansky leveraged the nonconformist attitude embraced by punk rock to challenge the way that things had always been done in the retail marketplace. "We usually found a way either completely around slotting fees and free refills, or we were able to really negotiate down what the retailer was asking."
Rules, said Schadel, are meant to be broken, and so we were able to keep those savings and reinvest them back into the business, "by being confident and comfortable in uncomfortable spaces."
This sentiment ("rules are meant to be broken") can be found on the back of the brand's Pit Boss Pulled Pork BBQ, one of five plant meat products—all of which are based on classic meat preparations such as the "turkey" dinner, aptly named, "The Pardon." It also infuses the way the company does business: The bottom line is only as important as the journey taken to get there.
While the welfare of animals is obviously central to No Evil Foods' DNA, another pillar is that of safeguarding the environment—a key driver in the current growth of the plant-based meat movement. The brand's use of (2017 Nexty Award-winning) fully home-compostable unbleached kraft cartons is just one manifestation of how Schadel and Woliansky put thought and care into the various ways their business impacts the planet.
Putting community first
Another reflection of this is in how the company supports people and their community. This begins with its employees. From the beginning, said Woliansky (below left), the co-founders felt it was important to control the manufacturing of their product, to be able to retain control over their production process, as well as scale up production, implement innovation and gain more speed to market. Another reason they felt that this was important was to provide jobs for their community. Last year the company opened a 16,000-square-foot facility in the Ashville area, growing their team from around 20 people to more than 100.
This has not come without challenges, and these were made even harder by the pandemic. "We've basically been meeting five days a week around COVID-19 since mid-March, and it's been a constant evolution of process and improvement to keep our facility clean, safe and sanitized," he says, emphasizing the importance of "taking care of our employees." One way the co-founders have met this challenge is by raising their production line workers' salaries by $2.25 an hour in April 2020—a increase dubbed "Our Team Is Freaking Awesome Pay!" Originally meant to be a temporary "hero pay" bonus during the crisis, No Evil Foods then decided to make the increase permanent, joining the living wage movement with an average $17 an hour wage for frontline production employees, in addition to 100% employer-paid health insurance, among other benefits.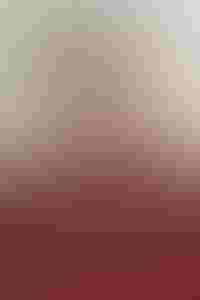 The company's commitment to social justice causes is another way it embraces a punk rock mentality, said Schadel. Tolerance, community and lifting people up are all key values of this movement. "When Mike and I approached building this company, we wanted our business to serve as those hands that were reaching in and lifting people up," said Schadel. "We wanted to be part of something that really applauded and cheered people on about their small steps and impacts along the way."
Furthermore, as field marketing essentially disappeared during the pandemic, the company shifted these efforts into more donations, social causes and community support initiatives. Another thing that is top of mind for the brand right now is price sensitivity and how to make the products more accessible to people through IRC coupons and other promotions.
Above all, Schadel believes that the most important thing to keep in mind is that disruptive businesses should be the ones to take the lead in terms of necessary change, not just adapt to it. A plant meat company with the No Evil Foods is obviously going to incite both positive and negative reactions in a lot of people. According to Schadel, "You can choose to ignore those folks, but we've chosen to use it as an opportunity to engage and educate and to teach them that this is what 'no evil' means to us. If you welcome these conversations, that's how you grow."
When it comes to authenticity, there's no doubt that this company has it in spades.
Subscribe and receive the latest updates on trends, data, events and more.
Join 57,000+ members of the natural products community.
You May Also Like
---
Sep 20 - Sep 23, 2023
Natural Products Expo East is the East Coast's leading natural, organic and healthy products event.
Learn More