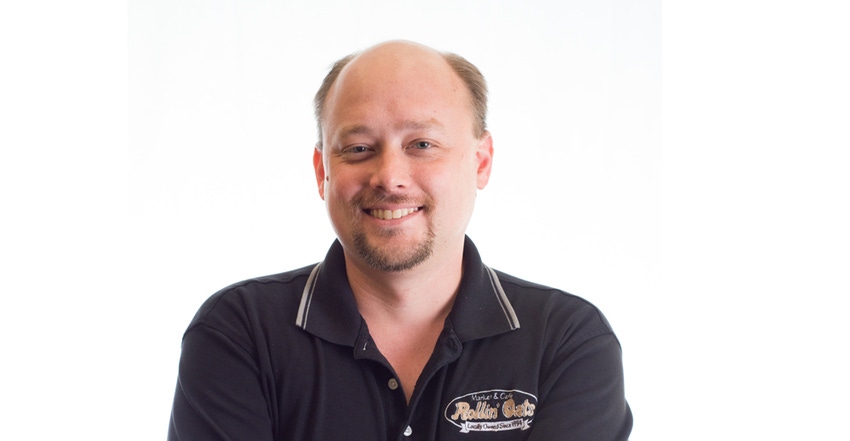 Mike Asher has been close to the natural products industry since childhood. His father worked for Tree of Life in the 1980s, and at 16, Asher got a job at Chamberlin's Natural Foods in Orlando, Florida, and worked his way up the ranks. In 2002, he moved on to manage Rollin' Oats Market & Café in St. Petersburg, Florida. Now Asher oversees that store plus the Tampa location as the company's chief operating officer, a role in which he has flourished. Most notably, he's been a pioneer in leveraging POS data to improve ordering efficiency, which has boosted the stores' sales and profits significantly. Asher took time out to speak with NFM about his many years in this industry and his efforts to keep Rollin' Oats strong and successful for years to come.
What has kept you in the natural products industry for so long?
Mike Asher: I like helping people. Rollin' Oats has always been a very service-oriented company that's all about helping customers to find healthier ways of living. It's been rewarding to help shoppers make dietary changes or discover supplements and then have them come back in and thank me. I love knowing that I've influenced their lives in some fashion. Even though this industry has changed a lot over 20-plus years, it's still such a wonderful, fun industry filled with amazing people.
How have you seen the natural products industry change over the years?
MA: By far the biggest change is the wider availability of products. When I started, our mission was to bring natural foods to the masses and to help change the world by improving quality of life through diet. Now everyone has jumped on board. Also, the consolidation of businesses has had a very significant impact—we all have to be sharper to stay relevant.
Do you mean food and supplement companies consolidating or retail chains forming?
MA: Consolidation all around. It's tough for independents to stay competitive from a pricing standpoint. Rollin' Oats has been able to leverage purchasing to be very competitive with mass market, but there has certainly been a change in the number of independents in the Southeast just because of the mainstreaming of natural products. I don't see as many new independents opening now as back in 1990s and 2000s. Florida is a target for big chain store expansion, so I think these will be another game changer. That said, strong independents seem to be holding their own and finding their niche.
Who is Rollin' Oats' main competition?
MA: We compete with Trader Joe's, Whole Foods Market, The Fresh Market and Publix GreenWise. Our stores are the only ones to offer 100 percent organic produce, yet we still compete with Publix on price—and we certainly compete on customer service.
What sets you apart from these competitors?
MA: Our business is built on price and customer service, the two things that owners Bert Swain and Larry Schwartz set as goals from the beginning. We feel we are still very strong on those fronts today. We are high-volume stores but still provide customer service that makes shoppers feel like they're in a 3,000-square-foot store. We always greet them and pay attention to their needs. We feel a loyalty toward them, and they feel a loyalty toward us. We couldn't do this without them, and they know we'll do anything to help them out within reason.
How do you show that loyalty?
MA: We special-order items all the time and are always calling to get stuff from the other location. We try hard to get shoppers what they want when they want it. This sets us way above the rest. These days, people have grown complacent about getting mediocre customer service at best. Then when they discover that we know what we're talking about and that they don't have to read labels and figure everything out on their own, they're impressed.
Rollin' Oats advertises that in lieu of sales, you consistently offer items at 10 percent below MSRP. How does that work?
MA: At least 10 percent lower. We discount and work with distributors, manufacturers and vendors to pass savings on to our shoppers. Customers know that the more they buy, the better we're able to buy, and that keeps prices down.
Please tell me about what you've accomplished with your POS system.
MA: We won a Tech Innovation Award from Progressive Grocer for the use of our POS system from ECRS. We leverage data from Catapult very well to purchase more efficiently, reduce out-of-stocks and increase inventory turns. Every vendor we deal with, from major distributors like KeHE to the small local guys, goes through the ECRS Gateway Supply Chain Integration, which transmits purchase orders from our system directly to the appropriate vendor. During our expansion in St. Pete a few years ago, we added more than 4,000 SKUs overnight. We made sure to set order points on every new item, so as customers purchased them, we never ran into out-of-stock situations. We never felt the growing pains often associated with an increase in business or unexpected movement on new items.
Subscribe and receive the latest updates on trends, data, events and more.
Join 57,000+ members of the natural products community.
You May Also Like
---
Sep 20 - Sep 23, 2023
Natural Products Expo East is the East Coast's leading natural, organic and healthy products event.
Learn More