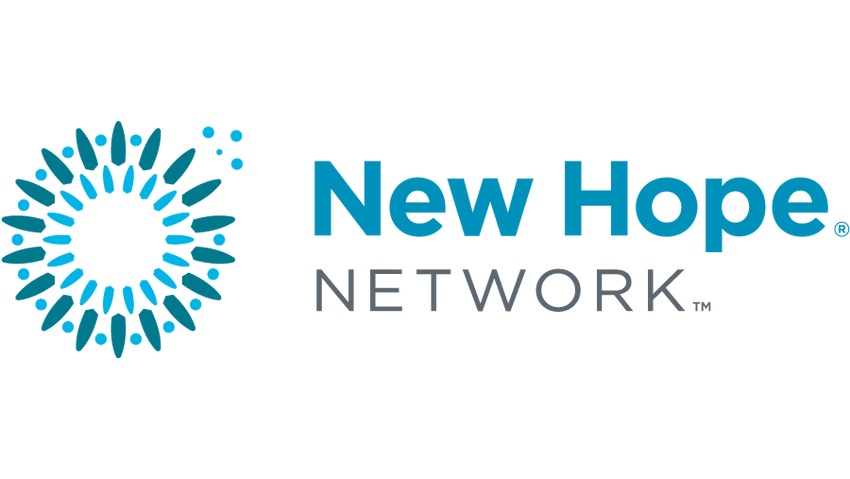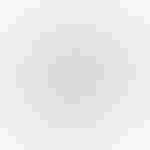 Congressman Bart Stupak represented Michigan's first district from 1993 until January 2011, during which time he served as chairman of the Oversight and Investigations Subcommittee of the Energy and Commerce Committee. Stupak began his career in public service as a state trooper, and he now serves as a partner in Venable LLP's legislative and government affairs group.


NBJ: What are some specific ways you were connected with the supplement industry when you were working in Congress?

Bart Stupak: I chaired Oversight and Investigations for 16 years. When we started to get into active ingredients, pharmaceutical ingredients, food, supplements and health claims, we were always looking at them, first and foremost, from a safety point of view. We saw that there had to be more regulation of the nutrition industry, but there just haven't been many safety concerns to date. There are always wildcards, but not to the point where people get E. coli, die, or have their kidneys taken out. You supplement, you help build strong bones or muscle, which is a good thing. Now, if there was an adverse impact upon the human body with dietary supplements, you'd have Congress breathing down your neck. That's where steroids came in, and that's why we addressed them in the Food Safety Modernization Act.

The other issue is false advertising. If someone claims a dietary supplement can cure colon cancer, you're going to have a problem, but if you say it helps the digestive system, which certainly helps you fi ght off colon cancer, you're okay. So, phraseology. Whenever I looked at food and drug safety, I always asked 'What's on the bottle? What's in there? What are the ingredients, what is the dosage and what are the claims being made?'

NBJ: Behind closed doors, how do policymakers view this industry?

BS: It does come up, specifically about claims. What has hurt the industry, from a legislative point of view, are all the claims made on the internet. I'm sure all your readers rightfully sell themselves on the internet. But then you get these other rogue sites that are willing to take your supplement, counterfeit it, and label it as the pill that can cure colon cancer. These sites are usually four or five portals over, four or fi ve different companies removed from the claim, and they're coming up out of Micronesia or Tibet, and they're not a bunch of monks, either.

That refl ects back on the entire industry. I'm willing to bet you that those rogue sites, at least half of the tablets in the bottle are counterfeit—they're placebo. The FDA does not have the resources to keep up on industry with the explosion of the internet.

While rogue stuff is out there floating about, it usually does not cause anyone harm. But if I take a bad Lipitor, I'm never really getting my cholesterol treated. That's the difference. With one of our last drug safety bills, I was working on trying to shine the spotlight on this, and I found that at least 20% of all prescription drugs sold on the internet, or even through pharmacies, are probably counterfeit. In the supplement industry, it's even easier to counterfeit because there's no prescribed or restricted fl ow of an ingredient.

With serious adverse events, the product is usually laced with something else, and you can usually make a criminal case. Plus it's not that widespread, like an E. coli or salmonella outbreak. But it's coming. You may not want to be regulated, but a smarter approach is to work with Congress to protect yourself before the problem occurs. Work with Washington before Washington has to work you.

NBJ: What is your perception of DSHEA? Is it effective?

BS: I haven't seen much trouble with it. No one is saying, 'Let's go after it.' From your typical Congress member's point of view, this industry is not very well understood. When the FDA regulates everything—and they really do—when this issue comes up, members just say, 'Well, that falls underneath the Food, Drug and Cosmetic Act.' Well, not really. As you know, there's a separate act for dietary supplements. Members just think the FDA is handling it and there hasn't been a problem, so that's that. When supplements come up, they come up mostly for labeling and claims issues. Members aren't really focused on the industry.

It's the fringe guys who are going to kill this industry. And that's why, in the Food Safety Modernization Act, the only thing we really went after with FDA is to make sure that products are clean on steroids.

NBJ: You were instrumental in healthcare reform—how does this industry intersect with the Affordable Care Act? Is that legislation a success?

BS:Yes, and I still believe it will continue to be a success. How do you intersect? Easily, because the healthcare bill really puts emphasis on insurance premium reductions, healthy lifestyle and prevention. So, if I walk to keep my diabetes in check, is there a supplement that I can take that will help me out?

When seniors turn 65 and go on Medicare, they're encouraged to get a free physical. If we can catch disease early, there's where your nutrition and your dietary supplements certainly would help us out. Up in Connecticut, [Congressman] Joe Courtney has talked about the preventive part of the healthcare bill and the Medicare physical you are required to do. He has this doctor he's trying to get to come before the committee to testify. Through these free physicals, she's already found three patients with life-threatening illnesses, and she's treating them right now. Just doing a normal physical, which Medicare pays for, doesn't cost the patient anything. When your doctor says, 'Look, you're really low on your calcium, you need some supplements,' that's your industry.

NBJ: Is there any movement toward more insurance coverage of supplements?

BS: If it's part of your prescribed regimen. I have been working with some clients that play sports and are focused on health, from major-league baseball to football to beachbody types. If you go and say, 'My standard is to lose 20 pounds, bring down my blood pressure and get off some of this medication,' and you achieve those standards, then the most you could get before was a 20% deduction under IRS for your gym costs.

But now, under the discretion of Health and Human Services, provided that you achieve what they call 'measurable standards,' you can reduce a person's healthcare premium up to 50%.

That's the tough part. It's why these sports groups are saying, 'What is the measurable standard here?' It's not like everyone is going to be 6 foot, 180 pounds with low blood pressure, so what's a realistic goal? And that's the part where there's going to be some fi ghting. The nutrition industry clearly has a role to play here. Not only would you get a deduction in your premium, but your employers would get a huge deduction, and think of the money you would save them.

The critical theme with the healthcare bill is this move away from a payment system based upon transactions, where the more a doctor sees you, the more money they make. We're trying to move to a situation where it's not the number of times you see the doctor, but how healthy are you when you fi nish seeing the doctor. It's going to be quality-based as opposed to quantity-based. If you're going to have quality-based healthcare, a big part of any illness and injury recovery is diet and mental health. If I'm eating junk food all the time, I'm going to feel like junk food. I'm going to feel like a Big Mac and I'm going to look like one too.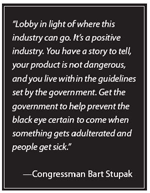 NBJ: Should the supplement industry be lobbying more?

BS: In this case, I think you should be doing more. Lobby in light of where this industry can go. It's a positive industry. You have a story to tell, your product is not dangerous, and you live within the guidelines set by the government. Get the government to help prevent the black eye certain to come when something gets adulterated and people get sick. Right now, the country is ready for healthy living, they are striving for it. You can play a critical role in it—you have a good story to tell. That's why Congress hasn't been all over you.

NBJ: What are your goals now? What kind of role do you see yourself playing in nutrition?

BS:I'm doing a lot of work on the healthcare bill, in the implementation stage. There are benefi ts in the legislation that we can all take advantage of right now, and people are just not aware of it, states are not aware of it. I'm doing a lot on healthcare implementation. I'm doing work with FDA, the Federal Trade Commission and Federal Communication Commission, because I know those areas so well and I've investigated them for so many years. The areas I'm concentrating on besides healthcare are telecommunications, energy, and oversight investigations.

NBJ: Is the FDA equipped to monitor the nutrition industry?

BS: No, they don't have the resources and personnel to do it. And why would Congress give it priority? I mean, think about child pornography. I know something about that world from my subcommittee work, and you wouldn't believe it. It's a $6 billion industry, most of it coming from the United States.

NBJ: So, among other things, FDA needs more resources.

BS: Correct. But in the Food Safety Modernization Act, just by putting in a registration fee, that makes FDA more than enough money to add resources. A lot of this will come back to the personality of the President or whoever is head of the FDA. [Former FDA Commissioner Andrew] von Eschenbach had no interest in supplements—he had a lot of interest in cracking down on drugs that were making claims, especially in the area of cancer, because his specialty was cancer research.

If you were putting up a drug that was going to fight bone cancer, then I'm sure von Eschenbach would want to know more about that, but it all depends. Now, [current Commissioner Margaret] Hamburg, she comes from a public health point of view, so she sees this as a bigger picture, and I would dare say she is not that keen on drug safety, drug review and public trials—that's not her area.

NBJ: Who is really moving the needle in terms of healthcare and nutrition? Is it the President, is it Congress, is it supplement companies, doctors, consumers—have they all got their hands in there?

BS: Congress gave the power to move the needle to the Secretary of Health and Human Services. There will be a number of commissions, which people don't like, but there's actually going to be a commission on setting acceptable medical practices, with quality-based outcomes as opposed to traditional forms of quantity- based medicine.

NBJ: Do you take supplements?

BS: I do periodically, yes. Am I regular at it? No. Why? Because of my crazy schedule, the only thing I'm regular on is being late.
Subscribe and receive the latest updates on trends, data, events and more.
Join 57,000+ members of the natural products community.
You May Also Like
---