UNFI offers advice to food suppliers during COVID-19 pandemic
UNFI offers advice to food suppliers during COVID-19 pandemic
Grocery sales aren't slowing down, but suppliers can make decisions that help distributors and retailers, executive says.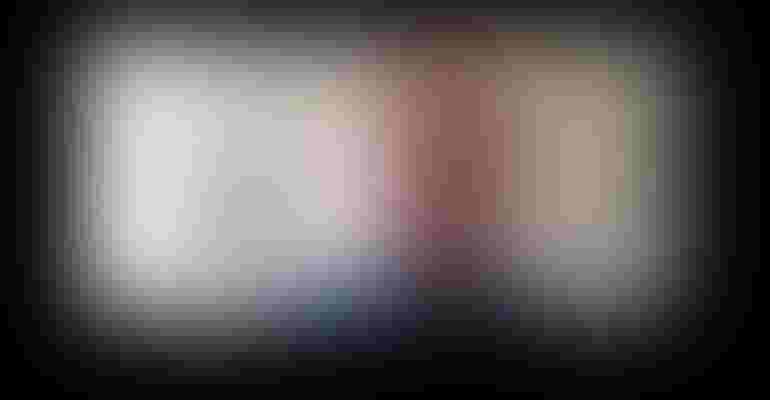 During UNFI's earnings call on March 11, CEO Steve Spinner said the COVID-19 crisis had triggered a double-digit year-over-year sales increase, one that resembled a Thanksgiving holiday week.
After that call, the World Health Organization declared coronavirus was a pandemic. While the virus has continued to spread, the spike in grocery sales hasn't slowed down.
John Raiche, executive vice president of supplier services for United Natural Foods Inc., discussed via Zoom the difficulties suppliers and distributors are having during this COVID-19 pandemic. The Hirshberg Entrepreneurship Institute hosted Wednesday's "Tales from the Trenches" event, which was moderated by Bob Burke, a natural products consultant. Nearly 1,000 people attended the webinar; 40% identified as CPG executives and another 26% identified as working in CPG but not as executives.  
When grocery shopping began to spike, shoppers were loading up on staples and, of course, toilet paper and bottled water. No one knew how long the surge—or the pandemic—might last.
"In this pantry-loading environment, people were talking about, 'How are we going to get through the next few weeks? When we get back to normal, what's going to happen to demand? Demand probably is going to go down, as people need to work through the supplies that they stocked up on,'" Raiche says.
"It hasn't happened."
Spinner said in March that the UNFI team expected 300-400 products to increase sales, but that spike was storewide, including frozen foods, rice and nuts.
The biggest surprise, Raiche says, was consumers' suddenly high desire for categories considered all but dead, like cereal.
"Here's a headline: We can't keep soup on the shelf. Soup in cans, we can't keep it on the shelf," he says. "Ramen. We've been informed by our major ramen suppliers that there is no more ramen left in the supply chain.
"These shelf-stable, easy-to-make meal-prep items, overall—including categories that were real pariahs—they are shining stars right now and that really wasn't expected."
What suppliers and distributors like UNFI are trying to figure out, though, is what will happen as stay-at-home restrictions are lifted. Before the pandemic, 50% of food dollars were spent on food cooked and consumed outside the home. Now, people are buying food to cook and eat at home.
Raiche doesn't expect that to change. He recently read in a business journal that more than 50% of business travelers surveyed said they will not be comfortable flying on an airplane in six months, he says. Everyone in the food supply chain needs to think about what consumers will be comfortable doing next fall, he advises.
Specifically, Raiche expects the higher demand for hygiene products will continue because consumers have changed their habits and will continue, for example, to wash their hands more often and more thoroughly.
Ingredients sales will stay high as consumers reboot and continue to prepare and eat more meals at home than at restaurants, he says. And he's not sure that bulk sales ever will return.
"We believe that categories that have high human touch at retail for preparation or potential exposure to consumer touch at retail may be fundamentally altered going forward. We're not sure what bulk holds going forward," Raiche says, referring to UNFI's projections.
How suppliers can help keep retailers' shelves stocked
One of the best ways suppliers can simplify the production process and help retailers have ample inventory is to reduce the number of SKUs they produce, Raiche says.
One well-known, medium-size supplier is reducing its SKUs with UNFI to four from 100, he says. He did not identify the company.
When deciding what products to keep, consider the strength of your ingredient supplies and packaging supplies, he suggests. Keep in mind, if you use a co-packer, your ability to secure production time. And understand how consumer demand changes.
"My recommendation to you is, if you need to skinny down your product mix, that's a reasonable thing to do. We're seeing it pretty much across the board," Raiche says.
Gary Hirshberg, who has been a leader in natural foods since the 1980s and is the founder of the Hirshberg Entrepreneurship Institute, echoed Raiche's comments.
Narrowing the number of SKUs in your system will improve your efficiencies and your gross margins, he says. He was on the board of Late July Snacks, founded by Nicole Bernard Dawes, when the board advised her to stop making cookies and to focus on salty snacks. Her sales took off, Hirshberg says.
"I actually don't known anyone, in my 40 years in this business, who ever regretted cutting down," he says.  
Don't increase prices during the pandemic
Raiche didn't realize how complicated a price change could be during a crisis.
"If you can put off changing your prices in this environment, put if off," he says. A good reason to delay any change in prices is that retailers don't want to deal with unnecessary work including price changes, new products or new marketing programs.
A bigger reason not to increase prices is that you could easily and unknowingly trigger a price-gouging investigation.
"I suggest that you become aware of what I call a real patchwork approach to price-gouging laws at the state level," Raiche says. "This is way more nuanced than what you might expect."
California and some other states won't review your price change unless the increase is 10% or more, Raiche says. But one state will start an investigation if your price increases as little as 0.1%.
Even price changes that were submitted 30 or 60 days ago could raise questions, he says. UNFI likely will request documentation of the reasons for the price increase, so they can show authorities who come knocking on their door.
"Make sure you understand the environment you're working in. I've not talked to a supplier yet who had that knowledge before we talked," Raiche says.
Note: FindLaw.com carries a list of states' price-gouging laws, or you can contact the states' attorneys general for more information.
A recording of the webinar, as well as other "Tales from the Trenches" events, will be available at the Hirshberg Institute's YouTube channel. Most recordings become available 24 hours after the event.
Subscribe and receive the latest updates on trends, data, events and more.
Join 57,000+ members of the natural products community.
You May Also Like
---