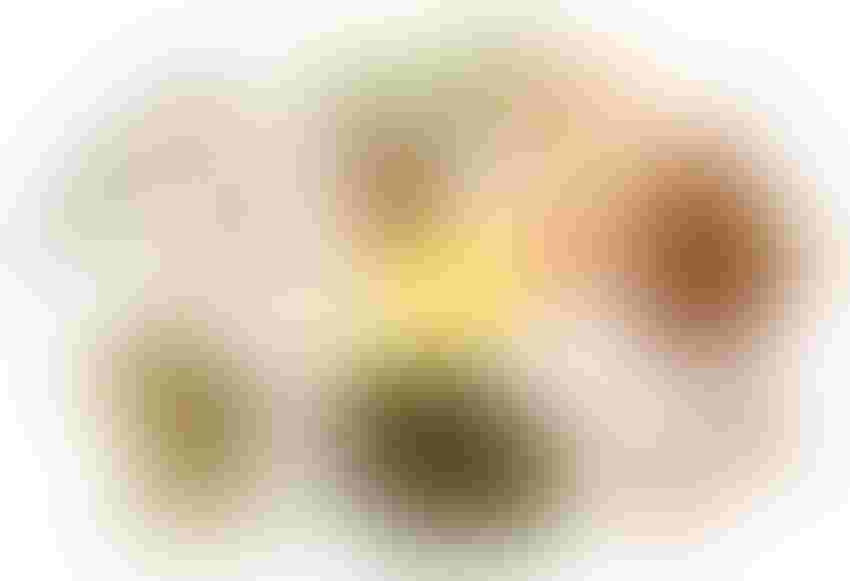 Goldenseal is fairly easy to propagate. The plant grows wild in moist forest soils, and its roots can be divided and replanted for the long-term viability of the species. The problem comes from a thriving natural products industry where rampant and irresponsible harvesting of wild populations has led to a doubling in raw material pricing over recent years. "I'm even seeing brands remove goldenseal from products," says Susan Leopold, executive director of United Plant Savers (UpS). "It's an interesting contrast. On the one hand, you've got companies doing well in the marketplace with premium products, and on the other, an iconic American herb is disappearing from our forests."
UpS has fought for the conservation of herbs and botanicals like goldenseal for 25 years now, and to celebrate that milestone, NBJ has chosen the organization for its 2018 Stewardship Award. "It just takes a good plan with a little time and money to fix this one," says Leopold, referring to goldenseal. "And guess what? When you grow goldenseal the right way in its natural habitat in the woods, you protect the whole forest. Using the forest to grow botanicals gives a double bonus of saving trees on a planet that's getting hotter and hotter, a planet that needs those trees."
25 years in the making
UpS was founded in 1994 by Rosemary Gladstar and a small group of like-minded individuals to promote the conservation of native, wild, medicinal plants in the U.S. and Canada. "Richard Liebmann (the first executive director at UpS) came up to me at a trade show," says Michael McGuffin, president of the American Herbal Products Association (AHPA) but, at that time, knee-deep in herb commerce with his tincture company McZand. "I was a big user of goldenseal, echinacea, several thousands pounds each of several wild-harvested herbs. He gave me his spiel; I said it sounded like I was doing it wrong and he knew how to do it right, and he said I should join the board. So I did, way back in 1999."
Over the past 25 years, UpS has brought together a diverse mix of perspectives and voices from industry, academia, and diehard herbalists to create programming designed to shepherd herbs toward a sustainable future, despite the intensive pressures of growth cycles of the supplement world. "UpS chose the route of inclusion," says McGuffin. "That's part of the reason why it's remained relevant all of these years. They're not only talking to themselves."
Women leading women
While the UpS story is years in the making, it couldn't be more timely as a successful case study in female leadership. The organization's personality and charisma was set early by Gladstar and such prominent herbalists as Pam Montgomery, women with a true commitment to the heroism of iconic medicinal plants like goldenseal, cohosh, osha, ginseng, and slippery elm.
Gladstar's influence now extends well beyond UpS, with some 1,200 professionals convening each year at Wheaton College for the International Herb Symposium. Another 900 women gather for the New England Women's Herbal Conference as well, adding more fuel for the fire of female leadership in herbs. "Our membership and our demographic is really focused on women," says Leopold. "We're grass roots, with a paying membership of about 4,000 who sustain the organization and let us educate and empower people to protect these important plants."
And let's not forget Leopold herself, speaking of women leading women. "Susan is a remarkably focused and energetic leader," says McGuffin. "I would call her a dynamic achiever. She decides to do something, and then she just goes and does it."
The at-risk list
UpS is perhaps best known for its at-risk list of wild medicinal plants most vulnerable to human intervention. The list is widely referenced in academic and research communities as well as in any discipline that touches on the biology of native plants in North America. At present, the list includes 20 species—including goldenseal, American ginseng, blue and black cohosh, and wild yam—and an accompanying watchlist includes another 23 plants.
"They filled a void we didn't even know was a void," says McGuffin. "Every herb school has at-risk plants as part of its curriculum now. UpS really taught us to pay attention to conservation issues, to make conservation and sustainability a core part of the personality of the contemporary herbalist in America."
Forest grown
If Leopold has her way, UpS might become as well known for its Forest Grown verification program as the at-risk list. The program began as a partnership with the organic certifier PCO, but UpS took over the reins in April of this 2019. "I think the Forest Grown program will become one of our biggest accomplishments," says Leopold. "Most woodland botanicals are being wildcrafted, and we need a certifying agency to verify their stewardship. We work with the landowners to intentionally grow these diminished populations of plants over a 4-, 5-, even 10-year cycle before harvest."
With an established market in place, high-value, wild American ginseng was a good place to start, and Mountain Rose stepped up as the first company to market aggressively around the Forest Grown certification. Next up for a push toward widespread certification? Goldenseal, of course.
Leopold also harbors aspirations to expand her organization's certifying chops with Forest Grown into Fair Wild, with UpS the agency that brings that designation into the U.S. market.
What's next?
To cap off its 25th anniversary, UpS will open the doors on a new capital project, the Center for Medicinal Plant Conservation at its 379-acre sanctuary in the Appalachian foothills of Southeast Ohio. The site includes a restoration hiking trail, accommodations for visiting UpS members and seasonal interns, and expansive populations of those crucial American plant species like goldenseal, ginseng, and cohosh.
"We're very excited to open the center and dedicate it to Jim and Peggy Duke," says Leopold, referring to Dr. James Duke, the celebrated herbalist who passed in 2017, and his wife. "We'll have a museum on herbal medicine, a teaching classroom and commercial kitchen, and a climate-controlled herbarium collection."
UpS will also have its hands busy dealing with more than just goldenseal. There's a nefarious white sage mafia to police. "We've been trying to unravel the white sage trade," says Leopold. "It's blown up, with products landing in trendy stores and even Walmart. We've seen lots of arrests in California with illegal harvesting from nature preserves. It just speaks to the fact that we don't always have a good way to regulate plant trade in the U.S."
Subscribe and receive the latest updates on trends, data, events and more.
Join 57,000+ members of the natural products community.
You May Also Like
---