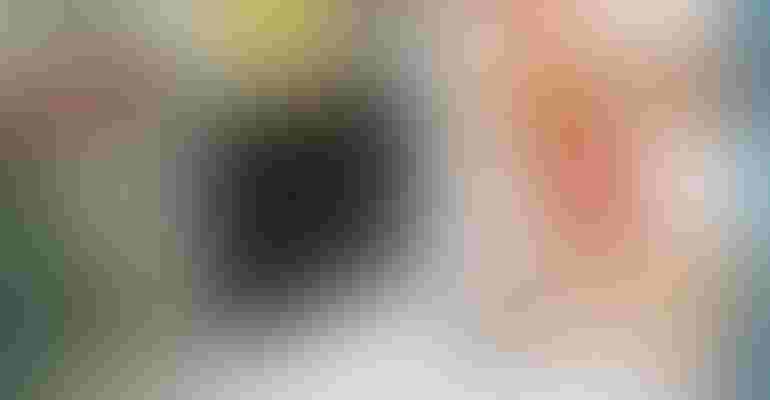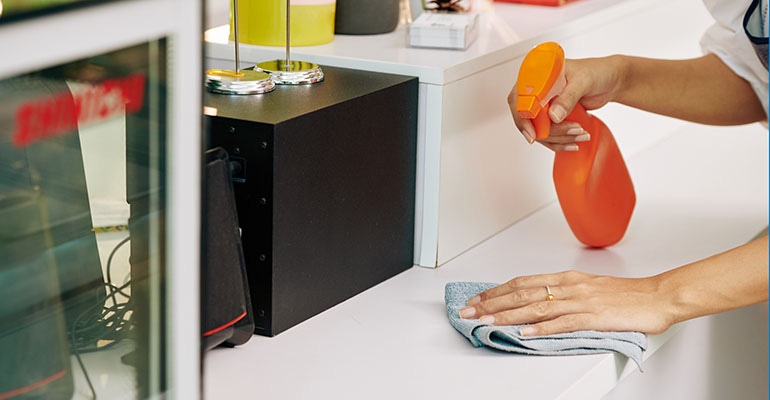 Maintaining a clean store has always been critical, but with the COVID-19 pandemic raging on, its importance cannot be stressed enough.
As essential businesses that see thousands of shoppers shuffling in and out, natural products retailers must, at minimum, follow all federal, state and local health department protocols for sanitation, social distancing and other measures. They may also be wise to go above and beyond basic guidelines to protect staff, vendors and shoppers and reassure the entire community that their store is a safe environment.
Here, two safety and compliance experts and one retailer share their best advice.
Food safety executive
Hilary Thesmar, Ph.D., RD, CFS,
chief food and product safety officer and senior vice president of food safety,
FMI, The Food Industry Association
Encourage frequent handwashing.
Handwashing is the single most important action everyone can take to protect their health. Encourage frequent handwashing by making it convenient for employees and customers. This includes having access to handwashing sinks and ensuring the availability of hand wipes and hand sanitizers for use by customers and employees who are in contact with customers. Handwashing stations should be located in close proximity to employees and their work stations.
Make cleaning and sanitizing visible to customers.
Retailers have been cleaning and sanitizing food-contact surfaces for decades. But now with COVID-19, they need to take extra steps to clean and sanitize high-touch areas. Retailers demonstrate their dedication to maintaining a clean store environment and providing a safe shopping experience by communicating the actions they are taking and making these actions visible to customers. By ensuring shoppers can clearly see staff doing this work, retailers not only demonstrate competency but also relay to customers that they value the importance of cleaning and sanitizing.
Maintain employee health programs.
Food retailers are unique in that they both serve and employ many consumers in their own neighborhoods. Therefore, employee health should always be a priority. Employee health programs should already be in place that require reporting certain illnesses to managers so that they can be excluded from working directly with food. A spotlight is now on this practice during the COVID-19 pandemic, and it is imperative that employees stay home if they are ill or have symptoms of illness. Also allow flexibility for those who have family members or caregivers with symptoms to stay home.
Retailer
Tyler Bertsch, operations director at New Seasons Market,
Portland, Oregon
Stay vigilant with safety. 
Since the start of the pandemic, New Seasons Market has taken several precautionary measures to protect our staff and customers. In addition to social distancing and monitoring customer capacity, we increased our usual rigorous sanitation practices. We disinfect common areas and checkout more frequently, conduct symptom checks before every shift and supply staff with face coverings for required use while working. Shoppers, partners and vendors also must wear face coverings. 
Communicate transparently about retail safety protocols.
We are committed to transparent communication with staff and customers alike. When a positive staff case is reported within a store, we alert local health authorities, all staff and the communities we serve within 24 hours. We perform our own internal contact tracing process, in addition to contact tracing by local health authorities, asking any staff members who have been in prolonged close contact to self-isolate as soon as possible. Customers can easily find all documented staff cases and current information on our safety protocols at the "Stay Healthy" page on our website. 
Prioritize support for staff.
As we carefully welcome more customers into our stores in the months ahead, we remain committed to staff safety. Were continuing to support staff with an increased store discount, as well as supplemental paid time off so they can stay home if they have COVID-19 symptoms, are in quarantine, have tested positive or are caring for a family member who has tested positive. All COVID-related absences are excused from the attendance policy. Store leaders are continuously sharing detailed updates on our COVID-19 safety measures, including monitoring store capacity and traffic-flow pinch points, as well as checking staffs symptom and other increased sanitation and safety precautions.
COVID-19 compliance expert
Paul Medeiros, managing director of consulting and technical services,
NSF International
Fight safety complacency every day.
As the pandemic drags on, were witnessing pandemic fatigue, which leads to complacency—and that is more contagious than the virus. Often, a single oversight or shortcut opens the door to infection. To ensure your protocols are followed fully every day, select a store champion to be your COVID-19 point person—not a manager or supervisor but a natural leader with a demonstrated passion for COVID-19 controls. Train and task them with keeping your program current and operational. Also, systemize your protocols. Policies and posters are nice, but without scheduled daily procedural monitoring and ongoing staff training, your practices may start to slacken.
Keep the safety protocol conversation flowing. 
Two-way communication between employees, management and customers is critical. Employees are an excellent source of ideas for better implementing COVID-19 controls and serve as an early warning system when protocols are no longer working or can be improved. Providing communication mechanisms and just listening to employees helps engage them and ensure communication flows well. I see many natural food store websites communicating robust COVID-19 protocols clearly—and many others that barely mention COVID-19. Companies that share their protocols online build consumer confidence and trust. Besides, the best time to communicate them to customers is before they enter your business.
Vaccinate.
As bastions of health and wellness, natural food stores can play an even larger and more pivotal role in protecting public health. Many retailers and business settings are starting to offer their locations as vaccination sites. As I see it, this would be an excellent opportunity for natural food retailers to live their mission, promote science and support local public health efforts.
Subscribe and receive the latest updates on trends, data, events and more.
Join 57,000+ members of the natural products community.
You May Also Like
---