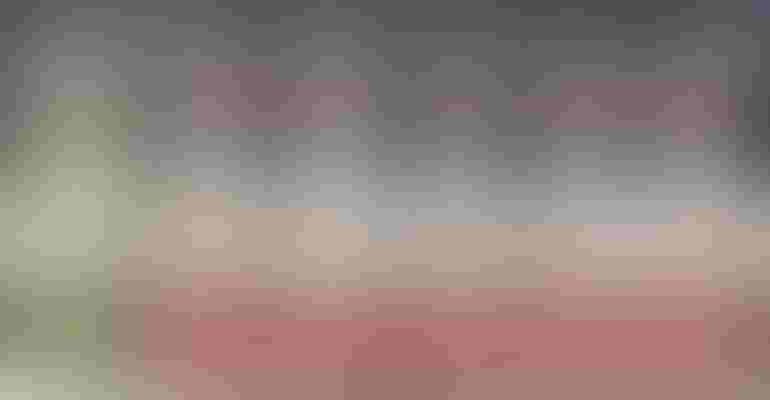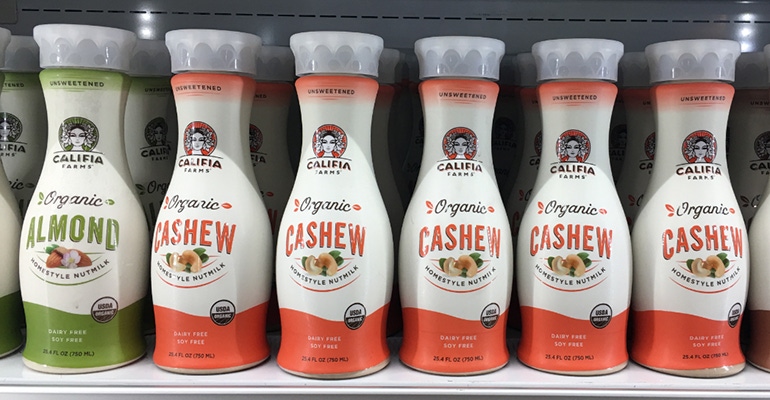 The Natural Product Expo West 2017 exhibitors were well aware of the magic of nuts, and the companies exhibiting their delicious dairy alternatives were the real magicians. Everything from cheese to yogurts to milk and creamers all tasted just like or even better than their dairy counterparts, containing just a few natural ingredients and starring nuts.
There were endless options of nut-based products on display at the show. They can be broken down into three categories: nut milks, nut cheeses and nut yogurts. Ready?
Nut milks
Califia Farms leads the way in this category, producing the best of it all: nut milk, sweetened, unsweetened, creamers, protein shakes, organic and so on. This brand has thought of everything and used every nut imaginable to make it great. Check out its new Organic Cashew Milk and Maca Chocolate Protein Milk, made from almonds and macadamia nuts.
Silk Protein+ Milk caught my eye as a great option for consumers concerned they aren't getting any protein in their typical almond milk. Made from a blend of almonds, cashews and pea protein, it tastes creamier than ever and is jam packed with 10 grams of protein per glass, versus the 8 grams you'd expect to find in whole milk, but minus all the cholesterol and hormones.
The most exciting new launch plus "cutest booth" award goes to VitaCoco and its new coconut milk. Coconut fans will love this. VitaCoco sent the cows on vacation this year, and I am so thrilled that they did.
Ripple is maybe a lesser-known brand but really at the top of its game with its non-dairy milks. Although technically not made of nuts at all, it deserves honorable mention for a pea-protein-based half-and-half that tasted spot on.
Nut cheeses
Coming from a cheese freak previously known as the "I could never go vegan because I love cheese too much" (now vegan AF and loving it), I have to give it up to two companies that will change the world with their amazing nut cheeses.
Miyoko's Creamery, known for its addictive culinary artisan cheeses, launched its new Smoky Mozzarella at Expo West 2017, and I say this without shame—I stopped by the booth four different times to taste it. You know, just to be sure. These are the best of the best on the market. They were the perfect amount of smokiness and creaminess, melted deliciously in a delightfully crunchy grilled cheese sandwich that I only wish they could have sampled in full size, because I couldn't get enough. Made of cashews, coconut oil, sea salt and cultures, you'd never ever know you weren't eating real cheese.
Next in line, and just as fabulous, was Kite Hill with its artisan cheese wheels, my favorite of which has to be the Truffle, Dill, & Chive. Again, I just couldn't sample enough of this stuff. I have been living with regret ever since I heard that Chef Tal Ronnen of the famous Crossroads Kitchen in West Hollywood was actually at the booth serving up some of his handmade cheese ravioli and well, I missed it! But I rest assured knowing that I was able to pay these amazing people a few visits throughout the show.
Nut yogurts
Kite Hill brings me right into the nut yogurt category with its endless variety of almond yogurts. The brand offers so many different flavors, you won't know where to start. Exciting news—they will be selling them in 16 oz. containers later this year, and they're quickly expanding into Kroger, Ralphs, Safeway and Albertsons shelves.
Silk did it again when it launched its Almond Yogurt, which is made from almond butter versus almond milk, giving it a bit of a higher fat content and resulting in a thick and creamy texture you can't possibly resist.
Finally, maybe my favorite product—Forager Project Drinkable Cashewgurt. My mother-in-law is always telling me how important it is to drink kefir yogurts and how vital those probiotics can be. Well, I finally can thanks to the scientific geniuses at Forager and their crave-worthy drinkable yogurts. I can't wait to stock up on this cruelty-free version of the kefir probiotic drink my MIL won't stop raving about —and now I won't either.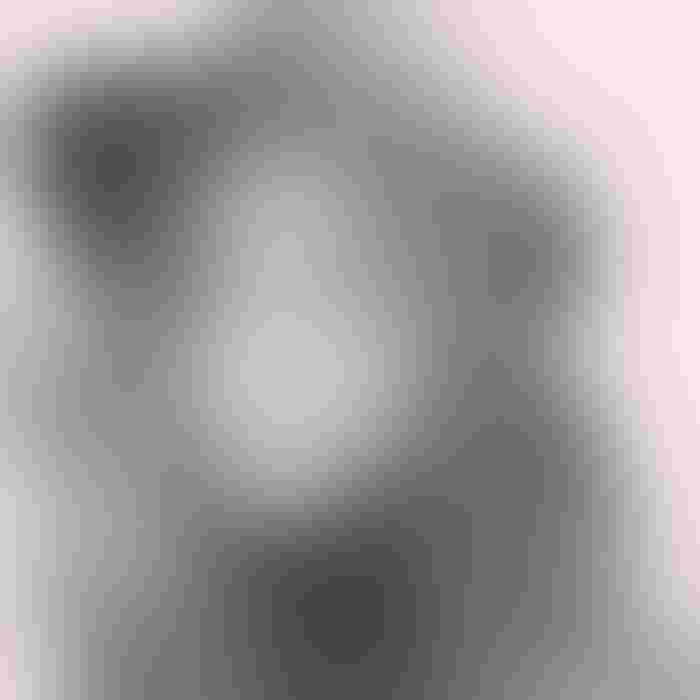 Paris Marash is part of the Expo Blogger team at Natural Products Expo West 2017 and special contributor to newhope.com. She also writes for greensandFries.com, a blog inspired by vegan and vegetarian chefs.
Subscribe and receive the latest updates on trends, data, events and more.
Join 57,000+ members of the natural products community.
You May Also Like
---