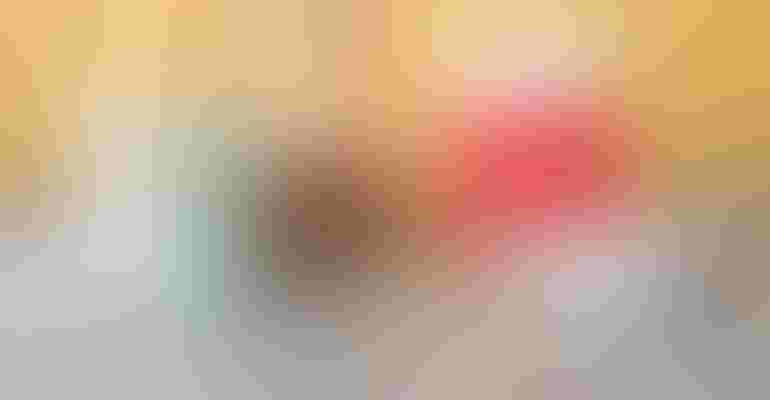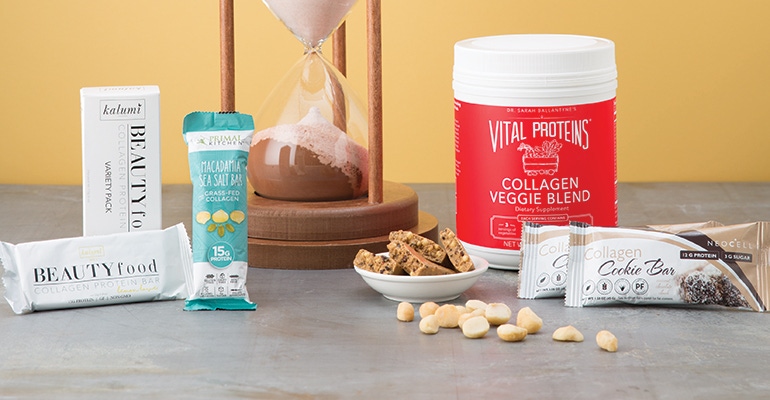 For a long time, there was this idea that collagen was a useless protein source because it's not a complete protein, namely because it lacks the amino acid tryptophan. But then again, with 30 percent of the protein in the body being collagen, maybe the body respects it more than we've previously imagined. That biological affinity may be the prime reason for the rapid growth of collagen in the market.
"Collagen is an incomplete protein, but it is complete for 30 percent of your body," says Tonja Lipp, senior manager of business development of health and nutrition at collagen supplier Gelita USA, which markets the Verisol trademarked collagen for skin health.
"Back in the day, I was always told it was the worst protein," said industry veteran Rob Maru, innovation specialist at finished product brand Reserveage, which uses Gelita's Verisol branded ingredient. "Protein manufacturers used to use collagen protein as a filler in bars because it was cheaper than whey or egg."
Collagen today is not just an inexpensive protein source. It also rings the bell for paleo diet aficionados in hot products like bone broth.
"Bone broth products are super popular right now," says Lipp. "If you look at these bone broth powders, the biggest ingredient is collagen; you extract collagen out of bone."
Collagen is found in skin, cartilage, tendons, bone and muscle tissue. One-fifth of total bone mass is collagen, and fully 95 percent of the organic bone matrix is collagen. It also comprises 75 percent of skin and 70 percent of cartilage. After age 30, collagen degrades at a rate of about 1 to 2 percent each year.
No cow has ever died for its collagen. It's a classic waste-stream product, derived from the process of making gelatin, only hydrolyzed collagen treated with enzymes does not gel.
Collagen is the latest vanity play ingredient—2.5 grams a day has positive effects on facial skin hydration, elasticity and roughness (Sugihara, 2015). Other studies add wrinkle reduction as another benefit (Inoue, 2015). And it doesn't seem to matter the source—cow, pigs or fish, it's all good in the collagen world (Koizumi, 2017). 
Seen one, seen 'em all? 
"Not all collagen is the same, but collagen from all of these raw materials is beneficial," says Katie Nelson, business development manager of Wellnex Collagen Peptides at Nitta Gelatin NA. "Is bovine going to act the same as pork or fish? Our scientists say yes. It comes down to consumer preference or brand preference."
However, while on the surface it seems one collagen is as good as another, technology innovators can alter raw collagen to provide a range of health benefits. That's because peptide fractions of collagen can make a significant difference, determining whether the collagen powder is a simple protein source or provides a skin-health benefit.
Collagen types 1 and 3 are derived from either fish, bovine or pork. A 2.5-gram dose gives skin-health benefits, while levels up around 10 grams give joint-health benefits. Type 2 collagen comes exclusively from chickens and is used at much lower doses for joint health applications.
The interesting aspect of collagen is that it works in a different way from most nutrients, wherein when consumed, the nutrient makes its way to the nearest deficiency and the body fills up. Then collagen provides the amino acid starting materials for new collagen creation. But collagen peptides pieces cut into smaller peptides in different sizes stimulate the body's own collagen metabolism.
"Big collagen pieces can't talk to the cell," explains Lipp. "But if you have just the right size of the peptide, they fit well with cell receptors and can communicate to the cells. The message from the collagen peptide pieces is that there's a lot of collagen breakdown in your body so you need to produce more collagen. So, the cell makes more connective tissue. You get different skin-stimulating effects depending on how you cut the collagen."
The central questions for innovators in the collagen space is which enzymes to use to cut the large peptide proteins down to size and how long to use the enzymes.
"Given the complexity of collagen and the various types, sources, molecular size, composition, and manufacturing methods, it is important to avoid drawing comparisons or conclusions on their mechanisms of action based on simplistic variables," says Suhail Ishaq, president of ingredient supplier BioCell Technology. Seven human clinical trials support the safety and efficacy of BioCell Collagen and it carries a Health Canada health claim about both joint pain associated with osteoarthritis and maintenance of healthy skin.
With the Verisol collagen ingredient, one study showed a 65 percent increase in collagen production and a 20 percent reduction in wrinkles in eight weeks (Proksch, 2014).
"The production process is not so much about the raw material source or collagen type," says Lipp. "It's how you cut the big collagen protein into smaller collagen peptide pieces."
For Nitta Gelatin, one collagen ingredient has effects on pressure ulcers or bed sores. Nitta also uses two key dipeptides, proline-hydroxyproline and hydroxyproline-glycine, that demonstrates a significant difference in skin moisture retention and elasticity, thus showing a reduction in wrinkles. Another peptide benefits those with osteoarthritis, says Nelson.
No-taste option means food integration 
The other difference that can come with different supply sources of collagen is taste. This can influence product formats, which is increasingly important because collagen is breaking through capsule and tablet formulations and is going far afield in providing consumers with a range of intake options. Powders are foremost, but product developers are rolling out bars, beverages, even tea bags with the efficacious dose of 2.5 grams.  
"When you taste pure collagen powder and you have a high-quality collagen peptide," says Lipp, "it's a white powder you dissolve in water, you get a neutral taste but a little animal taste." She says collagen is comprised of roughly 90 percent protein, 8 percent water, 2 percent ash.  It is only the tiny traces that give it its flavor.  
"If you mixed it into tea you wouldn't notice," says Lipp. "If you mix it in chocolate, it doesn't matter. In pure water you might get a slight, slight note but it's not unpleasant. But if you mix it in water with a slight cucumber taste and you want the cucumber flavor, that collagen has to be extremely neutral. It depends on the quality, it depends on the company. Sensory, solubility—how fast it dissolves—and taste can be influenced through collagen production at the facility, and that could cost more." 
Reserveage is renowned for its longstanding work in innovating different delivery formats so consumers can get their nutrition without changing their daily lifestyle practices. Because collagen resists heat, it makes collagen effective for baking or in soup or tea, and Reserveage offers single-serving tea and bone broth products with collagen. "I started Reserveage with collagen," says CEO Naomi Whittel. "In the U.S. we're taking the skin off our chicken so we're not getting the collagen we want. We wanted to make something so easy to take collagen." 
NeoCell markets the No. 1 collagen SKU in the natural channel and is now moving aggressively into the cooking space, working with chef influencers and rolling out two collagen cookbooks.  
"We feel like food should taste good but should also do something more for you," says Shannon Hirtzel, marketing manager at NeoCell. "We're pioneering this new space of collagen and cooking, we're infusing everything from pancakes at breakfast to chili on a cool night." 
"There's a lot of collagen that's crude and not as hydrolyzed and processed like Verisol," says Maru, "so you might get a collagen that's cloudy with a funky odor." Cheaper collagen doesn't mix well and doesn't taste good, he says. Paying five times the price for a premium ingredient makes sense for Reservage's odorless, tasteless, colorless aim. "And then the science. I want more than one human study showing an age-related benefit—wrinkle depth, lines and wrinkles diminishing in appearance, hydration, better skin tone."  
So, while the history of collagen is as an inexpensive protein source, it became a fad as bone broth.  But don't count Maru among the champions of bone broth. "We won't be talking about bone broth in a year or two," he says. "By Expo West 2019 it will be a thing of the past. Whenever something is not rooted in science it will eventually fall apart. Whereas if it had real science we'd see bone broth selling into the future."  
But collagen for anti-aging effects like skin health and joint health? Science says there is a there there. And with the innovations around new finished product development, we can expect to continue to see collagen selling well until we are all old and (not) wrinkled. This article appears in the Innovation issue of Nutrition Business Journal. The full issue is available for purchase here.
Subscribe and receive the latest updates on trends, data, events and more.
Join 57,000+ members of the natural products community.
You May Also Like
---
Sep 20 - Sep 23, 2023
Natural Products Expo East is the East Coast's leading natural, organic and healthy products event.
Learn More