Natural industry mourns passing of Miami retail pioneer Terry Dalton
Natural industry mourns passing of Miami retail pioneer Terry Dalton
With the Unicorn Village Natural Marketplace and Restaurant, and later Sublime Vegan Restaurant, Miami retailer and restaurateur Terry Dalton brought sophisticated hipness, financial savvy and customers in droves to his pioneering full-service natural foods supermarket and restaurant.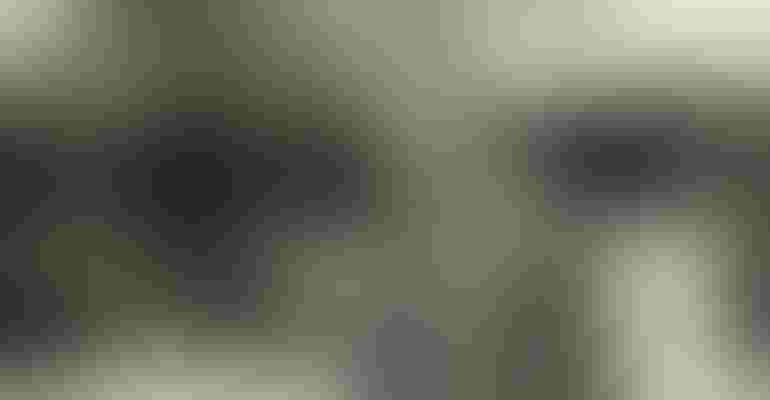 Natural products retail pioneer Terry Dalton, founder of the Unicorn Village in Miami, one of the industry's seminal natural foods stores and restaurants in the 1980s and 1990s, passed away on Nov. 9, 2017, from head injuries suffered in a bicycling accident in northern Florida.
Terry was a true rock star in the natural products industry and remained very active and enjoyed the outdoors. He passed away doing what he loved and is survived by his son, Sage Dalton, a senior dive master at Oceans First in Boulder, Colorado, and former wife and lifelong friend Kathy (Dalton) Boruff, who also resides in Boulder.
Terry sold the Unicorn Village—one of the top grossing stores in the country at the time—in 1995 to Whole Foods Market. If you ever had the chance to eat at his stand-alone Unicorn Village restaurant on the waterfront in Aventura in North Miami, you would have seen top celebrities of the time enjoying Terry's (and chef Steven Petusevsky's) nouvelle natural, organic and vegetarian cuisine.
Terry and his team brought that Miami 1980s hip and chic sophistication to natural, organic and vegetarian products, making it appealing to so many more people. After the sale to Whole Foods Market, Dalton subsequently co-founded Sublime—one of the top vegan restaurants in the country—with Nancy Alexander, founder of the Animal Rights Foundation of Florida. He remained involved in various consulting projects and causes since then but mostly enjoyed retirement over the past several years.
However, the impact Terry Dalton and his fellow retail pioneers—members of the original "Natural Network"—had on the evolution of our industry is a powerful and lasting legacy.
Terry Dalton stood out among a group of retail pioneers across the country who in the late 1970s and 1980s were dedicated to moving beyond stuffy, old-school health food store and crunchy, college-town natural food store formats. This intrepid group, including Terry and his Unicorn Village Natural Marketplace and Restaurant in Miami, were out to create the first full-service natural and organic food supermarkets that were the forerunners of today's natural products retail marketplace. It was truly a unique entrepreneurial moment in the history of natural products.
Other members of the original "Natural Network" included Stan Amy of Nature's Fresh Northwest (and New Seasons Market) in Portland; Mark Retzloff and Hass Hassan of Alfalfa's Market in Boulder; John Mackey of Whole Foods Market in Austin; Peter Roy of the Whole Foods Co. in New Orleans (who later served as president of Whole Foods Market); Sandy Gooch of Mrs. Gooch's Natural Food Market in Los Angeles; Anthony and Susan Harnett of Bread & Circus in Boston; and Terry Dalton of the Unicorn Village in North Miami. A number of these stores sold to Whole Foods Market and elsewhere, but their impact nonetheless lasts to this day.
Terry's natural foods store and restaurant stood out as models for the industry. Throughout the 1980s and until 1995 when he sold his store to Whole Foods Market, Terry presided over one of the most sophisticated, hip and profitable natural foods scenes in the country. It was the THE place to go for natural foods, prepared foods and gourmet cuisine in the Miami area, and celebrities from Madonna to the stars of Miami Vice were regularly spotted perusing products in the market, or chatting over vegetarian fare in Dalton's waterfront restaurant adjacent to his store.
Through my work as editorial director of the Natural Foods Merchandiser with New Hope Network in the '80s and '90s, New Hope co-founder Doug Greene sent me to many stores for our monthly retail profiles and I got to meet, report on and befriend so many of these founding retail pioneers—and work with them on seminars and educational programming at Natural Products Expo. Terry's friendship was special and we remained close and worked on other projects together over the years. He took me under his wing like he did with many individuals in our industry, and helped nurture my career in the change-making and ever-changing natural and organic products market.
As such, his son, Sage, and his ex-wife, Kathy, asked if I would write this tribute to let the natural products community know of his passing and to honor Terry Dalton and his contribution to natural and organic food and agriculture, health and wellness, and environmental sustainability. I am honored to offer this tribute to Terry Dalton, my mentor and friend.
If you would like to learn more about the incredible founders who started an industry, including more about Terry Dalton's work and legacy, read Natural Prophets by Joe Dobrow, an excellent book and an important history to preserve.
For those seeking to reach out to Terry's family, please contact Sage Dalton at [email protected]. The family is also still considering how best to honor his memory, and we'll keep everyone posted. Life is precious, friends. Love and health to you all!
—Steven Hoffman, Compass Natural Marketing
Tributes from family and industry leaders:
"I met Terry in Florida when I was 17. We started hanging out, visiting our families in the west, and we moved to Oregon for a time in the mid-1970s where our son Sage was born. Terry would tell me of his vision of opening a juice bar and natural foods store, and over the next few years, it all materialized. First, we delivered honey for a beekeeper to natural foods stores up and down the West Coast, and when we sold all the honey, we'd fill the van back up with fresh produce and then sell that all the way back home. After Sage was born, we moved back to Florida to be closer to my family. Terry soon partnered on his first restaurant, Chestnut, in 1979 in Fort Lauderdale, which ultimately led to the Unicorn Village store and restaurant, and the rest is history. Terry was my soul mate, and while his biggest passion was for natural products, his biggest love was for his son, Sage. And yet, while to us he was husband and dad and liked to ride bikes and all that, we knew he was a rock star to so many people. He was so influential in launching the natural products industry."
—Kathy (Dalton) Boruff, Terry Dalton's ex-wife
 "My fondest, clearest memories of Terry Dalton, was when, in the mid-1970s, he lived in Oregon and was just starting out. He used to drive up Interstate 5 loaded to the gills with avocados, honey, dates and other fresh products from his runs in a van up and down the West Coast. He would just appear; there was no set schedule, but it was the highlight of the month when he came to visit. The store's staff would empty out just to see what fresh products Terry brought to us. Of course, this was all before he moved to Florida and launched the Unicorn Village and his restaurants."
—Stan Amy, founder, Nature's Fresh Northwest and New Seasons Market
 "Terry Dalton was clearly the leading voice for prepared foods, and he had the highest-volume vegetarian restaurant in the country for 10 years. None of us had cracked the foodservice code yet; Terry was way out ahead in terms of prepared foods, and his business was always very profitable. When we bought his store while I served as president of Whole Foods Market, Terry's Unicorn Village team helped us dramatically improve our prepared foods offerings. Regarding the Natural Network, Terry was there from the very beginning. He saw the wisdom of us all working together, sharing information and trying to build this entire industry."
—Peter Roy, founder, Whole Food Co., New Orleans; former president, Whole Foods Market; founder of the Natural Network; and board member of a number of successful natural products companies
 "Terry Dalton was a progenitor in our natural foods industry, changing the lives and career paths of many, including my own. In 1989 at the Unicorn Village Restaurant and Market in Miami, he introduced me to a new way of thinking about our food supply, ingredient quality and ultimately how these issues affect on not only us, but the bigger picture of our planet's well-being. This was the training ground in which we would feed thousands each day, with creative, globally inspired, clean food prepared from scratch. He empowered me to create and explore new, more socially responsible culinary directions at least 20 years before others. Terry's guidance and memory will continue to push me forward for years to come. His profound influence on the industry and me personally will continue to benefit our world for generations to come."
—Steven Petusevsky, chef and culinary specialist; former executive chef, Unicorn Village; and author, Whole Foods Market Cookbook
 "Terry Dalton was such a good-hearted guy. Yeah, we were all pioneers in organic foods and natural grocery, but Terry really was the guy who pioneered the juice bar, fresh food and vegetarian food ideas that you see on every street corner in America today."
—Hass Hassan, co-founder, Alfalfa's Market, Boulder, Colorado, and Fresh and Wild Market, London, England
 "We remember in the 1980s when a group of independent natural products retailers throughout the U.S. decided to meet regularly so that information and techniques could be shared. We called ourselves 'The Natural Network.' Founding retailers included Stan Amy of Nature's Fresh Northwest and New Seasons Market in Portland; Mark Retzloff and Hass Hassan of Alfalfa's Market in Boulder; John Mackey of Whole Foods Market in Austin; Peter Roy of the Whole Foods Co. in New Orleans (who later served as president of Whole Foods Market); Sandy Gooch of Mrs. Gooch's in Los Angeles, and Terry Dalton of the Unicorn Village in north Miami. We visited each other's markets and collected a myriad of ideas and opportunities over the years. Visiting Terry Dalton's Unicorn Village was a joy. The deli section and restaurant were truly advanced and creative. Terry became our go-to person as the rest of us were trying to incorporate prepared foods sections into our natural products markets. We shall always remember this delightful, knowledgeable man who contributed so much to the expansion and ethics of the natural products industry."
—Sandy Gooch, founder, Mrs. Gooch's Natural Food Market, and Harry Lederman, industry veteran, marketing specialist and investor, and husband and wife, Los Angeles
"Terry Dalton was one of the original 'Fabulous Five:' Nature's Fresh Northwest, Bread & Circus, Mrs. Gooch's, Whole Foods Market … and the Unicorn Village."
—Cheryl Hughes, founder, the Whole Wheatery, Lancaster, Califronia
"Small, innovative food companies need advocates, buyers who'll tolerate new stuff every week. All the way from tiny Redwood Valley, California, Brightsong Tofu filled a standing order of 'whatever you got that's new and good' for Terry. It was the '80s. We shipped by air every Friday a big box of mixed tofu products; they were sold out the next afternoon. Terry inspired us to transcend the ordinary."

—Richard Rose, founder, Brightsong Tofu, Tofurella and HempNut, Santa Rosa, California
"Terry was both idealistic and pragmatic. He also was from Oregon (a little logging town called Roseburg) and described himself as the black sheep of his family because he got into natural foods and liberal causes. And yet he was so successful and still so gracious. And he built the first, and probably only, dockside natural foods supermarket, where people in their yachts and cabin cruisers could buy provisions!"
—Gil Johnson, former editor, Natural Foods Merchandiser, Portland, Oregon
"Terry Dalton was developing and promoting women and minorities long before anyone was keeping statistics. To this day the Unicorn Village management team remains one of the most diverse teams with whom I have ever worked. Terry was always mentoring—when the Unicorn went to Natural Products Expo, Terry brought as many of the team as he could manage and still keep the show going at home. He wanted everyone to get a chance to see what it was like to play on a bigger stage. Terry was always trying new ideas, but he always wanted to back up what we were doing by analyzing the numbers. He was creative but results driven. I always felt a bit smarter after talking to Terry. Rock star, Renaissance man, solid and true friend."
—Catherine Ali, former CFO, Unicorn Village
"I worked for Terry Dalton at the Unicorn Village for over 10 years, up until it was acquired by Whole Foods Market in 1995. It was one of the most successful independents in its day. Terry was a pioneer and a visionary, and he was a mentor and an inspiration to my career in the natural foods industry. I will forever be indebted to him and his memory will always be with me. My prayers and thoughts go to his family, Sage And Kathy."
—Richard Lewis, former purchasing director, Unicorn Village, and General Manager, 4th Generation Organic Market, Boca Raton, Florida
"Terry was a real food visionary with deep passion for social justice. We met at the first Natural Products Expo in 1981 where he was a featured speaker on foodservice. We were overwhelmed in the show management office and he calmly jumped in and started acting like he worked for New Hope and started helping others. I remember thinking, 'Who is this guy? I want to know him better.' We went on to become great friends, and when several of us in the natural products industry adopted Grenada after its war in 1983, we both partnered with a local entrepreneur to launch The Delicious Landing, a seaside fresh seafood restaurant. He was always very generous with his skills and resources and a dream partner. The list of people who were touched by Terry's life is unmeasurable. He mentored so many and opened doors for their growth. His calm attitude mixed with his progressive ideas made you believe the world could become a better place. That impact is still being felt. The industry truly stands on the foundation he helped to put in place. Terry was a great man who leaves us with double fond memories and an extra fine son, Sage."
—Doug Greene, founder, New Hope Network
"Terry Dalton was certainly one of the founders of the natural products industry and part of a small group of individuals throughout the country that were putting together large-scale natural foods stores. Where he flourished was in foodservice. Terry was always at the forefront of prepared foods, particularly in making vegetarian food taste great. He was very creative and spent a lot of time studying what other retailers and restaurateurs were doing and was skilled in taking those concepts and adapting them for his south Florida market. Terry was always willing to share; he was deliberate and thoughtful, but very innovative in what he did. One of the things I admired was that he was always really good to and respectful of the people with whom he worked, and he built a lot of trust and loyalty that way. Terry was the epitome of the classical natural foods type of leader—completely committed to good food produced well by the farmer and the kitchen, and he excelled at sourcing foods, ingredients and products. We shared a lot of time together with our families. I will miss him."
—Mark Retzloff, co-founder, Alfalfa's Market and Horizon Organic Dairy
"Terry Dalton was one of the founders, one of the visionaries, one of the real building blocks of people that helped create the natural products industry we know today. In many ways he led the way in food service and restaurants, but also in the way we thought about business. He had a large natural foods store before almost anyone did, and he was very innovative and entrepreneurial. In fact, with his dockside store and restaurant on the inland waterway, he did a major yacht catering business, unique to the Florida market.

"I met Terry well before Whole Foods Market as a young, know-nothing entrepreneur. I was looking for advice on building stores, how to run a natural foods retail business, and Terry invited me to visit the Unicorn Village. I told him I knew little about food service, and he took me into the kitchen and put me with head chef Steve Petusevsky. We started by cutting up onions. It was a level of detail but also only the beginning of the level of generosity from Terry and his team. Here was someone in the inner circle of natural foods at the time who was so open and sharing. While things are more competitive today, I've tried to incorporate that lesson from Terry in my entire career in interacting with people.

"Terry was colorful, spirited, a rugged individualist. We wrote our own rules back then. Terry had a way of being confident and edgy without being arrogant, and he balanced that with kindness and generosity of spirit. He loved his son Sage. We lost a piece of the fabric, a piece of the rich tapestry of the early formative years of our industry. Terry's legacy is not only woven into that quilt, but he had a great hand in stitching it, as well."
—Walter Robb, former co-CEO, Whole Foods Market
"Terry Dalton pioneered 'back then' what was unimaginable, unthinkable: a zealous pursuit of better food and agricultural practices that would fundamentally lead to profound changes in our food industry. His vision inspired us to stay strong, stay focused, be resolved and realize that it could all be possible. So little is known as consumers shop the aisles, their apps or their Amazon Prime that the abundance of amazing life giving organic and natural foods exist only because of the vision, selfless hard work and perseverance of so few—thank you Terry—you are missed."
—Russell Parker former purchasing director, Mrs. Gooch's, former VP of national purchasing, Whole Foods Market, and co-founder, Cadia
"My father made a conscious choice to enjoy life. He loved bicycling, kayaking, jazz music, family and living a peaceful life. We are truly honored by the overwhelming expression of love we've received from this community of natural products people he was also dedicated to, in addition to his own family."
—Sage Dalton, Terry Dalton's son and dive master, Oceans First, Boulder, Colorado
Save
Save
Subscribe and receive the latest updates on trends, data, events and more.
Join 57,000+ members of the natural products community.
You May Also Like
---