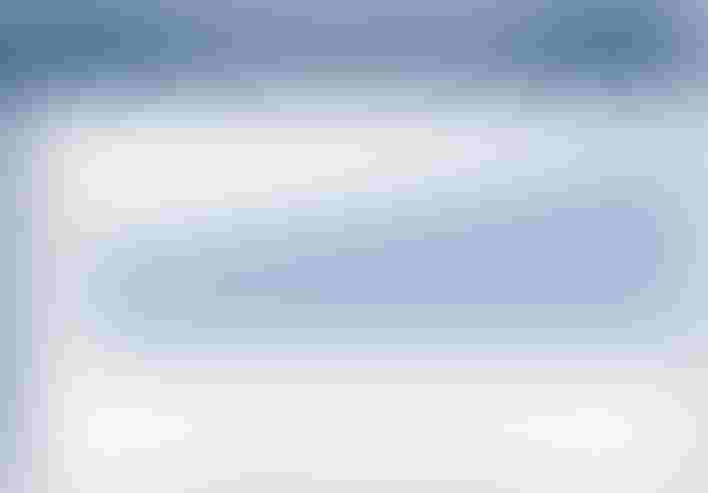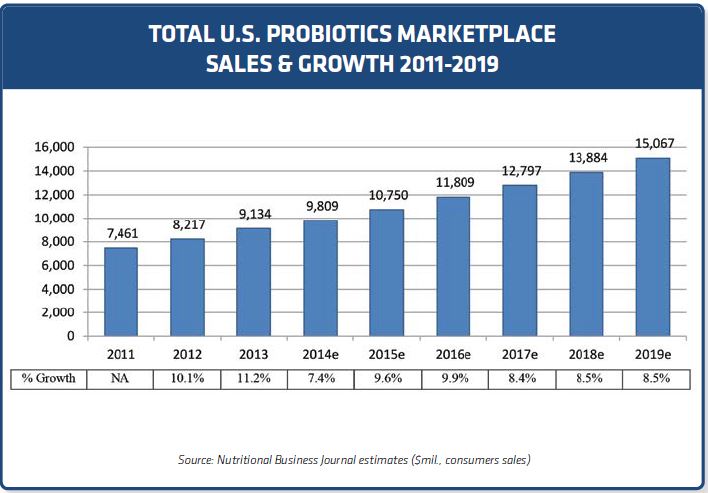 The total U.S. probiotics marketplace, which includes food, beverages, supplements, personal care, and pet food, is estimated to reach $9.8 billion by the end of 2014. Relative to 2012 and 2013, which experienced double digit growth, the probiotics category is expected to experience slightly slower growth in 2014 of 7.4%. Nevertheless, category growth is expected to remain strong through 2019.
Experts agree the positive momentum that the probiotics category is currently seeing will remain strong for the next 3 to 5 years. Experts contribute future growth to a plethora of forces, including: increased awareness and acceptance driven by TV advertising; probiotics representing the next generating of 'healthy'; consumers approaching food and supplements from an overall wellness perspective; and new clinical research that points to incremental probiotic benefits, such as weight and blood sugar management.
Mass market retailers account for 76% of probiotic category sales. Given the popularity of probiotic brands such as Activia and Yakult, which are frequently not carried by natural and specialty retailers who look for unique brands not available elsewhere, it's not surprising to see mass dominate the probiotic space.
Dairy based probiotics products and supplements account for 65% and 20%, respectively, of category sales. These two categories are top of mind for consumers when thinking about products they associate with probiotics. Additionally, brands in these two categories are executing the majority of awareness building marketing campaigns.
Food & beverage overview
The U.S. probiotic food and beverage category is estimated to reach $10.6 billion by 2019, with the majority of growth coming from dairy and beverages. Unlike the probiotic supplements category, probiotic food and beverages have substantially higher barriers to trial. Probiotic food and beverage products need to deliver on taste, ensure price points do not detour consumers, and further deliver on 'healthy.'
Relative to the total food and beverage category, the probiotics segment is expected to experience substantially stronger growth. According to NBJ estimates, packaged/prepared foods will experience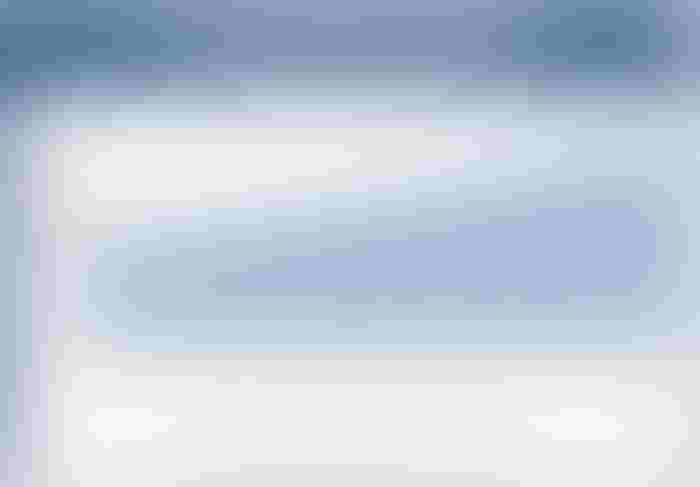 the weakest growth among the probiotics food and beverage categories, growing at approximately 3% from 2012 to 2019. More than 70% of consumers do not think probiotics in packaged/prepared food items are effective. Generally speaking, consumers are extremely skeptical of 'too good to be true' probiotic products.
Mass market retailers lead the pack in probiotic foods with 86% of sales. Natural and specialty retail accounts for 12%.
Supplements overview
The U.S. probiotics supplement category is estimated to reach nearly $4 billion by 2019. Many experts believe that probiotic supplement growth will be fueled by the launch
of new supplement delivery systems, increased interest and awareness of the human microbiome, and clinical research that supports benefit-based claims. "In the future, I think more people will want to understand their microbiome and will be looking for products that can change or fix issues
specifically related to their microbiome. I think supplements will ultimately be able to deliver on those specific benefits," says Jessica Richman, cofounder of citizen science startup uBiome.
Similar to the probiotics food and beverage category, probiotic supplement growth is expected to outpace total supplement growth. Unlike the probiotic food and beverage channel sales, no one channel dominates probiotic supplement sales. Direct/other channels – including online, practitioner, network marketing, and direct media – account for a full 24% of sales.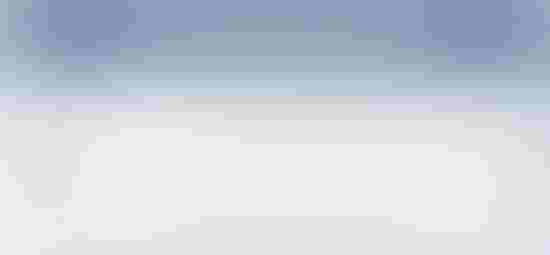 Social listening insights
The number of Google searches including the word "probiotics" has steadily increased over the last ten years, with the biggest spike in searches occurring in January 2014. The spike in January 2014 appears to be associated with a Business Standard article promoting probiotics and weight loss benefits among women. Based on geographic search location, interest in probiotics does appear to be regionally located on both coasts and in the rocky mountain region, all of which are areas traditionally associated with health and wellness trends.
General probiotic education, as well as probiotic brand recommendations, dominate online discussions. However, probiotic labeling, do-it-yourself (DIY) options, retrieving powder from capsules, and prenatal benefits are topics consumers are discussing more and more.
When it comes to general probiotic education, consumers are looking for easily digestible charts and information. Lists, such as "Top 10 reasons to take probiotics" or "How to read a probiotic label" are extremely appealing and vital to educating consumers. Following is a list of general probiotic education questions or topics frequently queried by consumers:
•  "Is yogurt an effective probiotic?"
•  "Is kefir the same thing as yogurt?"
•  "Are live and active cultures the same thing as probiotics?"
•  "How do you measure the strength and effectiveness of probiotics?"
•  "Do you need to take probiotics every day?
•  "What are the side effects of probiotics?
•  "When should I take a probiotic supplement?
•  "How do probiotics and antibiotics interact?"
•  Are probiotics safe for the whole family?"
•  "What are the benefits of taking probiotics?"
Probiotics are frequently recommended to consumers by their doctors; however, doctors are generally not recommending which probiotic brands to use. As a result, consumers are seeking out peer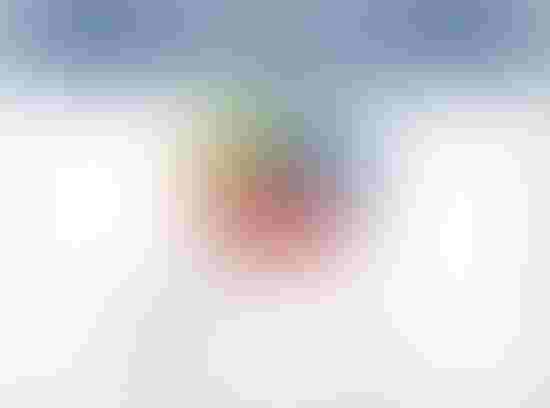 recommendations online. This is especially true for probiotic supplement users and consumers suffering from health conditions such as Crohn's and Irritable Bowel Syndrome (IBS) or Inflammatory Bowel Disorder (IBD). When it comes to food and beverages, consumers are less likely to be seeking out specific brand recommendations but instead are looking for advice on what types of foods and beverages contain probiotics.
Probiotic labeling and lack of label clarity are major pain points for consumers. The absence of specific probiotic regulation by the FDA has led to consumer confusion on labeling information, such as storage, colony forming units (CFU), and dosage. This is especially true for the less educated consumers who feel overwhelmed by the plethora of products all claiming to have more strains of bacteria than the next. Additionally, the more educated consumers are concerned that the products they are purchasing do not actually contain the number of CFUs they promote after manufacturing, shipment, and sales.
More and more consumers are turning to DIY options to save money, ensure the freshness of the product, and eliminate added sugar. Examples of frequently mentioned DIY probiotics are yogurts, kefir, sauerkraut, fermented vegetables, and kombucha.
Furthermore, a segment of probiotic users have started discussing how they break open capsules and sprinkle the powder on their meals, mix it into their beverages, or use it to start making their own probiotic yogurts and beverages. People who have difficulty swallowing pills, such as the elderly and moms with young children and people with food allergies dominate these online conversations.
Mothers and expecting mothers are starting to turn to the internet to discuss the benefits and safety of taking probiotics during pregnancy and during breast feeding. According to several online media outlets, the benefits of taking probiotics while pregnant are twofold. First and foremost, they alleviate digestive issues commonly associated with pregnancy, such as heartburn, constipation, cramping, and diarrhea. Moreover, they are thought to increase the immune system of the baby and potentially play a role in preventing allergies.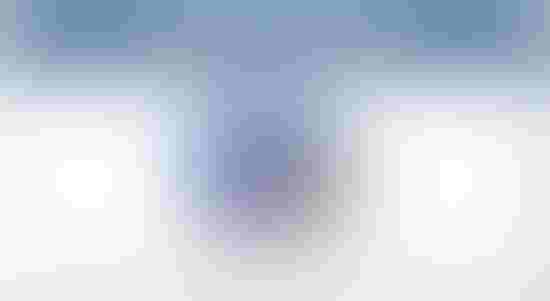 Despite consumer's high awareness of probiotics, discussions about prebiotics are lacking. Prebiotics, a form of fiber that serves as food for probiotics, were rarely mentioned over the course of our social listening analysis. Generally speaking, consumers are unaware that prebiotics exist or there is a difference between pre- and probiotics. The few online conversation that are taking place about prebiotics are centered on Fiber Choice Chews, whole food sources (for example, artichokes, asparagus, leeks, and garlic) and breast milk.
Whole-food sources
Although yogurt dominates many of the online conversations about probiotics, many consumers are starting to look at whole-food sources or fermented foods, such as kimchee, sauerkraut, and miso. Fermented foods are foods that have been through a process of lacto-fermentation in which natural bacteria feed on the sugar and starch in the food, thus creating lactic acid. This process preserves the food, and creates beneficial enzymes, B vitamins, omega-3 fatty acids, and various strains of probiotics. Facebook is the most active social channel when it comes to probiotic whole food sources.
Donna Gates and Donna Schwenk are two of the top whole food promoters online. Donna Gates has over nine-thousand Twitter followers, and frequently tweets whole food probiotic recipes and other probiotic related articles, while Donna Schwenk's website Cultured for Life provides consumers with a plethora of fermented food information and recipes.
Functional beverages
Despite the popularity of dairy-based probiotic products, many consumers are looking for non-dairy based alternatives. Consumer awareness of products currently available in the marketplace is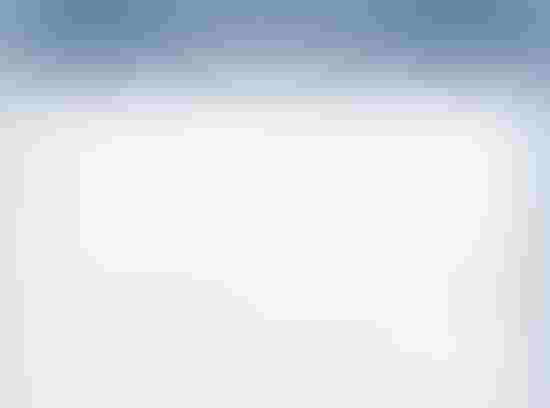 relatively low. Kombucha is the most frequently discussed non-dairy based probiotic beverage. Despite kombucha's strong tie to probiotics, many consumers view it as an all-around health drink citing that it helps detoxify the liver, is high in B vitamins, and is a digestive aid. Several pain points exist for consumers with regards to kombucha—taste, caffeine, and trace amounts of alcohol.
From our social listening research, here's a Facebook conversation from Mindful Momma: "Fermented Beverage Smackdown: Kombucha vs. Kefir: Kombucha is a great way to get your probiotics. Whenever I feel bloated … I drink a couple of these and with 24 hours I feel much better." And a Twitter post: "I'm drinking this Kombucha Wonder Drink and it is yummy. I need some rebalancing in my life."
Functional beverages were mentioned nearly five thousand times throughout the course of our 90-day social listening study. KeVita, GoodBelly, and GT Synergy dominated the non-dairy based functional beverage conversations. Coupons and GoodBelly's 12-day challenge were recurring topics discussed by consumers.
Subscribe and receive the latest updates on trends, data, events and more.
Join 57,000+ members of the natural products community.
You May Also Like
---