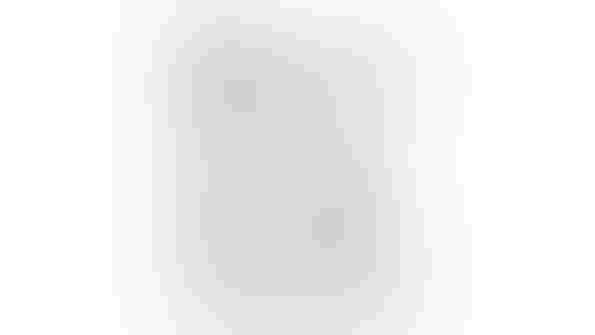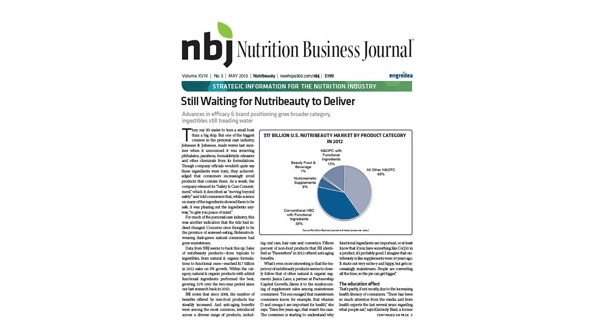 They say it's easier to turn a small boat than a big ship. But one of the biggest cruisers in the personal care industry, Johnson & Johnson, made waves last summer when it announced it was removing phthalates, parabens, formaldehyde releasers and other chemicals from its formulations. Though company officials wouldn't quite say these ingredients were toxic, they acknowledged that consumers increasingly avoid products that contain them. As a result, the company released its "Safety & Care Commitment," which it described as "moving beyond safety" and told consumers that, while science on many of the ingredients showed them to be safe, it was phasing out the ingredients anyway, "to give you peace of mind."

For much of the personal care industry, this was another indication that the tide had indeed changed. Concerns once thought to be the province of seaweed-eating, Birkenstock-wearing dark-green natural consumers had gone mainstream.

Data from NBJ seems to back this up. Sales of nutribeauty products—from topicals to ingestibles, from natural & organic formulations to functional ones—reached $17 billion in 2012 sales on 5% growth. Within the category, natural & organic products with added functional ingredients performed the best, growing 21% over the two-year period since our last research back in 2010.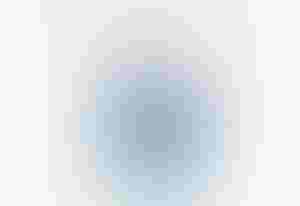 IRI notes that since 2008, the number of benefits offered by non-food products has steadily increased. And anti-aging benefits were among the most common, introduced across a diverse range of products, including oral care, hair care and cosmetics. Fifteen percent of non-food products that IRI identified as "Pacesetters" in 2012 offered anti-aging benefits.

What's even more interesting is that the trajectory of nutribeauty products seems to closely follow that of other natural & organic segments. Janica Lane, a partner at Partnership Capital Growth, likens it to the mushrooming of supplement sales among mainstream consumers. "I'm encouraged that mainstream consumers know, for example, that vitamin D and omega-3 are important for health," she says. "Even five years ago, that wasn't the case. The consumer is starting to understand why functional ingredients are important, or at least know that if you have something like CoQ10 in a product, it's probably good. I imagine that nutribeauty is like supplements were 20 years ago. It starts out very niche-y and hippy, but gets increasingly mainstream. People are converting all the time, so the pie can get bigger."

The education effect

That's partly, if not mostly, due to the increasing health literacy of consumers. "There has been so much attention from the media and from health experts the last several years regarding what people eat," says Kimberly Bixel, a former partner at Greenmont Capital who now is an adviser to the board at Pangea Organics. "Until recently, the equivalent has not existed from the information side for consumers in personal care. We think people care more and more about label reading and what they put on their skin."

That education piece is so critical, Bixel says, that it was one of the driving elements in CEO Joshua Onysko's decision to transform Pangea into a direct-to-consumer company as of March 1. (See last month's issue for a full Q&A with Onysko.) She says Onysko would fly to stores around the country to train staff on the floor, only to find those people were gone a few months later. It became a frustrating—and expensive—way to communicate the benefits of nutribeauty products to consumers, says Bixel, adding that consumers are eager to get the education directly. She says that in the days when Onysko did in-store demos, "he almost always sold more dollar value in supplements than in his own products," because he would talk to consumers about the idea that healthful nutrition is the foundation of beauty, and the concept soaked in.

Similarly, in a televised interview last year, Strivectin CEO JuE Wong told Bloomberg News: "Beauty and health are really now on the same platform. If I can make your skin healthier, then you know that I am delivering on a promise that is not far-fetched."

Rodney Clark, managing director at Cannacord Genuity, is tracking the current closely. "There's a general trend toward health, wellness, natural, organic, better for you," he says. "That first went through food and is moving into consumer products, of which beauty is right in the crosshairs. Over the last few years, it's been gaining momentum. The concern holding it back until now has been around efficacy."

The efficacy equation

In fact, almost everyone agrees that for mainstream consumers seeking health and wellness benefits, natural formulation is necessary but not sufficient. Or, to paraphrase Apple, "it just has to work."

Until recently, consumers weren't ready to believe that natural products could work as well as their conventional counterparts. Now, technology and innovation are "unlocking and opening the floodgates," says Clark. "When you can marry a technology that actually delivers performance and health benefits and still be natural, that's when growth takes off."

Ido Leffler, co-founder of the Yes To brand of food-based nutribeauty products, says the fact that the raw ingredients his company sources "are coming with ridiculously good clinical backing for their benefits" is propelling sales. So, too, is the fact that he is matching or beating conventional products on price. "If we can provide confidence that we can deliver the same level or better results by using natural ingredients, then that's a much easier choice for consumers to make." He says that confidence isn't completely established yet, but it's growing—a fact he thinks will cement naturals as the preferred type of nutribeauty product. "Consumers don't want to compromise on efficacy, safety or price. Our goal from day one was to mainstream naturals, to provide a product that consumers don't need to compromise on."

Strivectin's Wong agrees that a product must do what it promises, but talking to consumers about results from clinical studies is no longer enough. "They want to know, 'What's in it for me?' When you say 80% improvement in fine lines and wrinkles, what does that mean?' "

To that end, Strivectin developed a Facebook app about 18 months ago designed to answer that question. When a person uploads a photo, the app uses algorithms to project an "after" photo illustrating the improvements she could see after eight weeks of using a specific product. Wong says the personalized technology resulted in consumers being much more responsive to product recommendations.

That's not to say consumers are naïve, or have unrealistic expectations. They understand that the rate of cell turnover varies, and no product is going to work overnight. "They need to cut through the clutter and the noise," says Wong, and they look for products that feel authentic. "This is a departure from just wanting natural ingredients. They want to know why a specific ingredient is effective."

The communication

Wong's statement itself is a departure from the consensus. Beyond a basic desire for natural, efficacious ingredients, most industry analysts say consumers don't seem to care whether the product uses Pycnogenol or peptides, or how it works.

Leffler says that in his Yes To line, consumers almost always purchase by type of benefit. "The only time it's by ingredient is in a body wash," when consumers are seeking a specific scent. Or, he says, when Dr. Oz recommends an ingredient.

"The main reason people are buying is because they are interested in the anti-aging category, or the acne category, or have a specific concern such as psoriasis. The reason they might choose a specific product within that category is because it has an ingredient they've heard of."

"When you're talking about natural & organic products and not something created in a lab, there's usually something you need to do to make it become bioavailable," says Bixel. "You can't just rub a pine needle on your skin and have it work. The trick is doing the research to know how to make it bioavailable, and how that corresponds to a formulation that is efficacious. Putting that formulation into a package that actually speaks to the consumer is the reason that companies make the big bucks."

Indeed, in a category that is as saturated as beauty products, manufacturers need to find a way to connect with consumers, says Clark. "People are becoming more discerning about where they spend their dollars. It's harder to capture people unless you've got something different, and they understand and connect with the brand and what you're doing."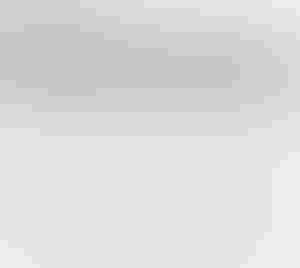 That doesn't mean they won't spend money—they just need to be convinced that it's worth it. Says Bixel: "NUDE Skincare is really expensive but they've created an exclusive brand with exotic ingredients, and it has a bit of Hollywood prestige attached to it, so it's a value proposition." The U.K.-based line, created by one of the founders of Fresh & Wild stores, uses probiotics and omega oils to promote skin health and markets them in sleek, upscale packaging.

Some consumers, of course, respond to packaging that has a more clinical feel. Strivectin certainly has that, as do products from the Dr. Dennis Gross line. His Alpha Beta Glow Daily Moisture product contains vitamin D, along with antioxidant vitamins A, C and E; soy protein and willow bark extract; and hyaluronic acid, the same ingredient used in dermatological fillers such as Juvéderm and Restylane.

It's possible that when purchasing products that combine clinical and natural ingredients, consumers may have more questions about the mechanism of action of specific ingredients. "I believe it is the kind of customers who gravitate to clinical or cosmeceutical skin care," says Wong. "These customers are constantly researching to know their skincare. Understanding how that ingredient works matter to them."

Betwixt & between

For a particular subset of consumers, efficacy has a different definition. Willa produces natural skincare products for tween and teen girls. Founder and CEO Christy Prunier recognized an unmet need when her 8-year-old daughter was taking a bath and asked why she had to use her younger sister's baby products. Prunier searched for more age-appropriate products and discovered there were few options. A few focus groups later, she discovered that girls don't like to wash their face or moisturize or use sunscreen because the products often feel greasy or sticky, sting their eyes or smell bad.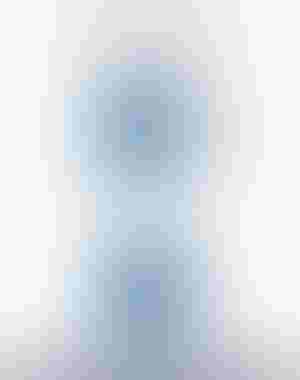 But unlike girls a generation ago, they do understand that skincare is important. "They're attuned to society now—everything's about prevention, everyone's looking at labels," Prunier says. "I think our timing is pretty prescient in that regard." Perhaps even more important, at least for creating sales, is that girls today are "incredibly aspirational," Prunier says. "They do want to be older than they are. They want that responsibility and independence. If you're creating something that makes them feel more sophisticated and is just for them, you overcome that sense of 'I'm going to live forever.' "

But back to the efficacy question: "The definition for what's effective for Willa products is that girls love to use them. This isn't an anti-aging line. We're trying to create a routine. There's green tea in every single product we could put it in, so the efficacy is there. But if it's sitting in the girl's drawer and not getting used, it's not being terribly effective."

Prunier has a personal stake, beyond creating sales, in getting girls to use skincare products regularly. She was diagnosed with facial skin cancer at age 29. "All my dermatologists uttered the same refrain—Up to 80% of lasting damage happens by the time you're 18."

Whether Prunier's business plan is prescient remains to be seen, however. It's well understood that customer acquisition is one of a business's biggest expenses, and marketing to a consumer base that's going to age out of your demographic in a few years' time seems risky. "I think it's going to be difficult to scale," says PCGA's Lane, acknowledging that it could be successful if the platform can graduate up with the consumer. Bixel, on the other hand, thinks the tween/teen market is ripe for growth. "If they can acquire customers earlier, they have them for a much longer period of time. I'm confident that tween lines will expand as their customers age."

Prunier thinks that not only will her company be able to successfully evolve, but that the broader market for tween natural products will burgeon. "I do believe this is just the beginning of it. I hope there are other brands that are going to come into this space. It's not just skin—it's serving this girl in all the healthy aspects of her life, and doing it in a way that's speaking to her, and not some big corporation's idea of what that is— pink and sparkles and rainbows."

It's a tricky place to be in, promoting products with health benefits to kids. "If mom says it's good for you, that's kind of the kiss of death," says Prunier. "The way this needs to work is the girl needs to discover it, and tell her mom about it. She has the power of the purse, and she is approving the daughter's choice." That means efficacy isn't just about the daughter loving it, but the mom as well. "She's going to look at what the ingredients are, so it has to be safe," says Prunier. "Safety is paramount. Next, it has to be priced right, for everyday use—like toothpaste for your skin. It's not something you want your daughter to ration."

Drinking it in

The idea of creating efficacy through consistency isn't unique to tween lines, however. A subset of nutribeauty products aims to create a consistent habit of consumers drinking (and eating) their skincare.

Kristina Richens, the "minister of commerce" for Republic of Tea, says the company's Get Gorgeous line starts with a base of rooibos tea to provide great taste and satiety. They add in anti-inflammatory and antioxidant herbs such as red clover, chaste berry and burdock to calm the skin, and the combination creates "something that's enjoyable and pleasurable that will lead to consistency so it will have that benefit." Richens says that the natural ingredients draw in a lot of mainstream consumers who are looking for natural alternatives to health and beauty. "But if the quality isn't there to make them want to have it again, it's not doing them a service. It's gotta delight and enrich their lives."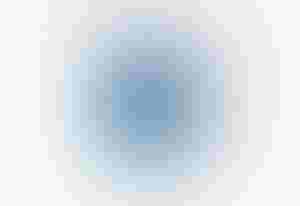 Lane thinks that ingestible products are just getting started. "When I think 'nutricosmetic,' I honestly think of consumable products," she says. Even though she acknowledges that Nestlé's Glowelle product flopped, Lane thinks it was more about that specific product ("it didn't taste that good") than about the delivery method. "I think there's a lot of opportunity in that market. I think there's demand."

Clark agrees, noting that ingestible nutribeauty products could have broad appeal. "We're a pretty pill-conscious society. Taking a pill or a drink rather than going through a regimen might save time or offer convenience." And that could be the factor that cuts through all the other noise in the market and connects with the consumer.

"The topical stuff certainly continues to move at a good pace, but people are continuing to try the ingestible beauty," says Clark. "It's got to be backed by science and testing and improved outcomes. People are throwing quite a bit of money at that. In China and Japan and elsewhere in the world, the market for these products is more developed than in the United State. It's going to gain steam."
Subscribe and receive the latest updates on trends, data, events and more.
Join 57,000+ members of the natural products community.
You May Also Like
---