15 top diet trends for 2015
15 top diet trends for 2015
What's trending in nutrition? Survey of nutrition experts predicts popular trends including clean label and non-GMO.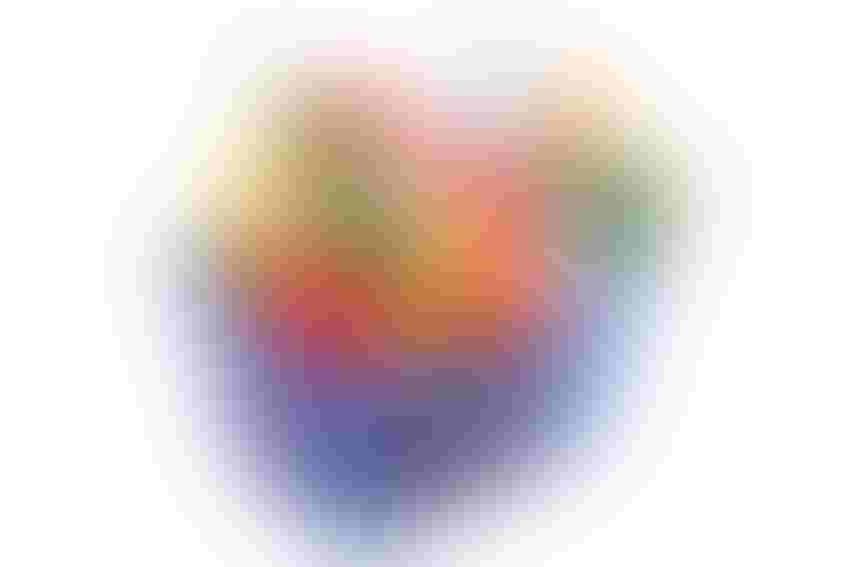 Will 2015 be gluten-free? Is Paleo out? Are we eating carbs yet? Is kale still the Queen of Greens or will nuts, seeds or cauliflower take the throne? The annual "What's Trending in Nutrition" Survey from Pollock Communications and Today's Dietitian highlights what's forecasted to be in—and what's out—when it comes to nutrition and healthy eating in 2015.
The survey of more than 500 registered dietitians, conducted by the nutrition trade magazine Today's Dietitian and a leading food, health and wellness public relations agency, Pollock Communications, uncovered that kale and coconut are still trendy choices, but seeds and nuts have taken over as the top two superfoods for 2015. Other foods expected to make frequent appearances on consumers' plates in the New Year include ancient grains, Greek yogurt and avocado. Nutrition experts say that consumers still look to gluten-free eating, while low-fat diets have fizzled. They also agree that consumers care about GMO-free, along with locally grown food and high quality protein.
Hungry for more? Here's a list of what registered dietitians say is trending for 2015. Their expert predictions are sure to affect consumer-purchasing decisions, influence food manufacturers and determine what's on the supermarket shelves in the coming year:
Sprinkle your superfoods. This year, most registered dietitians named seeds and nuts (54 percent) as the superfoods that will reign in 2015. Kale remains the Queen of Greens though, with most of the nutrition experts surveyed agreeing that kale, Greek yogurt, coconut products and avocado are prevailing healthful food choices for consumers.

Go green…with tea. When it comes to better beverages, green tea gets high marks with 35 percent of dietitians selecting it as the drink of choice for its myriad health benefits.

The "beef" about beef. According to dietitians, most consumers view animal-based protein, such as meat, fish and poultry, as high-quality, but nutrition pros rank quality proteins differently. Nutrition experts recommend fish and seafood, eggs, legumes and nuts, poultry and dairy as healthy, high-quality proteins, followed by soy. Red meat is considered less healthy among the nutrition pros, most likely due to the saturated fat, cholesterol and high environmental demands required to produce beef.

Gluten-free diets dominate. According to the experts, 66 percent believe gluten-free or wheat-free diets will continue to be trendy in 2015. "Regardless of the lack of evidence to support eating a wheat- or gluten-free diet for weight loss, consumers believe that eliminating foods with certain ingredients will help them lose weight or be healthier," explains Jenna A. Bell, PhD, RD, senior vice president and director of food & wellness at Pollock Communications. In fact, the survey revealed that 70 percent of dietitians believe consumers will be more interested in nutrition and weight loss in 2015 than they were in 2014. Dietitians also noted that we will see "clean eating" as well as the Paleo diet, as popular eating trends.

Old is new. Despite the popularity of some low-grain diets, half of dietitians agree that ancient grains, like amaranth, quinoa, spelt and freekah, will be a top trend in 2015.

"Low-fat" fizzles. While low-carb remains strong, low-fat gets weaker. For another consecutive year, the overwhelming majority of dietitians predict that the low-fat diet will fall flat in 2015, with only 4 percent naming it as a popular eating trend among consumers.

Good fat vs. bad fat. As consumers welcome fat back into their eating plans, the question becomes which fats are best? In the battle of the fats, 84 percent of nutrition experts agree that consumers should replace saturated fat with good fats (mono- and polyunsaturated fatty acids). "We found that dietitians are making recommendations that align with current guidelines for reducing the risk of cardiovascular disease from the American College of Cardiology and American Heart Association," explains Bell.

Mirror, mirror on the wall. How do consumers gauge their health and weight? By comparing themselves to friends and family, say 35 percent of dietitians, while 30 percent say that consumers use people in magazines or on television as their basis for health and weight comparisons.

Consumers won't be complacent. Last year, 44 percent of dietitians felt that more Americans were becoming OK with an unhealthy weight. This year's survey reveals that only 26 percent of dietitians feel the same way, indicating fewer consumers will be complacent about being overweight.

Blogs dish about nutrition, but can't always be trusted. Many nutrition experts (42 percent) agree that consumers are getting their health and nutrition information from blogs and websites. Thirty-eight percent also agree that consumers receive the most misinformationfrom blogs and websites, and they predict that there will be more nutrition misinformation available in 2015. Ninety-one percent believe the mass quantity of nutrition information and misinformation is more likely to lead to consumer confusion and lack of diet improvement. When in doubt, ask a dietitian! Registered dietitians are the best source of credible, accurate nutrition information.

What's in a label? According to the experts, consumers are looking for more eco-labels in 2015, with 69 percent of experts saying that GMO-free labels are most important to their clients.

GMO-free matters. Dietitians predict that GMO-free, gluten-free, clean eating/clean ingredient list and organic will have more of an impact on consumer choices in the coming year.

Make the right choices. What is the best diet advice to improve overall diet and health according to registered dietitians? Fifty-one percent of nutrition experts say to choose high-quality, nutrient-rich foods in all food groups. Forty-seven percent say to eat more fruits and vegetables.

MyPlate holds a place at the table. Holding steady year after year, MyPlate, the USDA's guidance for healthy eating (myplate.gov), continues to play an important role in nutrition education, with 73 percent percent of dietitians utilizing MyPlate as a tool to help consumers eat right.

Shoppers want it all. While there will be new food and nutrition trends in 2015, nutrition experts agree that shoppers buy foods that also satisfy three basic needs—convenience, taste and price. There are some things shoppers just won't sacrifice, regardless of what's trendy.
"With more than 15 years working on behalf of dietitians, we know that they truly understand all things nutrition," says Today's Dietitian Publisher Mara Honicker. "Dietitians are at the forefront of everyday eating habits and purchasing decisions of people from all regional and economic environments, so it makes perfect sense to tap their expertise when it comes to forecasting nutrition trends."
"Our long-standing relationships with dietitians from across the country help direct our strategic planning for our food and beverage clients. We understand the importance of dietitians' expertise and insights and are pleased to be able to gather and share this annual nutrition news forecast," remarks Louise Pollock, founder and president of Pollock Communications. "When it comes to food and nutrition, registered dietitian nutritionists are the top experts for consumers, brands and the media."
Subscribe and receive the latest updates on trends, data, events and more.
Join 57,000+ members of the natural products community.
You May Also Like
---