A tale of two food futures: Can CPG visionaries find common ground?
A tale of two food futures: Can CPG visionaries find common ground?
Leaders in food, retail and agriculture convened during New Hope Network's Future of Food Forum. From technology and transparency to ethics and climate action, diverse perspectives are creating a roadmap for how the food industry can support a more sustainable future.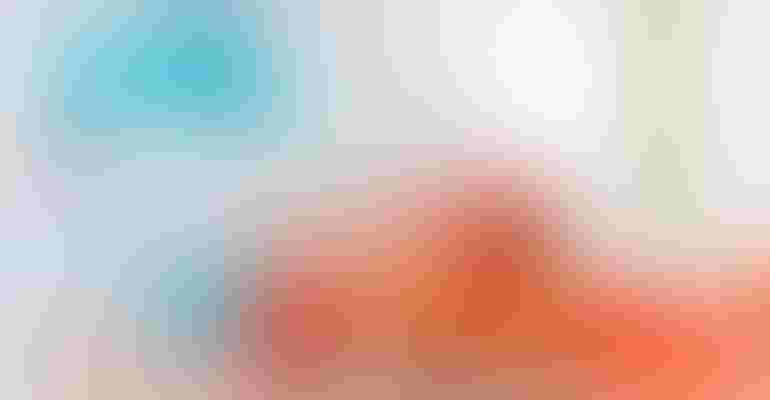 In many ways, today's broken food system resulted from a series of unintended consequences over the past century. So, it came as no surprise that New Hope Network's Future of Food Forum shined a light on concerns that rapid advancements in food production could yield potentially unforeseen and unwelcome outcomes in the future.
The discussion, which convened various members of the food industry to discuss biotechnology, climate and more, anchored the food industry in its intention—forcing questions that can help us understand how to mitigate climate change and support a more just and equitable food system. Easy? No. But it's possible, which was an encouraging consensus among forum participants with a range of perspectives on how to achieve greater sustainability..
"We can't have food tech on one side of the fence and the natural world on the other; we need to think about how we are playing together," said Larissa Zimberoff, a journalist and author of "Technically Food: Inside Silicon Valley's Mission to Change What we Eat," who moderated New Hope's forum.
While it wasn't the only theme explored, technology's role in food's future was core to the discussion.
"This technology is here; it's going to be impacting all of us. You're already seeing many of these precision fermented ingredients in the market and cell-based products are coming," said Danielle Gould, founder and CEO of Food+Tech Connect, a website exploring food and technology innovations. "It's something the natural products industry has to be thinking about."
Food technology is in its infancy, noted Gould, who said that she is "coming at it with more questions than answers."
Yes, the questions were plentiful, but so was the food for thought about where the food industry is heading and how we each can play an active role. Here are a few takeaways.
It starts with ethics and transparency
Opponents of food technology's sustainable positioning may never believe ingredients and products using precision fermentation (which many refer to as GMO 2.0) belong in the natural products industry. But if food tech companies honor the values central to the good food movement, there could be more collaboration, or at least mutual respect and understanding, around how these products and ingredients can help address climate change and food inequity.
"How do we take the ethics of regeneration and regenerative business models, the ethics of the natural products industry and apply that to this area that is fast growing, that has a lot of investment and where regulations are just being shaped right now?" asked Gould.
While the ethos of food tech companies and legacy natural brands often appear aligned, transparency remains somewhat of a buzzword in the food technology space. This frustration for many retailers at Natural Products Expo West was further demonstrated during the forum when a food tech startup touted the importance of full transparency but stopped shy of answering questions about its ingredients' feedstocks.
One reason opacity is common in this space is intellectual property rights that stand in the way of open access R&D. For some, such as John Wood, CEO of Rhode Island-based Green Grocer, this raises questions of whether adequate safety information exists and, if it does, what story it would tell consumers.
"Many of these technologies have developed so rapidly that they're not adequately tested or regulated, and they're even introduced to food systems without the consumer being aware," Wood said. "Another issue that I have is the intellectual property rights or patents that protect some of the sensitive information about these processes."
As more companies become public, that could begin to change, according to Errol Schweizer, natural products industry consultant, director on many natural products brands' boards and former Whole Foods Market vice president of grocery. Schweizer read one of the few food tech company risk disclosure documents available, which states that the organisms and materials used in the company's products are significantly altered—and that their effects when released into the environment are unknown.
"This is the first time we've seen a risk disclosure for one of these companies, and that's what we need for more transparency," Schweizer said.
Until then, retailers often struggle to access information that would help them evaluate products to their standards and educate customers. "When presented, as a retailer, with documents that look like something that's been handed to Congress that's been redacted, and there's more black than actual words, it becomes difficult to create an environment of trust," said Wood.
The rallying climate call
Despite these transparency challenges, forum attendees recognized the importance of science and technology in food and agriculture systems and, specifically, in mitigating impacts of climate change.
"At the most basic level, biotechnology is a science and if we are going to have any chance of solving global issues, the world needs more science, not less," said Sheila Voss, vice president communications of The Good Food Institute, a nonprofit working internationally to accelerate alternative-protein innovation.
Voss presented a description of biotechnology as useful science applied to, derived from or inspired by living systems. "We humans have just begun to scratch the surface of biotechnology's potential to not just feed and heal people, but to be what I call a companion strategy for land and water restoration."
For brands using the technology, the potential is clear. According to Shlomit DeLouya Solomon, head of communications at alternative dairy startup Remilk, precision fermentation is a solution to the supply issues created by rising global temperatures that are challenging meat and dairy production—the same meat and dairy production that is greatly contributing to our world's climate crisis.
"One of the things precision fermentation does is make things such as high-value proteins available for large communities that wouldn't be able to access them; I'm talking about areas of the world where it's too hot and very hard to raise cattle and where people don't have access to milk," she said.
For the Climate Collaborative, food technology is one potential tool in a brand's climate action toolbox, but one that should be explored with caution. "We encourage all companies we work with to utilize tools and technologies that foster a healthy more just and vibrant future for all," said Courtney Pineau, executive director of the Climate Collaborative. "To that end, we do have concerns about the use of novel genetic engineering techniques and the presence of these products in the natural products industry."
Many voices, many solutions
Pineau wasn't the only participant sharing the perspective that the food industry must apply a healthy dose of discernment around leading-edge technologies—from understanding how they work to pinpointing their desired outcome and unintended consequences. "One of the reasons our industry was founded to begin with was based on the fact that we question where things come from and why they need to be there," Wood said.
Attendees agreed there is no silver bullet for the world's biggest problems such as climate change and food inequity and that a range of diverse solutions, some of which struggle to get funding and necessary resources, should be the compass for our food system and food culture.
"What are the most diverse, original, indigenous and to some extent controversial and very niche ideas?" asked Priyanka Khole, founder of Svaa Haa Foods in San Francisco, California. "A lot of BIPOC entrepreneurs are tapping into their cultural experiences, different perspectives and questioning the norms, like why are we trying to replicate meat again?"
Khole's call to action was for the CPG industry to provide the resources and networks that elevate new ideas from underrepresented communities. "We have the ability and the power; we just have to really be able to nurture some of these very different ideas that go towards climate resiliency."
Similarly, others voiced the desire for the food industry to diversify its resource allocation when it comes to future foods. This means more attention and resources to educating consumers on food and climate impacts, regulating feedlots, institutionalizing transparency, transitioning farmland and researching the thousands of undiscovered or underutilized plants across the globe.
Jeff Bland, who holds a doctorate in chemistry and is co-founder of The Institute for Functional Medicine, noted that there are 20,000 known plants yet less than 20 of them constitute 90% of our calories.
"Maybe the best way that we could apply these bright minds and the investment capital going into this [biotechnology] is the development of the germplasms of nature to understand how to best produce plant-derived materials across the globe in places that are not productive today," said Bland. "The magic of the germplasm diversity is something that is far more robust in potential than I believe any food technology."
The forum ended with an ode to balance—that food technology is not black and white—which left us hungry to continue the exploration.
"I don't know that anyone would argue about precision inputs and watering, for example, in ag tech. On the other end are transgenic organisms and there's a lot of space in between," said John Grubb, managing partner of Summit Venture Management, which works with CPG companies around the world. "There's a lot in phenotype that for 8 to 10,000 years of domesticated agriculture we have been genetically altering or accelerating genetic evolution; I think there's an important place for technology that's short of transgenic organisms."
Please help us keep this conversation going. If you're interested in sharing your opinions on the future of food, email Jessica Rubino at [email protected]. All opinions are welcome.
Subscribe and receive the latest updates on trends, data, events and more.
Join 57,000+ members of the natural products community.
You May Also Like
---