Clean-label, plant-based and high-quality frozen foods drive sales gains
Clean-label, plant-based and high-quality frozen foods drive sales gains
Higher sales in the frozen aisle due to coronavirus helps boost better-for-you frozen subcategory.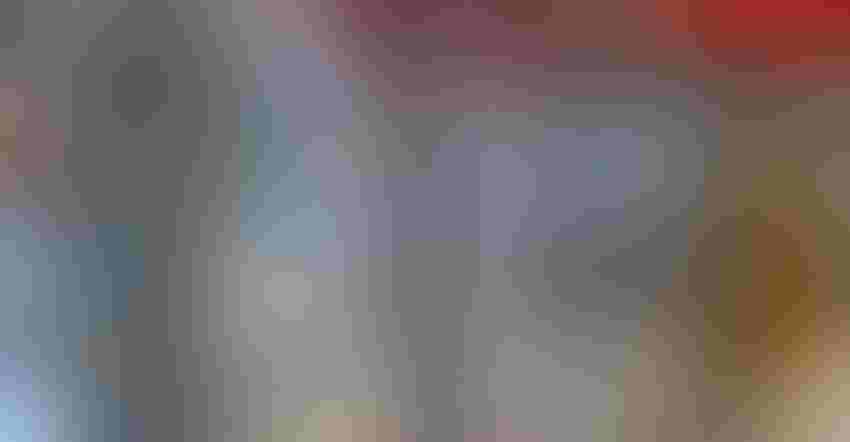 Free-from claims such as gluten-free and "no antibiotics ever" have helped drive sales gains in the freezer case.
Mark Hamstra
Consumer demand for clean-label, better-for-you foods has been helping drive growth in the freezer case in recent years, although the coronavirus pandemic has skewed shopping patterns at least in the short term.
Consumer hoarding, stay-at-home orders and a decline in restaurant traffic have led to increased demand for convenient frozen solutions for the whole family, such as frozen pizzas and shareable snack items.
Prior to coronavirus, frozen foods had already become a welcome oasis of sales growth in the otherwise challenged center store for many operators, however. As center store exploded during the pandemic, the frozen aisle was well-positioned to reap even more rewards.
"With many shoppers prioritizing both health and convenience, frozen foods have experienced a resurgence in recent years, as cleaner labels have become standard and options have become more nutritious, varied and higher quality," said Colin Stewart, executive VP of business intelligence at Jacksonville, Fla.-based sales and marketing firm Acosta. "Frozen foods continue to outpace total store growth, and some of the fastest-growing frozen categories include meat, seafood and breakfast."
Makers of frozen food products have been appealing to this consumer demand by adding variety, adjusting portion sizes, providing organic options, expanding health benefits such as fiber content and offering convenient on-the-go options such as breakfast bowls, he said.
"Brands are also emphasizing what their products are free from, such as GMOs, high-fructose corn syrup and trans fats, to ensure they are reaching the consumers looking for those kinds of options."
Managing health through diet
Consumers are seeking frozen foods that help them better manage their health, especially as they age, said Julie Henderson, VP of communications at the National Frozen & Refrigerated Foods Association (NFRFA).
"Consumers are looking for more from their food," she said. "There is a shift toward demand for functional foods as consumers are using food to address health issues or contribute to their overall health and well-being. Whether it be a desire for less carbs, plant-based protein, gluten-free, vegan or a myriad of other dietary and lifestyle demands, frozen food manufacturers are innovating to satisfy those needs."
Research from the Harrisburg, Pennsylvania-based association's 2019 State of the Industry report shows that although frozen foods with better-for-you claims such as organic and gluten-free make up a relatively small percentage of the overall category, they tend to be growing at a much faster pace than the frozen foods department as a whole.
Frozen foods labeled with organic claims, for example, account for only about 2.4% of total frozen-food sales, but those sales have grown at a four-year, compound annual growth rate (CAGR) of 11.1%, according to the report, which relied on data from Nielsen Retail Measurement Services. Gluten-free frozen foods, with 10% of department sales, recorded a four-year CAGR of 8.2%. Although the growth rate of frozen foods labeled with these attributes has slowed in the last two years, sales have continued to climb.
Free-from claims overall, meanwhile, have seen sales growth accelerate in the frozen-foods department. For the 52-week span through last June 29, free-from claims on frozen foods recorded an 8.6% sales gain, after a 4.5% gain in the prior 52-week span. Free-from claims now account for 14.8% of department sales and have a four-year, CAGR of 14.8%. Among the fastest-growing frozen categories with free-from claims are complete meals, cooked beef, pancakes, waffles and multi-serve pizza.
The increase in free-from claims may indicate efforts by manufacturers to battle consumer perceptions that frozen foods contain too many preservatives, Henderson said.
"Many manufacturers are reformulating their products to have simplified ingredient lists and are using this as a point of distinction," she said.
In addition, consumer interest in natural and organic products has created opportunities for niche manufacturers to focus on these attributes, Henderson said.
Keying in on keto
At Abingdon, Virginia-based K-VA-T Food Stores, parent of the Food City chain, frozen foods that help people adhere to keto diets have been big sellers, according to Dan Glei, executive VP of merchandising and marketing.
"That keto customer across many sections of the store has been very vocal about advocating for specific brands and choices," he said. "They've almost done some of our product selection work for us."
Gluten-free and low-carb products also make up strong subsets within the frozen categories, he added.
Plant-based foods are an increasingly important component of freezer-case offerings, Glei said, as they can fit in within a variety of dietary regimens. Some manufacturers, he noted, have begun calling out "plant-based" as an attribute on their products even though they have always been plant-based.
Food City has expanded the space allocated for both gluten-free and plant-based alternative products in the frozen department, said Ross Purdy, VP of center store merchandising at K-VA-T. Food City has also tested relocating some plant-based meat alternatives into other areas of the department, such as alongside frozen potatoes, where they have shown promise, he said.
"We're still evaluating whether that's the right strategy for us or not, but it seems promising as we start looking at different solutions," Purdy said.
Henderson of NFRFA said plant-based options have expanded throughout several categories in the freezer case, including indulgent categories such as ice cream.
"Even categories traditionally only about indulgence can have wellness values, if communicated properly to consumers," she said.
Other forms of better-for-you indulgence in the ice cream category include low-sugar, low-calorie and extra-protein varieties, added Stewart of Acosta.
Promoting healthy frozen foods
Although some of the niche better-for-you frozen foods don't always generate enough sales volume to earn a place on the front page of an ad flyer, digital promotions and targeted messaging based on loyalty data can be an effective way to reach the customers who want them, said Purdy and Glei of K-VA-T.
Using mobile tools, such as Kroger's OptUp digital nutrition app, can also be an effective way to drive customers to try better-for-you frozen foods, said Stewart of Acosta. In addition, in-store signage and shelf labels can also be powerful tools in-store, he said.
Henderson of the NFRFA said retailers can make an effort communicate freshness by emphasizing the fact that "frozen foods are real foods—just frozen."
"Remind them that frozen foods are made from real ingredients picked at the peak of ripeness and flash frozen, sometimes right on the field, to lock in all the beneficial nutrients and keep them in their perfect, just-picked state," she said.
In addition, she said that with the space constraints in the frozen foods department, it's especially important for retailers to make sure their product mix is right for their particular customers.
"That means knowing your demographic, knowing what they want and not guessing," said Henderson. "It also offers the opportunity to set yourself apart with niche products."
Tips for promoting healthy frozen foods
As the coronavirus crisis drives more people to cook from home and perhaps begin to experiment in the kitchen, it is presenting an opportunity for retailers to promote better-for-you products from the freezer case, said Kim Kirchherr, a veteran retail dietitian and president of consulting firm K2 Outcomes.
"All of a sudden this interest in frozen is kind of hitting on all cylinders," she said, referring to the pantry-loading that has expanded from shelf-stable items to include more frozen foods.
For people who are new to cooking or who are perhaps "getting reacquainted with their kitchens," the healthy, fully prepared and partially prepared meals that are available in the freezer case can be a great confidence-builder, said Kirchherr.
Some of her advice to help retailers maximize sales of better-for-you frozen foods includes:
• Highlight the fact that with many items in the frozen foods department, the prep work is already done. "All you have to do is heat it or add it to your dishes, and then you've got no waste at the other end of it," she said.
• Remind consumers that stocking up on frozen foods helps cut down on trips to the store. "That's a super time-saver regardless of what's going on now or in the future, when we're at back to normal," said Kirchherr.
• Think about incorporating frozen into meal solutions, by suggesting quick meals that incorporate items from throughout the store, including the freezer case, and across the food groups. And remember that all the food groups can be found in frozen form, she said.
• Highlight opportunities for kids to get involved with some aspects of dinner prep using fully or partially partially prepared frozen items. "If kids are confident in the kitchen or they're starting to help participate in that meal planning and preparation, all of a sudden that's not going to feel like a foreign thing to them when they're out on their own as adults," said Kirchherr. "It's helping to create lifetime habits."
Beyond better-for-you
While the coronavirus crisis has driven consumers to stock up on frozen foods, the gains have been uneven across categories in the department.
Consumers are stocking up on breakfast items—apparently replacing breakfasts that had traditionally been eaten on the way to work—while sales of frozen sandwiches that people might have been bringing to work for lunch have not been as strong, said Glei of K-VA-T.
Eggo frozen waffles have been a big seller in recent weeks, while other frozen breakfast items and family meals have seen significant gains.
In addition, he said, consumers appear to be buying more products to feed the whole family.
"Some of the single-serve frozen meals haven't seen the same growth as multi-serve items," Glei said.
With most schools across the country closed, having kids in the house all day has increased the demand for frozen foods such as full-sized pizzas and snack foods, said Ross Purdy, VP of center store merchandising at K-VA-T.
In addition, frozen proteins such as chicken and easy-to-prepare items such as frozen potatoes have also seen strong gains, he said. Frozen sales shot up following an initial pantry-loading surge on shelf-stable items like canned meat, canned tuna fish, pasta and pasta sauces, he said.
"All categories are up across the store for us," said Purdy. "Some are way outperforming the overall business trends."
Glei singled out frozen Mexican foods such as taquitos as performing especially well, along with frozen breakfast items, and Eggo frozen waffles in particular in the frozen waffle category.
He said he expects sales of frozen novelties to pick up in the coming months.
"Ice cream has not been in as high demand as some of the things that are meal builders," Glei said. "As the weather warms, I think ice cream novelties will regain their fair share."

This piece originally appeared on Supermarket News, a New Hope Network sister website. Visit the site for more grocery trends and insights.
Subscribe and receive the latest updates on trends, data, events and more.
Join 57,000+ members of the natural products community.
You May Also Like
---
Sep 20 - Sep 23, 2023
Natural Products Expo East is the East Coast's leading natural, organic and healthy products event.
Learn More