12 trends to watch in organic
12 trends to watch in organic
Once relegated to its own small shelf space, organic has spread its wings into every category of retail to become mainstream. Still differentiating itself through quality and clean ingredients, the category has branched out to offer flavor palettes from around the globe while still keeping an eye to the health of people and the planet. Here are some trends worth keeping an eye on.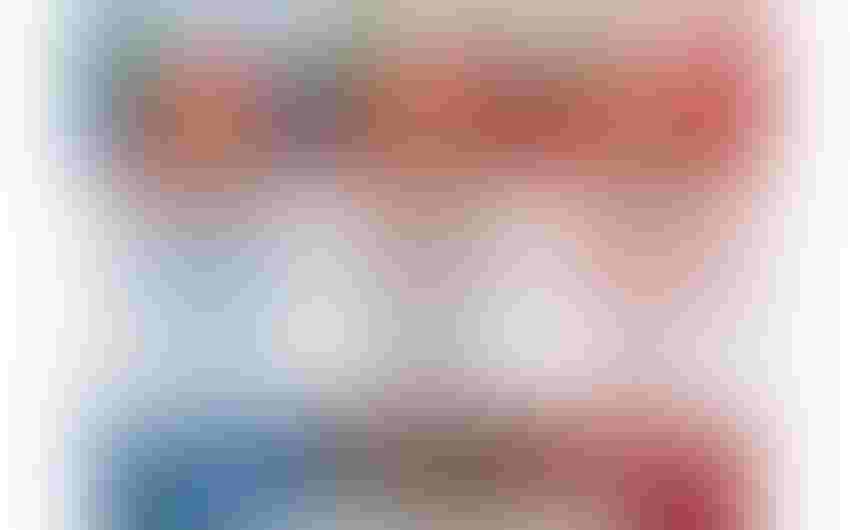 In case you're still thinking this party is just getting started, here's the reality—organic is mainstream. Available in every channel from natural products stores to Costco, convenience to online and food service, the industry hit $49.4 billion in sales in 2017 according to the OTA and has now settled into a consistent growth rate that for the most part outpaces conventional markets. While the industry has been through many growing pains, companies that are excelling still have a focus on producing healthier products for people and the planet and an understanding that collaboration is going to be a key part of future growth. So what are the trends driving organic? Here is a peek at what to expect.
B Better 
This logo is becoming ever-more present. Using business as a force for good, B-corps requires companies to meet rigorous standards of measurable social and environmental performance, accountability and transparency. It should be no surprise then that USDA certified organic companies make good candidates for this certification. B-corps companies come in all shapes and sizes from Rebbl and Organic India to Goddess Garden Organics with Danone North America becoming the largest B-Corps company as of last spring.
Regenerative organic agriculture
It's hard to hear the word organic these days without also starting up a conversation about regenerative agriculture. In 2018, the Rodale Institute introduced the Regenerative Organic Certification, overseen by the Regenerative Organic Alliance. Using the USDA certified organic standard as its baseline requirement, this certification aims to further address soil health and land management, animal welfare and farmer and worker fairness. Companies such as Alter Eco, Dr. Bronner's, Danone and Patagonia worked together with the Rodale Institute to bring this certification to fruition. "It's not another certification, it is a super certification, it works with current suppliers and current systems with higher standards in terms of social fairness, soil health and animal welfare. How can we raise the bar for organic and include some of the new challenges we are facing in soil health," says Alter Eco co-founder Edouard Rollet.
Certified Grass-Fed Organic Livestock Program and Certification Mark
Aiming to bring clarity and transparency to grass-fed organic dairy claims from farming practices to finished products, Organic Valley and Maple Hill have worked together to launch this new certification. A lack of federally- supported guidelines in the grass-fed organic category has led to confusion in the marketplace and frustration in the farming community. To qualify, dairy cows must be fed a grass diet, with zero-grain, and given plenty of pasture for grazing. All animals must receive 60 percent of their dry matter intake from pasture over at least a 150-day grazing season. The program, which is administered by the Organic Plus Trust Inc. also requires full supply-chain verification to use the certification mark. Like the regenerative organic certification, it requires that a farm must first be certified organic to take part in the program and then builds off the NOP standards. "Maple Hill has been arm and arm with us on this. We are competitors in the marketplace but not when it comes to making sure the land is better and working toward better health for people and animals," says Organic Valley's Adam Warthesen, government relations.
The rise of CBD 
We would be remiss to not mention CBD as a trend. Former Nutiva CEO and founder John Roulac has turned his focus to CBD, launching RE Botanicals the first certified organic CBD product on the market. The passing of the Farm Bill paves the way for hemp-based companies to seek USDA organic certification. In an already crowded market, many predict that organic will be a key differentiator in the CBD market as a sign of quality assurance and transparency. There is a limited domestic organic hemp supply available now, but hemp is a fast growing crop and with the passing of the Farm Bill the organic hemp supply is expected to grow.
Make your own in a time-pressed world
Consumers want to feel like they are making food, but they don't really have the time. Hence, the ever-increasing presence of premade and frozen meals, or just add water, ready-to-go food offerings. What continues to be new is variety and flavors from Persian biryani to Korean gochujang. Millennials love their flavors. They want to travel the globe in their kitchen. Not only do spices and  oils continue to be in demand but flavor packs/pouches allow for "making-your-own" while still being quick and easy.
Baking gets clean
Food allergen free and special diet offerings are helping to round out what was once a very stale traditional category. In addition, consumers are looking for clean, "glyphosate-free" and even plant-based baking products. Dyes, chemicals, sugar are out no matter the confetti fun factor. "We are playing in a category dominated by legacy brands that practically give away product and there is nothing more toxic than a legacy baking line. One just got recalled for a pathogen," says Greg Fleishman of Foodstirs. Baking is also following the theme of parents and families wanting to make their own in a time pressed world—easy-to-make cooking mixes can help fill that desire. Beyond mixes, the company has come out with the first bake-your-own granola bar, an easy way for parents to upgrade the lunchbox snack.
High protein, healthy fats
Say what now!? Aided by diets such as the popular Ketogenic diet and Paleo, high-protein and healthy fats are back in vogue. Present in everything from bars to powders and now even dairy, as Horizon launches its new high-protein milks. Butter is even popular and, of course, avocadoes are still everyone's new best friend.
Diets dictating the inner aisles
In addition to convenience and clean ingredients driving sales in the inner aisles, personal diets are also leading the charge. Consumers are looking for everything from Ketogenic to grain-free, vegan or plant-based. "Right now there is more demand than supply for keto products," says Tracy Miedema, vice president innovation and brand development at Presence Marketing. "It's not because millions of people are adhering strictly to the diet, it is because they are finding benefits with a major caloric shift away from carbohydrates to healthy fats," she says.  
Beverage aisle
Functional beverages, including kombucha are still ever present, while drinks with higher sugar content continue to drop in popularity. Be on the watch for more functional waters, CBD/hemp water, and continued offerings with less to no sugar.
Dietary supplements
Millennials are seeing the connection to what they put in their bodies with supplements. In this category, consumers are looking for delivery systems beyond the capsule, so look for gummies, powders and even shots (think Flora's cider shots). Our increasing awareness of the microbiome have kept gut heath products in the spotlight, while collagen also remains strong. There is an overall trend of consumers seeking products for vitality, with customers seeking out probiotics, herbal blends, adaptogens and CBD with an emphasis on sleep, anxiety, stress and managing energy and overall vitality.
Organic pet food on the rise
Millennials are the largest group of pet parents and they are starting to make the connection that they should be offering their furry loved ones the same foods they are feeding themselves and their families. With organic proteins more readily available, the supply issues of yesteryear have disappeared in this category and organic certification is becoming more present in snacks, single-ingredient treats, wet food, and even kibble.  
Organic personal care
While bringing organic versions of active ingredients can still be a challenge in personal care, companies such as Makes 3 Organics are introducing an organic castile soap, which can be challenging to do based on the water content of the product. Organic oral care is on the rise. Companies such as Makes 3 Organics and Cocokind are having success with organic by using simple ingredients and making affordability part of the offering while maintaining a strong social media presence.
Subscribe and receive the latest updates on trends, data, events and more.
Join 57,000+ members of the natural products community.
You May Also Like
---