11 sustainability trends driving innovation in personal care
11 sustainability trends driving innovation in personal care
Get the scoop on why plastic isn't going away fully and how food waste is now a viable ingredient source—among other insights into the (hopefully eco-friendly) future of personal care.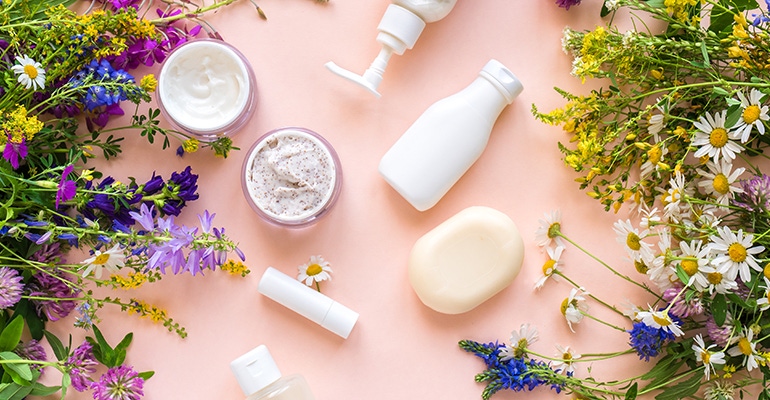 The European edition of the Sustainable Cosmetics Summit was hosted in Paris last month, bringing together over 180 senior executives from across the beauty industry to discuss pressing sustainability issues. Below are 12 key takeaways from the event.
 
1. The prioritization of sustainability is paramount
A major challenge for operators in the personal care and cosmetics industry is to decide which health, ecological and/or social issues to focus on. Susan Curtis from Neal's Yard Remedies urged fellow personal care companies to make decisions based on where they could have the biggest impact; Neal's Yard Remedies, for example, focuses on using organic and safe ingredients, climate action, non-animal testing methods and sustainable packaging.  
 
2. Consumers are conscious of biodiversity
Consumer awareness of biodiversity is rising fastest in Asia, with consumers in China and Vietnam encompassing over 90% of biodiversity awareness. Now, companies are expected to source natural ingredients in a manner that protects both biodiversity and the workers harvesting the ingredients.  
 
3. There are now more sustainable sourcing methods than ever
Originating from natural (agriculture-based and wildharvested) ingredients, a diverse range of materials can now be sustainably sourced in the personal care industry. Shea nuts, food crops, seaweed, biopolymer feedstock and packaging waste are examples of recent additions to the sustainable sourcing category. Developments in this area have led to a new generation of sustainability schemes and standards. 
 
4. ...and a widening range of green materials
The variety of green raw materials continues to expand as cosmetic and ingredient firms invest in new feedstock, processes and novel ingredients. Some recent green alternatives include glycols, synthetic preservatives, silicones, petrolatums, lanolin and film formers. 
 
5. Food waste is now an ingredient source
A number of cosmetic companies have begun using food byproducts as a raw material source. For example, Richard Blackburn of Dr. Craft showed how the company has created a novel range of natural hair dyes using blackcurrant skins leftover from production of the beverage Ribena. BASF also revealed how how the waste from rambutan fruit can be used to make COSMOS-approved skin care and hair care ingredients.  
 
6. Ingredient traceability is on the rise
The growing use of natural and organic ingredients in cosmetic products, while a positive thing in most respects, brings with it fraud risks. Blockchain technology can provide traceability within ingredient supply chains. Initially adopted by the food industry, blockchain technology is expected to be increasingly adopted by members of the cosmetics industry. 
 
7. Product impacts are being closely examined
L'Oreal demonstrated how it uses a lifecycle analysis to measure the environmental impacts of its products. According to Laurent Gilbert, most of the environmental impact lies during the consumer use and end-of-life stages. The cosmetics multinational uses the Sustainable Product Optimization Tool (SPOT), which enables it to improve the environmental and social impact of its products. 
 
8. Retailers can have an enormous impact
Retailers can play an important role in pushing the green agenda. Yoni van Houten of the Dutch retail chain Albert Heijn detailed its sustainability initiatives, which encompass how it sources its ingredients, paper and packaging. The retailer has committed to sustainable palm oil, responsible mica and shea butter; it also plans to reduce the weight of its packaging by 25%, and aims to have 100% recyclable packaging by 2025. 
 
9. The packaging problem is more complex than getting rid of plastic
According to Jocelyne Ehret from The Right Packaging, we should not "demonize" plastic packaging in the face of consumer awareness regarding plastic pollution. She pointed out that plastic packaging plays a helpful role in protecting, transporting and storing cosmetic products. In light of this, Ehret advocated for better end-of-life options for existing packaging materials and changes in consumer behavior rather than simply moving away from existing packaging formats.  
 
10. But sustainable packaging materials are becoming more prevalent
A number of packaging alternatives to plastics were presented throughout the Sustainable Cosmetics Summit. Glass packaging is regaining popularity because it is recyclable and thus has less of a negative impact on ecosystems, but bio-based materials are also increasingly being used fpr product packaging. For example, Arkema is deriving polyamide from castor oil, whilst NatureWorks is manufacturing polylactic acid from corn sugars. Another highlight: The Body Shop is working with waste pickers in India to collect 'fairly traded' plastic to use in its shampoo and conditioner bottles.  
 
11. Expect to see more brands going completely packaging free
Nick Gumery from Lush urged brands to go naked—i.e., packaging free. About half the products of the ethical cosmetics firm are now sold without packaging. Lush is also working with local farmers in Portugal to produce cork to use for product pots. This biodegradable material is carbon positive as it sequestrates carbon dioxide.
Source: Ecovia Intelligence
Subscribe and receive the latest updates on trends, data, events and more.
Join 57,000+ members of the natural products community.
You May Also Like
---