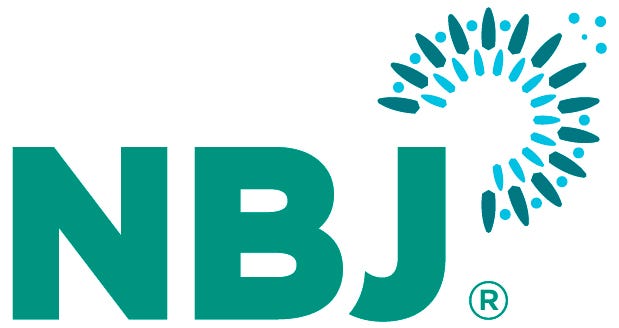 Organic wins big in 2010, supplement sales more modest
Organic wins big in 2010, supplement sales more modest
Nutrition industry grows 6% to $117 billion in 2010 sales as growth rates for natural & organic foods nearly double those for functional foods and supplements. A rising tide of consumer distrust over science in the food supply points toward segmentation within the industry.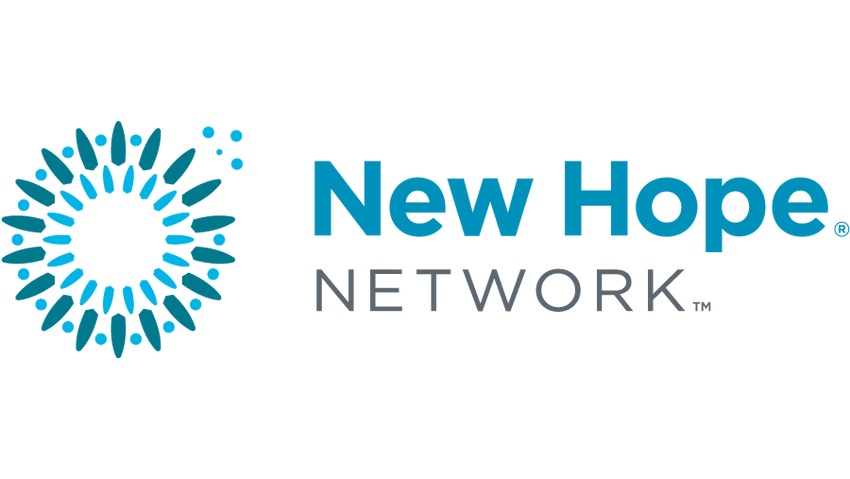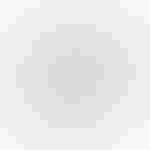 In January 2010 at the World Economic Forum in Davos, Bill Gates reiterates a longstanding support for genetic modification of the food supply in developing countries: "Our foundation is working with partners—Dupont Pioneer on maize and ADM on cocoa. Some of these are traditional breeding projects, and some of them are transgenic. In parallel, we're also funding scientific expertise in Africa so that—three or four years from now, if things go as expected—when there are advances to crops with big benefit, each country can weigh those benefits against the risks."

Gates continues: "The likelihood that the safety profile will be okay—I hope that works out, because this is a tool, particularly for disease resistance, where an RNA interference gene for a particular crop problem can be a real help. You're right on the verge of starvation all the time, so you want to look into every tool that's safe and appropriate."

Jump to December 2010, when Dr. Oz hosts an entire episode on genetically modified food. In an informal audience poll, 80% respond that they would not buy food they knew to be genetically modified. (And we wonder why labeling is such a daunting, contentious issue.)

Oz goes on to display a map of Europe, highlighting six countries where GMOs are "banned." He asks his panel of experts, including Jeffrey Smith of the Institute for Responsible Technology and the public face of the Non-GMO Project labeling initiative, this: "At the end of the day, I'm most interested in— and I expect the viewers are most interested in—whether this food is good for my kids. I want to cure famine in Africa too, but I'm trying to focus in on whether I give my four kids GMO foods."

Dr. Oz's bottom line for the American viewing public? "You vote with your pocket book three times a day. You can choose to buy foods with GMOs or without them. Instead of waiting for data to derive your decision, you're going to have to decide the safest foods for your family on your own. Labels do exist on some products—choose them for now."

NBJ mentions these bookends to the year that was as evidence of two trends that deserve more careful pause and reflection in the days to come. One: The debate about nutrition for American consumers shifted away from supplements toward food in 2010. Two: The debate about science's role in nutrition shifted away from the promises of innovation and functional benefit to one of villains, contaminants, disease and science generally run amok.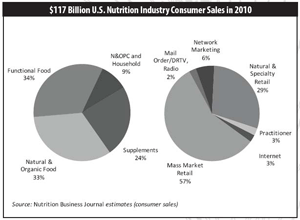 To the second point, GMO is fast becoming a crucible by which science, and many of the agricultural and chemical advances of the past 50 years, might soon be judged by consumers. This cover story closes with an in-depth assessment of science's precarious position in that consumer's psyche from leading voices across the industry. Not everyone agrees that a topic as nuanced as GMO even registers for the average American right now, but many see that day coming.

Nutrition Up 6%, Organic Up 8%

Sales results further the argument that the real action in nutrition these days lies in food, specifically natural & organic food. With annual sales up 8.3% to $39 billion, natural & organic posted the best performance of the four nutrition categories tracked by NBJ. In second place? Natural & organic personal care & household products at 5.8% growth, followed by 4.6% annual growth for functional foods. Supplements brought up the rear with 4.4% growth. In 2010, the bloom fell off the rose for categories of nutrition products heavily defined and marketed along scientific claims. Categories providing "cleaner" and "safer" havens from the darker sides of science—namely, organic—performed comparatively well. It's worth noting, however, that 4% growth still trumps the anemic 0.7% growth for the larger U.S. food industry in 2010. The trend toward improved nutrition as a preventative means to improved health remains strong and unassailable.

Why the slower growth for supplements? Popular suspects include a quiet year for major breakthroughs along the research front, as well as a dearth of star performers— no new vitamin Ds, no exotic new superfruits that caught the popular imagination. Speaking of superfruits, it's worth highlighting herbs & botanicals for their especially poor performance, with break-even sales of $5 billion on 0.2% growth. Again, the lack of external stimuli—no H1N1 to send consumers scurrying for elderberry—in addition to fears of pesticide contamination and product adulteration, particularly out of China, kept shoppers on the sidelines. The category suffered most egregiously from a 10% sales decline through the ever-fickle multi-level marketing (MLM) channel. NBJ will examine the supply chain for herbs & botanicals in greater depth this September. In October, we dive deep into 2010's shining star, natural & organic foods.



Is the prolonged soft economy a contributing factor as well? Of course, but not all categories appear to suffer softness equally. For natural & organic to nearly double the growth rate of supplements suggests to NBJ a trend toward market segmentation. The perceived value of science among consumers seems to be a strong determinant of the segmentation underway, but only time will tell if this is the best lens here. More on segmentation, a countertrend to the oft-discussed convergence underway in functional foods, at the end of this story.

Additional insights from our research into nutrition sales show that direct channels outside of MLM remain strong. Internet sales grew 14% in 2010, with healthcare practitioners clocking 7% growth and direct media (TV, print, radio) jumping 9%. Within the supplements category, sports nutrition stole the show with 9% annual growth on $3.2 billion in sales. Thanks to such archetypal successes as fish oil and probiotics, the specialty category also posted strong returns at 6% growth on $5.2 billion in sales.

Before we leave the sales data for trends shaping these sales, please note that, after detailed scrutiny, NBJ believes we underestimated the contribution of the mass channel to natural foods in our historical data. After revisions, our sharper model skews the data up for natural foods in the early 2000s. Detailed trending of this revised historical data is available to subscribers on our website.
 
The Trends

This cover story is only a passing glance at a meaningful overview of the U.S. nutrition industry in 2010. The articles that follow throughout this issue tell the full story.

Let's start with Walmart, where supplement sales declined 4% in 2010, and continue to slip in 2011. Poor strategic decisions around in-store merchandising and over-concentration on private label brands brought the giant to its knees, while the remaining major players in mass took share with better promotions and stronger alignment with wellness services. "Walmart tried to get even better buying power by limiting assortment, and that strategy clearly failed," says Greg Horn of Specialty Nutrition Group.

Still in the supplements world, NBJ takes a close look at science with our examination of toxicity as the flipside of enhanced bioavailability [page 14]. Leading scientists and manufacturers seem much more concerned with nanotechnology than any potential toxicity threat from more available ingredients. "With nanotechnology, you now have a synthetic version of a natural product in a sense, even though it's only particle size," says Neil Levin of NOW Foods. "How do you know where those particles accumulate and how they metabolize?"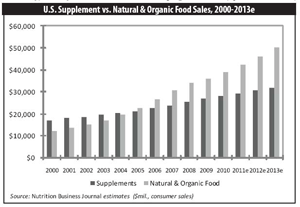 This raises more questions about the kind of science the supplements industry needs to move the needle forward in the minds of regulators, the media and consumers. "When I started 10 years ago, I used to do presentations about why companies should even do research," says Jay Udani, MD of Medicus Research. "Now, the conversations are all about how to do it better." Those on the forefront of supplement science, including Dr. Josephine Briggs at the National Center for Complementary and Alternative Medicine, point toward biomarkers and studies designed more around mechanisms of action than hard, clinical endpoints, as the future model of research.

Omega-3s continue to garner acclaim (and sales) for the growing body of evidence proving their efficacy across nigh every physiological system in the human body. While probiotics remain a strong contender for this top-tier echelon, vitamin D may have the upper hand. The science around D is already strong, and there's more to come. "The promising part is the breadth of the field over which vitamin D is operating," says Robert Heaney, MD of Creighton University Medical Center. "There are dozens of articles that show the critical role of vitamin D in many different systems and tissues."

As for the current regulatory environment, NBJ poses two questions later in this issue, in the hopes of drawing new lines around a widely reported topic. Can private industry, namely Whole Foods Market, do a better job of protecting consumers than federal regulators? Also, are regulators in Europe doing a better job of protecting the food supply than their U.S. counterparts? Taken together, the answers to these questions don't speak favorably of FDA, FTC or Congress for their effectiveness at providing safe and nutritious food to their citizenry.

Of course, new guidance on new dietary ingredients (NDIs) is the real story for supplement manufacturers, but that guidance was still pending at press time. Leading voices from industry speak to their hopes and fears for NDIs on the facing page.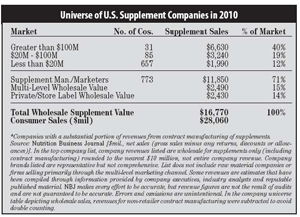 What about food? If food is the real story in 2010, what's driving the growth? Two answers spring to mind: Natural & organic food companies tell a compelling story for value-driven consumers looking increasingly beyond price. Whatever values you throw on that differential—organic, local, sustainable, GMO-free—natural foods brands are slowly but successfully refashioning the consumer's mindset to veer beyond price alone. Secondly, thanks to the lack of labeling around GMOs, organic now exists as a last bastion for consumers looking for truly "natural" foods. Our profile of Justin's and our Q&A with Earth Balance provide insights from manufacturers succeeding in the trenches.

NBJ has sounded the alarm for increased investment by supplement companies in product development for many months, and the data now clearly points to the consequences of fear and stasis on that front. When innovation dries up, perception shifts. It comes as little surprise that the conversation in 2010 moved away from supplement science—a positive message of filling micronutrient gaps and preventing disease—to food science, a darker message riddled with the legacy of villains like BPA, rBST and, perhaps, GMO.

The fact that natural & organic—burdened with the highest price premiums in nutrition—outpaced supplements and functional foods to such a degree indicates that price alone is not the single determining factor it once was. It also suggests that "clean" food is a stronger sell than ever.

As a final point, the intersection of many trends examined in this issue coalesce for supplements around the shift toward whole-food products. To whatever degree the consumer's aversion to science in the food supply ultimately develops, organic and whole-food derived supplements speak directly to this concern, and NBJ would expect increased sales to come. Organic supplements, a small segment with $540 million in sales, grew 7% in 2010. Think of the expansion of Safeway's O line as a leading indicator. NSA, makers of Juice Plus+, a wholefood powder chocked with fruits and vegetables, not only cracked our top 15 company list in the MLM channel, they leaped to fifth place with $260 million in 2010 U.S. supplement sales. Sources close to NBJ also indicate that NOW Foods is in the process of a significant strategic migration toward whole-food based supplement lines, and selling whole foods themselves within its retail stores. It also stands to reason that traditional supplement solutions like herbs & botanicals have fair right to the whole-food game. Perhaps this trend away from synthetics will right that ship in the years to come.



"For sophisticated supplement buyers and consumers, I do see a movement away from processed and artificial supplements toward more whole-food supplements," says Thomas Aarts of Nutrition Capital Network. "This is driven by some big companies putting that message out there—Garden of Life, New Chapter, and Standard Process in the practitioner channel.

"This entire industry—the $28 billion dollar supplement industry—is based on raw materials that are processed and engineered. Ingredients get powdered, extracted, manipulated. We add excipients, magnesium stearate and binders. We stick it all in a pill, or softgels with gelatin from bovine sources. All this stuff that we do to get nutrients in our bodies is not necessarily the best way for our bodies to receive them." The trend here remains bleeding edge, according to Aarts, but leading thinkers and companies are working now to bring that edge closer to the mainstream.

The Backlash Against Science

Few of the thought leaders in nutrition would go so far as to characterize the shifting sands between consumer demand and what science supplies them in the food system as a backlash, but that very relationship is certainly getting prickly. To begin, why do food and supplements, a scientific approach to food, continue to get along so well?

"I look at food and supplements as something of a forced marriage," says Jeff Hilton of Integrated Marketing Group. "The two have gotten along from a distance, but it's like taking two strangers and making them sit next to each other. They've lived side by side in health food stores for a long time now, but they never really paid much attention to one another. Over the past few years, convergence in functional foods has pushed them together such that they now look across the aisle and say, 'Oh, I guess we'd better develop a relationship.' That's why you see POM Wonderful making supplements, and supplement companies going after GRAS status to get ingredients into food. Everybody's trying to come together now and figure out what the marriage will look like."

This promise of convergence has long held promise for the industry as a means to generate dramatic new revenue streams and, more importantly, get scientifically-backed nutrition firmly entrenched in the American diet. The problem? Science keeps changing the game, and consumers are fed up.

"Establishment keeps changing the rules, especially for moms," says Hilton. "Trans fat was the bad guy, then it was carbs. Now there are good and bad fats. Moms express real frustration in focus groups over this. There's a new villain in the food supply every day, and consumers can't keep track. Moms want you to make it simple for them. The fewer the ingredients the better."

According to Hilton, simplicity is strongly informed by the consumer's desire to avoid processed foods. But what does that really mean to a mom? "Extra ingredients and ingredients they don't understand—that's how moms gauge it," says Hilton. "They're label readers. If moms see a bunch of chemicals, they assume a product is highly processed. Less is more." How far a jump is it in the consumer psyche from chemicals on a label to the broader value of science in their shopping carts and cupboards? When the villains crowding the consumer imagination grow bigger fangs— GMOs again come to mind—how will consumers respond to industries built around food science and products built around scientifi c claims? At what point does distrust of science become a precipitating factor in purchasing?

Steve Mister of the Council for Responsible Nutrition (CRN) also sees convergence on the rise. If we take convergence to its logical extreme, will we ever see a marketplace entirely devoid of supplements or pills? "No," says Mister. "I don't think that's where we want to go. When it comes to food—whether it's foritifed or not—everybody's eating habits are so different. Supplements control the dosage unit. You only take the product for its nutritional value. You're not taking supplements for the satiety of hunger. If we start relying on functional foods too much for nutrition, everybody's intake habits are so different— she's hungry, he's depressed, you have a sweet tooth—that some people might get the correct dose and some might get six or seven times as much."

Mister does have consumer distrust of science on CRN's radar screen, but the threats to industry don't keep him up at night. "I do think we are going to see more emphasis on local, on organic, on small farms to get as many of the available nutrients as we can from food. People are concerned about genetic modifi cation, to a degree. In supplements, there will be more organic product lines, more consumers looking for Echinacea—for example—that was never sprayed with pesticides."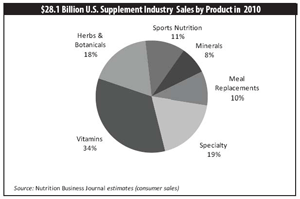 The core consumer of natural products and the average American consumer are two entirely different beasts, as we all know, but the two camps seem to becoming closer and closer friends. "Look at the numbers of people finally discovering their gluten intolerance," says Bob Burke of Natural Products Consulting. "Or 50-year-olds suddenly becoming allergic to shellfish. Consumers like these start to beg the questions—What is it about the inputs in our food supply? What is it about how food was raised, processed, collected? People are making more declarations—maybe totally unfounded—that the food we eat today is nothing like what our grandparents ate, due to GMOs or endless hybridization or the cumulative effect of all the questionable inputs that might link back to their health conditions. That's when you reach the blue-collar worker. It finally dawns on them that there's something to this."

For evidence of the push down, Burke sees traction in several clean-food categories clearly defi ned at arm's length from science: vegan, raw foods, glutenfree, especially among people who may not have a gluten intolerance but still view the diet as a means to lose weight, gain energy and sleep better. Perhaps science is the fi lter here, and perhaps not. Perhaps science is the undercurrent that collects many of these early signs pointing toward market segmentation within the broader nutrition industry. If so, this would indicate a certain maturity to the industry, that nutrition now has the mainstream strength to stand on its own two legs and decamp into viable factions defi ned by the varying degrees to which they want science tinkering with their food.

Sure, convergence as a macro-trend is alive and well, but perhaps segmentation is too. "Eating yogurt is one thing," says Burke, "but microencapsulated probiotics in bars or shelf-stable cereal is something entirely different." The number of people who might respond to this statement, much less understand it, is only growing.
 
The Dawn of Segmentation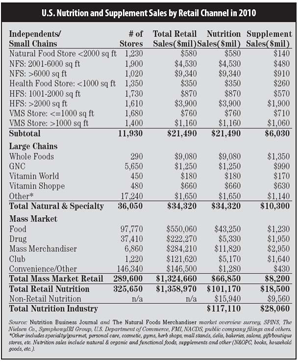 Donald Wilkes of Blue Pacific Flavors speaks of "wholegrarians," a consumer movement built around traditional, fresh, whole foods and the rejection of processed and functional foods. This is the best example NBJ has found to date that begins to understand the segmentation developing within nutrition in reaction to science. "I do see segmentation," says Wilkes. "Look at the history of convenience foods in the United States. Nutrition was not a part of that discussion. Nutrition was not generally available to consumers. For years, the marketers had a great opportunity to promote products that did not necessarily meet higher standards of fresh, nutritious food.

"I think that opportunity has passed. The future consumer is evolving so rapidly that our traditional business models and how we approach consumer need has to evolve to stay relevant. I think supplements, for example, will always be relevant to consumers, but fi nding ways to position products as whole foods is very important as a marketing strategy going forward. As the consumer becomes more forensic about what they consume— because of fears and uncertainties surrounding food saftety, or fears and uncertainities about questionable supplement claims—companies have to build more credibility going forward."

There is a trend here, if not a movement, that in some way defines itself in opposition to the scientific advances embedded in the food system over the past 50 years. As the public debate focuses more on organic foods and sales follow, companies in the supplement and functional foods space need to better understand this new segment of consumer and better fashion their response.

"Science should really be communicated as safety in food," says Wilkes. "If you start talking about science in terms of health claims, I think that can easily become a barrier to consumption."
 
Subscribe and receive the latest updates on trends, data, events and more.
Join 57,000+ members of the natural products community.
You May Also Like
---
Sep 20 - Sep 23, 2023
Natural Products Expo East is the East Coast's leading natural, organic and healthy products event.
Learn More