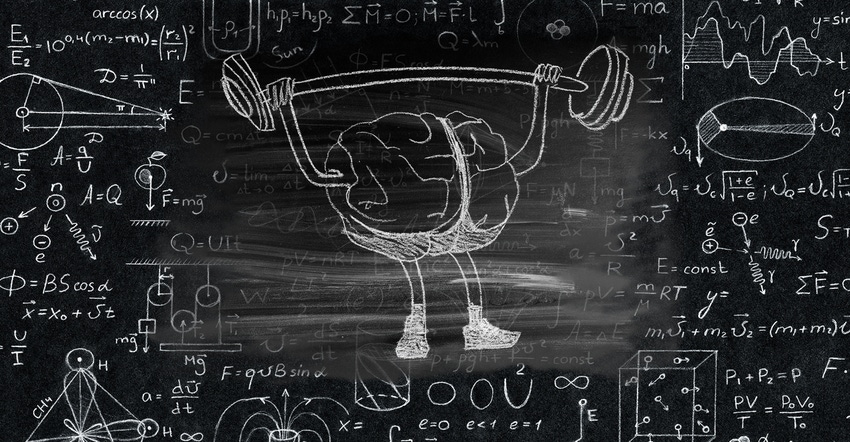 An interesting supplement innovation cross-pollinates cognitive health and performance enhancement and could have you rethinking how you merchandise your supplements section.
Sports nutrition used to be all about helping people gain muscles powerful enough to drive a golf ball 250 yards. Today, there's also concern with having the focus of mind to sink that 8-foot putt. 
"Many studies demonstrate that certain cognitive supportive nutrients can enhance reaction time, help lessen or reduce mistakes made and help with maintaining focus," says nutrition researcher Doug Kalman, Ph.D., vice president of scientific affairs at Nutrasource, a clinical research organization. "The transfer to the athlete has been made and is real."
Brain health used to be all about staving off age-related cognitive decline. And while that's still a huge concern, the "Big C," which used to stand for cancer, now means cognitive health as Alzheimer's has overtaken cancer as older Americans' most dreaded health concern. Today's key words include the likes of "mental clarity" and "mental performance."
"On the whole, the nootropic category has definitely made its way into sport," says Anthony Almada, president and chief medical officer at IMAGINutrition and a sports nutrition product developer since the creative days in the 1990s. "A product will get you jacked up, then you add these so-called balance ingredients to get you jilled."
Almada calls such products "the next step" in sports nutrition products.
"Athletes have to endure the physical aspect," Almada says. "Then there's the mental and emotional stress of a competitive event. You want to maintain that clarity and focus."
Wouldn't it be great if one natural bioactive could do all that?
In 2015, Tufts University researchers found the white button mushroom Agaricus bisporus had beneficial effects on age-related decline in both cognitive and motor function, at least in rats. The researchers said the human equivalent of 1.5 ounces of fresh mushrooms would work.
Some of the same researchers found resveratrol, and its analogue, pterostilbene, to have both antioxidant and anti-inflammatory signaling benefits that related to improved brain health during aging. The inflammation-quelling capability could mean it could have other body effects around the aches and pains of growing old in the body, not just the brain. 
Kalman adds to the list the branded ingredient Nitrosigine, which he has researched as increasing levels of nitric oxide and thus circulation, as well as enhancing cognition in young active exercisers. He also mentions the branded ingredient Teacrine, an alkaloid found in certain coffee species, fruits and tea shown to assist in cognition, reducing errors over time such as in a soccer game.
"This shows me and others that the field of cognitive sports nutrition is one that is totally part of athletic nutrition," said Kalman. "The impacts can be real. They can support the athlete for recovery, training and performance."
Usually, though, it's a combination of ingredients that can work together to provide such benefits that could benefit athletes and performance-minded people as well as the senior set that wants to stay both active and on point.
A new focus: brain performance and sports 
Gaia Herbs Mushrooms + Herbs Mental Clarity
Lion's mane for memory and nerve support, reishi for longevity, cordyceps for energy and endurance, coupled with a trio of baller herbals: gotu kola as an anti-inflammatory and cognitive tonic, holy basil to relieve stress and enhance mood, and rosemary for remembrance. SRP: $34.99, 60 capsules
Irwin Naturals Brain Awake Red with Nitric Oxide Booster
Better blood flow is the ticket here, starting with L-citruline, an amino acid that converts to nitric oxide, which dilates blood vessels and allows for greater blood flow. Ginkgo has long been known to improve blood flow. And a healthy 1,323 mg fish oil also makes the blood slipperier so it flows better. Added to it are chill-out ingredients. The combo makes for enhanced performance while remaining in the calm zone. SRP: $22.99, 60 soft-gels
Moon Juice Brain Dust
Superfood powder that might not be from our closest celestial body combines stress-busting mushrooms with adaptogenic herbs that "align you with the cosmic flow," according to the company. Ingredients help with focus, mental stamina, and management of stress and tension. We wonder if Elon Musk is behind this. SRP: $38, 1.5 ounces
Solaray Focus for Adults
This is all about quelling the mind's hyperactivity and helping with focused attention, thanks to a 5-HTP precursor and L-tyrosine, an amino acid with benefit demonstrated for learning, memory and alertness, in particular during times of stress. SRP: $ 31.29, 60 capsules
Source Naturals Screen Time Stamina
This is an adaptogenic blockbuster with healthy doses of rhodiola and ashwagandha coupled with key carotenoids important for eyeball protection. A coffee's cup worth of natural caffeine from green tea tops it off, making for a dream supplement for gamers and everyone else locked into their computer monitor for far too long. SRP: $23.50, 60 tablets
Swanson Pure Brainpower
Mental performance is the name of the game here, in particular a coffee fruit extract that supports the production of brain-derived neurotrophic factor (BDNF), which coordinates muscles and the brain and which also declines with aging (and depression). A 2013 study using 100 mg of this proprietary coffee fruit extract showed it increased BDNF levels by 124 percent compared to baseline, which was about five times greater than green coffee caffeine powder, grape seed extract powder and green coffee bean extract powder. SRP: $21.49, 60 veggie caps
Subscribe and receive the latest updates on trends, data, events and more.
Join 57,000+ members of the natural products community.
You May Also Like
---
Sep 20 - Sep 23, 2023
Natural Products Expo East is the East Coast's leading natural, organic and healthy products event.
Learn More