Baking up better-for-you breads
Baking up better-for-you breads
Flax seed bread, oatmeal/dark chocolate cookies and whole-grain food bars are among the better-for-you treats in the bakery case.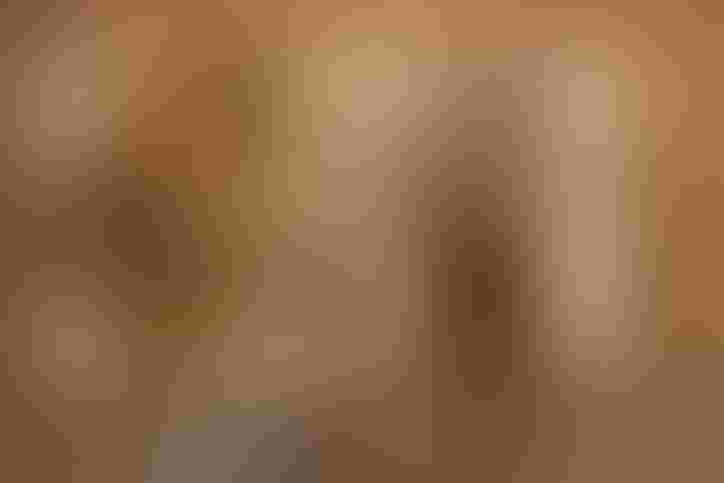 Kowalski's Markets sells plenty of decadent cakes and pastries, but it's also having strong success with its better-for-you cookie.
Made with cranberries, dark chocolate, granola and oats, it's high in fiber, and has no artificial colors or sweeteners. Plus, it tastes good.
"The name of the game is that it has to taste good," said Russ Tourville, bakery director for the Woodbury, Minn.-based chain. "The cookie has the benefits of fiber and a clean label. And it tastes really good."
The popular cookie comes in a four-pack of 2.5-ounce cookies that sells for $2.99. Kowalski's sells other clean-label cookies, including rolled oats cookies made with a few simple ingredients: flour, brown sugar, butter, oats, vanilla, salt and baking soda.
"Crispy and delicate, they're still sturdy enough to stand up to a bit of a soft sweet or tangy cheese," the Kowalski's website reads. "They're also perfect on their own with a hot cup of tea or coffee."
Kowalski's is also exploring other health and wellness bakery items, including vegan products that do not contain dairy or other animal by-products.
Kowalski's joins the rising number of bakeries that are selling healthier options. Selections like gluten-free breads, sugar-free pies and vegan cookies enable in-store bakeries to cater to today's ingredient-conscious shoppers.
Take the Pittsburgh-based Giant Eagle chain, which sells a variety of grain breads, including multigrain sourdough and honey sprouted wheat. A multigrain Tuscany bread does especially well at its store in Aliquippa, Pa., according to Collette Golixer, the store's bakery associate. Made with oats, sunflower seed, millet, flax and cracked wheat, the bread typically sells out every day.
"People love it because it's healthy, yet very tasty," Golixer said. "It has a hard crust with a tasty soft interior."
Going "clean"
Interest in such baked goods comes at a time when more consumers want fresh products and clean ingredient labels, said Darren Seifer, food and beverage analyst at market research firm NPD Group. Clean ingredient labels are key, as about 65 percent of people associate clean eating with healthy eating, according to NPD research.
"Many people view it as an easy way to stick to a healthy eating regimen," Seifer said.
Consumers view a product as being "clean" if it contains wholesome, natural and organic ingredients. The use of ingredients that come from humanely raised animals, like cage-free eggs, is preferred as well.
"The whole supply chain is coming into the mind of consumer," Seifer said.
Bakery products that contain ancient grains and other better-for-you ingredients can do well because, for the most part, consumers don't want to significantly change their eating behavior.
"Consumers aren't looking to abandon bread," Seifer said. "They are just looking for better versions of what they've been eating all along."
Bashas', Chandler, Ariz., sells many baked goods for health and wellness shoppers, said Cyndee Vaillancourt, bakery manager of a Bashas' store on Gilbert Road in Chandler. For instance, a six-grain bread is baked fresh in-store. It contains flax seed in the mix, and is rolled in flax seed, wheat germ, bran and oatmeal. Bashas' also sells better-for-you snack bars that are whole grain, high in omega-3 fatty acids and all-natural. 
"They are very popular at our location," Vaillancourt said. "Kids even like them!" 
Other popular sellers include the store's non-GMO authentic French brioche bread, which is available in a 17-ounce loaf and 8-count rolls.
"Healthier-for-you products have increased in popularity," said Vaillancourt. "A lot of consumers are actively seeking these items out."
Among other efforts, Bashas' now uses all trans-fat free icings, shortenings and fillings. Several months ago, its suppliers reformulated nearly every type of shortening and icing to be trans-fat free, according to Vaillancourt.
"We now have nothing in the department that contains trans-fats," she said. 
Package downsizing
Along with selling better-for-you breads, cakes and cookies, another way that in-store bakeries are catering to health and wellness shoppers is by offering smaller packaging sizes.
Half loaves of bread and two-count packages of buns are among the reduced sizes offered at Kowalski's Markets, Woodbury, Minn. Since most all-natural baked goods don't have preservatives, they spoil faster. As a result, the smaller count packages let shoppers enjoy a better-for-you baked good without fearing some of it will go to waste, said Russ Tourville, Kowalski's bakery director.
At the same time, the smaller packages appeal to those who want to limit their portion sizes. Additionally, they are perfect for small households with just one or two people, said Tourville. "If it's just two people in a house, the smaller packages mean they no longer have to throw away unused product."
The smaller packages have been so popular that, with the exception of the Fourth of July and other big sales periods for buns, Kowalski's no longer sells eight-count packages of buns.
Kowalski's even uses small-pack sizes for a unique cross-merchandising strategy involving the prepared foods department. Bakery personnel slice two pieces of fresh-baked artisan bread, bags them and merchandises them at the soup bar. Each bag costs 99 cents.
A Hy-Vee supermarket on Army Post Road in Des Moines, Iowa, also offers half-size packaging on some of its breads and buns. For instance, shoppers can get four-packs of hot dog buns instead of eight-packs, and six-packs of dinner rolls instead of a 12-count package. Hy-Vee charges half the price for the half sizes, according to Gybsin Long, assistant bakery manager.
"Anytime people want a special count size, we'll work to give them what they need," Long said. "Since many of the new breads have less preservatives and don't last as long, this lets our shoppers continue buying products they like without wasting any of it."

This piece originally appeared on supermarketnews.com, a New Hope Network sister website. Visit the site for more grocery trends insights.
Subscribe and receive the latest updates on trends, data, events and more.
Join 57,000+ members of the natural products community.
You May Also Like
---
Sep 20 - Sep 23, 2023
Natural Products Expo East is the East Coast's leading natural, organic and healthy products event.
Learn More