These trends rocked Expo West 2018—will we see them again at Expo East?
These trends rocked Expo West 2018—will we see them again at Expo East?
What's changed in six months? Here, we review the hottest trends spotted at Natural Products Expo West, and predict whether they'll still be simmering at Expo East.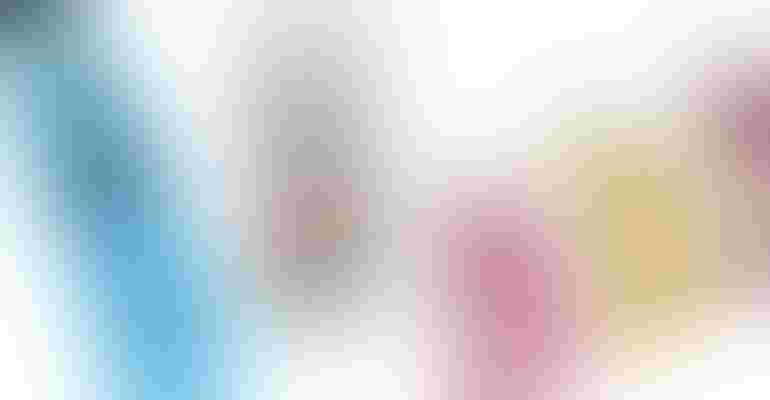 Natural Products Expo East 2018 is just one-ish month away, and we're already hearing the siren song of the Baltimore show floor. What will we taste? What new innovations in natural will we see? What trends will rise to the top?
In preparation for your Sept. 12-15 trip (have you bought your airline ticket yet?) here's a brief reminder of a few trends that made waves at Expo West 2018—and whether we think they'll continue to shine at the rapidly approaching Expo East.
Spotted at Expo West 2018: Wellness shots
Designed to be consumed in one sitting (or even one gulp), these potent potables were packed with adaptogenic herbs, ayurvedic-inspired ingredients such as turmeric and black pepper and even detoxifying activated charcoal.
Click here to view wellness shots that caught our eye at Expo West 2018.
Will shots stay strong at Expo East?
Our Magic 8 ball says the outlook is good that wellness shots will continue to be a trend at Expo East. While we don't know if consumers are truly embracing these shots for continued, repeat purchases, shoppers are definitely getting more interested in consuming powerful functional ingredients such as herbs in delivery formats other than a pill. Shots are a convenient, trendy way to get more in.
Spotted at Expo West 2018: New ways with water
Despite the environmental drawbacks, sales of bottled water continue to spike as shoppers eschew sugar- and calorie-laden soda. At Expo West, manufacturers flooded the bottled water market with functional add-ins (Hydrogen! Minerals! Electrolytes!), fruity flavors and unique sourcing stories to add value to hydration.
Click here to view waters that caught our eye at Expo West.
Will waters appear at Expo East? 
As consumers grow more mindful about their sugar intake, infused waters—which typically contain fewer calories and sweeteners—will continue to shine. According to research from the International Bottled Water Association (IBWA), bottled water volume grew to 13.7 billion gallons in 2017, a 7 percent increase over the previous year, and bottled water sales now total $18.5 billion. The challenge with bottled waters of any sort—regardless of functional benefits—is the environmental impact of using plastic packaging. We hope to see more brands launch water products with plant-based or compostable packaging at Expo East 2018. 
Spotted at Expo West 2018: Plant-based
We saw excellent texture, taste and performance from plant-based products that exhibited at Expo West 2018. From better-for-you frozen desserts to energy cookies made with pumpkin seed protein, next-gen plant-based brands know that discerning shoppers won't accept subpar alternatives.
Click here to view plant-based products that caught our eye at Expo West. 
Will plant-based continue to rock at Expo East?
We're going to say that's a definite yes! Not only have we seen inspiring innovation in the plant-based category in the months since Expo West, but also a new report by Nielsen found that sales of plant-based products grew by an incredible 20 percent in the 52 weeks ending June 16, 2018, reaching a total of $3.3 billion. For context, total food sales grew at just 2 percent over the same time period.
Plant-based is not only here to stay. It's here to take over conventional food paradigms.
Spotted at Expo West 2018: Regenerative ag
Doing no harm is an imperative, but healing the harm that's already occurred is among the richest opportunities for agriculture and the food industry. This includes building soil health, scrubbing waterways of fertilizers and sequestering carbon through deep-root perennials. A slew of brands that exhibited at Expo West 2018 got serious about not only sourcing regeneratively grown ingredients, but also about supporting farmers who dare to grow food differently.
Click here to view regenerative products that caught our eye at Expo West.
Will regenerative continue to grow at Expo East?
We think so! You may recall that the Regenerative Organic Certification (ROC) was launched at Expo West—and while the seal was in its infancy (and many questions remained unanswered), a handful of brands seemed psyched to go all-in. Recently, the ROC announced the launch of their pilot program, which is comprised of 80 brands and farms that will help develop an understanding around how the ROC standards can be implemented at a farm and ranch level. A few brand partners include Sol Simple, Vega, Lotus Foods, Guayaki, Dr. Bronner's, Patagonia and Puris Foods, just to name a few. 
So yes, this better-than-sustainable farming practice is primed to expand.
Spotted at Expo West 2018: CBD
From food and beverages to supplements and personal care, CBD was spotted in myriad application at Expo West. With confusion about CBD regulations continuing to plague manufacturers, Natural Products Expo West 2018 hosted a standing-room-only CBD Summit at the show which explored the latest regulatory issues and science defining this important category.
Click here to check out the CBD Summit overview.
Will CBD continue to grow at Expo East? 
You betcha! In addition to skyrocketing consumer interest and new CBD-containing products that seem to launch every week, CBD is one of the hottest ingredients on the market. Sales data shows CBD's potential. According to Hemp Business Journal, sales of hemp-derived CBD is estimated to fetch $264 million. By 2020, that number is expected to rise to $450 million.
Subscribe and receive the latest updates on trends, data, events and more.
Join 57,000+ members of the natural products community.
You May Also Like
---