New plant-based snack coalition aims to heighten retail sales
New plant-based snack coalition aims to heighten retail sales
Can data-driven merchandising lift sales of plant-based snacks?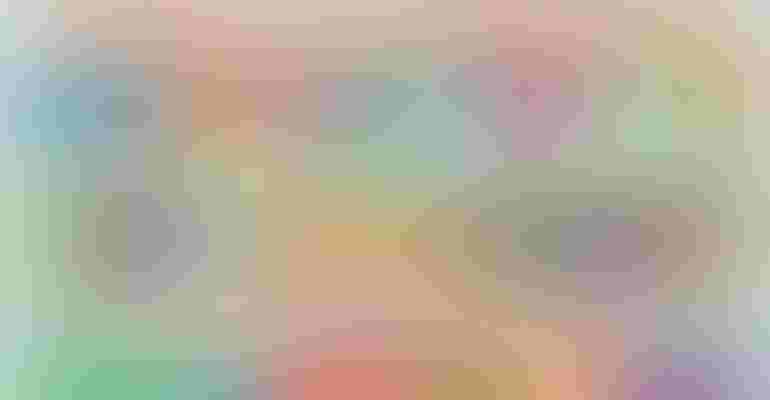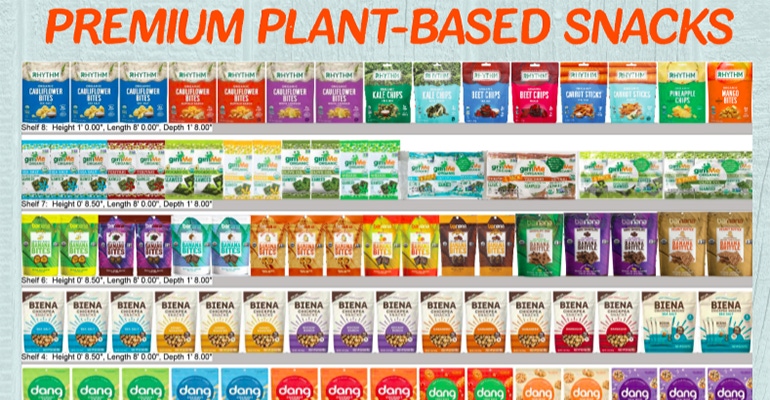 Plant-based Snack Coalition
The natural products industry is in an age of unprecedented innovation. From nondairy cheeses to high-protein, low-sugar, regenerative keto-friendly bars, new products are constantly pushing the boundaries of packaged products. But for retailers, deciding the best place to merchandise such products can present a conundrum—particularly if new foods and beverages cross or blend categories.
According to a new coalition launched by six natural brands—Bare Snacks, Barnana, Biena Snacks, Dang Foods, gimMe, and Rhythm Superfoods—premium plant-based snacks sell twice as fast when merchandised together. This is partly because retailers place plant-based snacks in myriad locations across the store, making it difficult for consumers to find such products.
"One of the unique challenges each brand in the coalition has faced is that we are doing things differently than other brands," says founding member Poorvi Patodia, founder of Biena Snacks. "Each of us is having, individually, conversations with our retail partners to really figure out what is the best part of the store where we should be placed."
The premium plant-based snack coalition is designed to band together like brands who share the same retail challenge in order to increase sales for all. While the founding members may have initially started out as competitors in the nascent plant-based snacking space, as the category matures, research shows the brands work better together.
"Our core consumers of plant-based snacks are highly similar," says Matt Clifford, co-founder of Barnana. "And data shows they buy our items in shared baskets. It's not like they're buying Barnana and not buying Dang, they're buying both. That's the driving force around this coalition."
The coalition says the archetypal premium plant-based consumer skews female, is millennial aged, cares about the environment and personal health, and has a high personal income.
Retailer reception
The coalition is primarily focused on brick-and-mortar grocery stores versus online retailers, as sophisticated search functions and recommendation features make products extremely easy to find digitally.
Finding specific brands is more challenging in traditional grocery store environments.
Biena's Patodia says the coalition is reaching out to discuss a new premium plant-based snack merchandising tactic on a retailer-by-retailer basis.
The conversations she's has so far have been positive, as many retailers are already reconsidering their snacking category to boost sales and prioritize minimally processed whole-food snacks.
"Our mission in one way or another comes back to the idea that we want to make it easier for people to snack healthy," says Patodia. "Positioning all of these products as part of the snack aisle makes a lot of sense because we want to give people alternatives to what they are snacking on today. Our products are healthier options nutritionally speaking than some of the traditional snacking categories, such as salty chips or pretzels."
During such conversations, the coalition presents retailers with a planogram endcap example, featuring the bright, colorful packaging for plant-based snack brands. 
Obviously, the planned roll-out for the coalition, which was intended to officially launch at Expo West, has changed. With COVID-19 straining the U.S. economy, and retailers struggling to keep brands stocked on store shelves, retailer conversations have softened—for now.
"Expo West was our opportunity to really showcase the planogram and the data, but everybody in this coalition is still marching forward," says Clifford. "Right now we're trying to be really mindful of the retailer. We're not telling retailers you can sell two times more by putting us all together. We're telling them, hey, you can keep our products in stock."
Clifford says the ultimate goal is to communicate to retailers the brand adjacencies that are important for the plant-based snack category.
Interested in joining the plant-based snack coalition? Patodia and Clifford want to hear from you.
Find their email addresses below:
Matt Clifford
Poorvi Patodia
Subscribe and receive the latest updates on trends, data, events and more.
Join 57,000+ members of the natural products community.
You May Also Like
---