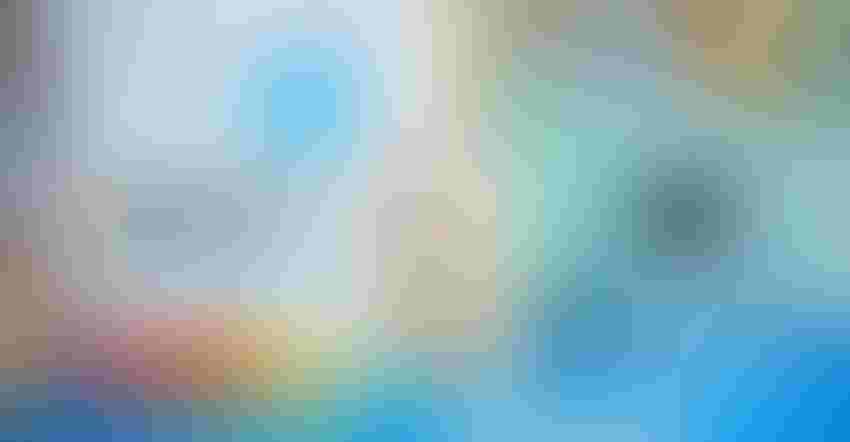 Bryan Beasley Photography
Editor's Note:
Due to popular demand, New Hope has extended the deadline to nominate a product for a NEXTY Award until 
11:59 p.m. Friday, July 7.
Product samples must be received by Friday, July 14. 
Twice a year, the NEXTY Award trophies are bestowed on companies that demonstrate what's next for the natural products industry. Here's everything you need to know about the NEXTY Awards.
What are the NEXTY Awards?
The NEXTY Awards are a twice-annual awards program in which New Hope Network recognizes the most innovative, inspirational and integrity-driven products in the natural products industry. The awards are connected to New Hope Network's largest annual natural product expos: Natural Products Expo West in March and Natural Products Expo East in September. 
The NEXTY Awards first launched as a joint partnership between New Hope Network and the Sterling-Rice Group to recognize products that aligned with trends and growth opportunities in that year's NEXT Forecast Report, an annual insider's guide to where the natural products market is now and where it's headed. Since then, the NEXTY Awards have grown to become the premiere award bestowed upon companies in the natural products industry. See the past winners. 
How do I nominate a product for the 2023 Expo East NEXTY Awards?
New Hope Network will accept nominations for the 2023 Expo East NEXTY Awards until 11:59 p.m. Mountain Time Friday, July 7 (an extended deadline). 
Exhibitors should look for notifications in your inbox as well as on nextyawards.com and in newhope.com newsletters.
What does it cost to nominate a product?
For brands that are exhibiting at Natural Products Expo East 2023, the first nomination costs $195, and each additional nomination costs $145. For brands that aren't exhibiting, the first nomination costs $295, with each additional nomination costing $145. Find out more about the benefits of exhibiting at Expo East. 
Who determines the winners of the NEXTY Awards?
Before the COVID-19 pandemic, the NEXTY Awards were open only to exhibitors at Natural Products Expo West and Natural Products Expo East. The nomination period and judging for NEXTY Awards is completed in the two months prior to Expo West or Expo East. Currently, any CPG brand in the natural products industry with a finished product can nominate.
Companies nominate products by filling out a form and questionnaire on the NEXTY Awards website. Additionally, they send product samples  to the New Hope Network office in Boulder, Colorado, to be evaluated during a several rounds of judging. The judges—members of the New Hope content, standards and data and insights teams—whittle the pool of nominees down to a range of two to six finalists in each category, depending on the number of entries in each category. 
From there, the NEXTY finalists move on to the final round of judging. The judges for the final round are members of the New Hope content, standards and data and insights teams, as well as a rotating panel of industry experts. For the final round of judging, the judges converse, debate and in some cases even argue until they decide on the single winning product in each category.
When will the winners be announced?
The NEXTY Awards winners will be announced live in Philadelphia at the start of Expo East and on newhope.com.
What criteria are the products are judged on?
The editors and judges use these criteria to determine whether a product is worthy of a coveted NEXTY award:
Innovation: The product or company shows truly creative thinking and execution (not a "me too" approach); uses a newly discovered or rediscovered ingredient, flavor profile, technique or process; fills a legitimate (though perhaps not yet recognized) natural products market need or niche; and/or is predicted to have longer-term impact in the industry.
Inspiration: The product or company adheres to an unusual or new mission targeting an issue or problem not yet widely addressed; its message/mission is clearly communicated, focused and effective, with real, wide-reaching potential or already proven positive social or environmental impact.
Integrity: The product or company takes a creative, next-gen approach to clean ingredient(s), sustainability, transparency, traceability and safety/security.
Additionally, all products must meet New Hope Network's Ingredient Standards & Guidelines, which are the same standards and guidelines in place for all exhibitors at Natural Products Expos.
What are the benefits of winning a NEXTY Award?
NEXTY Award finalists and winners receive a lot of industry recognition before and after the natural product expos.
All finalists will be featured in a special showcase at Expos East and West, as well as on each expo's virtual platform. They will also be included in a print feature in Natural Foods Merchandiser and a number of special features on newhope.com.
The NEXTY winners receive all the benefits of the finalists as well as a NEXTY trophy, exclusive rights to use the NEXTY Awards winner logo in promotions and packaging, access to the winner's toolkit to maximize their award and more.
Learn more about previous NEXTY winners in these stories:
Gaia Herbs
Primal Kitchen
Fila Manila
Big Mountain Foods
Spare Food Co.
Patch
Good Catch
White Leaf Provisions
Vibrant Health
What is NEXTY Gold?
The NEXTY Gold Award recognizes one or two companies (not products) who continue to innovate and impress us with their NEXTY nominations year after year. The award is not necessarily given at every expo—it is reserved for those companies that hit high marks on the criteria of innovation, inspiration and integrity when New Nope Network considers a brand's products,  company and mission as a whole. The NEXTY Gold is awarded during a special celebration at Expo West only. 
Where can I learn more about the NEXTY Awards?
The NEXTY Awards website is your go-to resource for all NEXTY Awards details, including the nomination form, the categories, past winners, the benefits of winning, the rotating industry judging panel and more! The NEXTY Awards Nomination Guide will equip you with the information you need to successfully nominate your product.
Past NEXTY Awards winners
Past NEXTY Awards finalists
Nominate a product here!
Subscribe and receive the latest updates on trends, data, events and more.
Join 57,000+ members of the natural products community.
You May Also Like
---
Sep 20 - Sep 23, 2023
Natural Products Expo East is the East Coast's leading natural, organic and healthy products event.
Learn More